Tigers' World Cup Stripes
'350-plus totals will be tough to chase'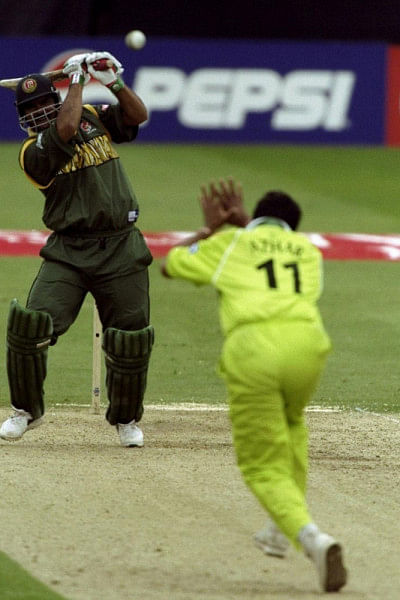 In the lead-up to the 2019 World Cup, we take a look back on World Cups past through the eyes of Bangladesh's former World Cup stars. Akram Khan had featured for the nation's inaugural World Cup campaign in 1999 and another time after that in the 2003 edition. Akram, who is now one of the national selectors, had captained Bangladesh in 15 ODIs. In an interview with The Daily Star's Nabid Yeasin recently, he shared some of his World Cup memories and more.
The Daily Star (TDS): You played in the 1999 and 2003 World Cups for Bangladesh. How significant is it for a player to feature in a World Cup?
Akram Khan (AK): The World Cup is obviously a special event because it comes every four years. The exposure in a World Cup is more than in any series or tournament and its value is also higher. For those reasons, every player wants to play well at a World Cup. In 1999, we had to qualify by playing the ICC Trophy and only then could we play in the World Cup. So, at that time the excitement was totally different as Bangladesh, for the first time, qualified for the World Cup. Playing in your first World Cup is a different experience altogether.
TDS: What is your best World Cup memory?
AK: My best World Cup memory would be the time when we beat Pakistan in the 1999 World Cup. I scored 42 runs, but the most important thing back then was to win the game. Now, we win matches almost regularly, but back then it was not the case. Now the players get some monetary rewards or some assets as rewards for their performance, but at that time for a good performance of the team, the Bangladesh team would be rewarded. For instance, we qualified for the ICC Trophy and Bangladesh got ODI status and after beating Pakistan, Bangladesh received Test status. These things had huge value to us and everyone else as those were first-ever achievements for us.
TDS: Any memorable World Cup incident or story that you would like to share?
AK: We actually enjoyed the whole 1999 World Cup. However, in the game against Scotland which we game, there was a funny incident. Shujon [Khaled Mahmud], Pilot [Khaled Mashud] and I had taken our wives to watch the game, but unfortunately, we were all dismissed for ducks. Everyone in the team teased us after that and that was a funny thing.
TDS: Describe the challenges you have faced over the years. Previously as a player and now as a national selector.
AK: Actually, both being a player and selector have been challenging. When I was a player, I had some individual challenges and goals. Then after I became captain, I had the challenge of how to do well with the team and how to improve the team's performances. As a selector the challenge was to groom emerging players and give them an opportunity to play. I also had to provide support to the ones who were already playing. I have actually enjoyed all these challenges and I am very happy to be involved in all these good things.
TDS: What do you think will be the biggest challenge in England in the upcoming World Cup?
AK: I think the format this time will be a bit difficult for Bangladesh. This time we will have to play well and win games. Then the opportunities will come to play in the semifinal or final. The challenge will be there because we have some injury concerns in our team, but the positive thing is that we have some good players and experienced players and young players who did well on the Ireland tour. But it is a long tour and the challenge will be to get every player fit for all the matches.
TDS: Fans are hoping for Bangladesh to reach the semifinals or even the final this time. Do you think it is realistic to hope for Bangladesh to go that far?
AK: It is natural that expectations rise when the team plays well. But this is a big pressure for the players. It is necessary to perform as a team, not only as individuals. Be it in bowling, batting or in fielding, everyone needs to give their best effort and then I think we can do anything.
TDS: There will be true wickets in England and the par score is being considered around 320 or 330. How important do you think the role of the batsmen will be here?
AK: Given the format we are playing in now, 300-plus scores are normal. Previously there would only be four players in the inner circle, but now there are five players in the inner circle. So, there is always a chance to score more runs. In England, targets of 320, 325 or 330 won't be a tough ask. But 350-plus targets will be difficult to chase. The bowlers need to do well as there is a high chance that the batsmen will dominate there. However, spinners might get some purchase at the end of June or in July.