ICC T20 World Cup 2016 schedule announced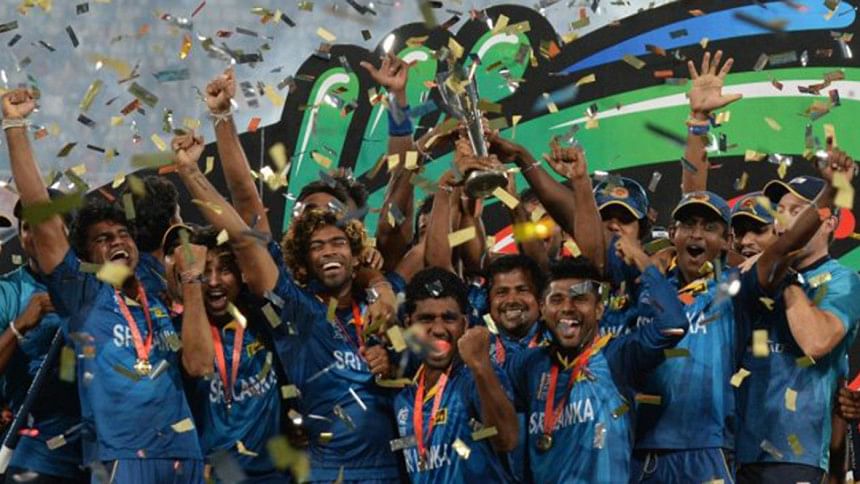 The International Cricket Council (ICC) today announced the groups and schedule of the ICC World Twenty20 India 2016, which will be staged across eight venues in India from March 8 to April 3, 2016.
A total of 58 tournament matches, including 35 men's matches and 23 women's matches, will be played in the 27-day tournament in Bengaluru, Chennai, Dharamsala, Kolkata, Mohali, Mumbai, Nagpur and New Delhi.
New Delhi and Mumbai will host the semi-finals on 30 and 31 March, respectively, while Eden Gardens in Kolkata will be the venue of the 3 April finals. The women's semi-finals and final will be followed by the men's knock-out matches. There is a reserve day for the finals, the release added.
The men's event will carry a total prize money of $5.6million, which is an 86 per cent increase from the 2014 tournament, while the total prize money for the women's event is $400,000, which is a 122 per cent increase from the Bangladesh event.
There have been five different winners of the men's event while the England women's team won the inaugural tournament at home in 2009 before Australia won three straight titles in the West Indies, Sri Lanka and Bangladesh in 2010, 2012 and 2014, respectively.
According to the men's event format, eight sides in two groups of four, will feature in the first round matches with the group winners joining eight sides in the Super 10 stage (two groups of five teams). The top two sides from both the Super 10 Groups will then qualify for the semi-finals. In the women's event, the 10 sides will be divided into two groups and the top two sides from each group will progress to the semi-finals.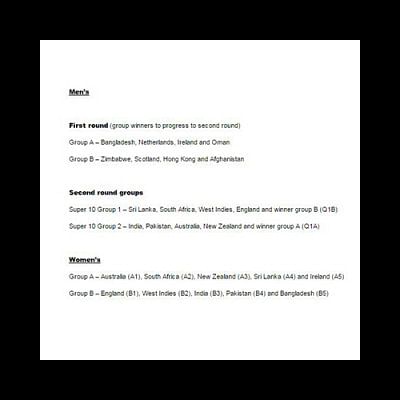 The first round matches in the men's event will take place in Dharamsala and Nagpur from 8-13 March and will feature Bangladesh, Netherlands, Ireland, debutant Oman (all in Group A), Zimbabwe, Scotland, Hong Kong and Afghanistan (all in Group B). In a double-header on the opening day on 8 March, Zimbabwe will face Hong Kong in the afternoon match, to be followed by the evening match between Scotland and Afghanistan. Both the matches will be played in Nagpur.
The group winners will join Australia, England, New Zealand, Pakistan, South Africa, Sri Lanka, West Indies and host India in the Super 10 stage, which will be played alongside the women's event from 15-28 March.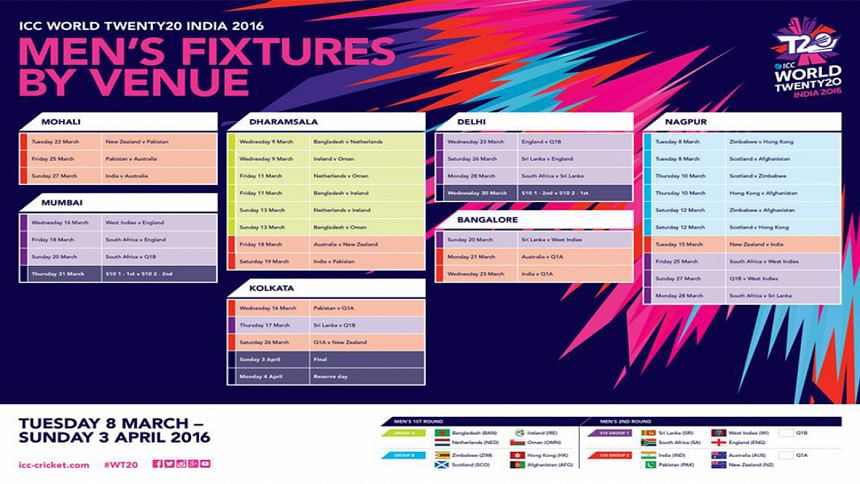 Men's defending champion Sri Lanka has been placed in Super 10 Group 1 along with South Africa, West Indies, England and the Group B winner. It will open its title defence against the Group B winner in Kolkata on 17 March, and play West Indies in Bengaluru on 20 March, England in New Delhi on 26 March and South Africa in New Delhi on 28 March.
Host India, which won the inaugural tournament in South Africa in 2007, is in Super 10 Group 2 along with 2009 winner Pakistan, Australia, New Zealand and the Group A winner. India will launch its campaign in Nagpur against New Zealand on 15 March, while it will go head to head with Pakistan in Dharamsala on 19 March. Its other matches will be against the Group A winner in Bengaluru on 23 March and Australia in Mohali on 27 March.
2009 champion Pakistan will take on the Group A winner in Kolkata on 16 March, before locking horns with traditional rival India in Dharamsala on 19 March. Its remaining two matches will be in Mohali against New Zealand and Australia on 22 and 25 March, respectively.
England, which won the 2010 tournament in the West Indies, takes on 2012 winner the West Indies in Mumbai on 16 March, followed by matches against South Africa (18 March in Mumbai), the Group B winner (23 March in New Delhi) and Sri Lanka (26 March in New Delhi).
After taking on England in its tournament opener, the West Indies will square off against Sri Lanka (20 March in Bengaluru), South Africa (25 March in Nagpur) and the Group B winner (27 March in Nagpur).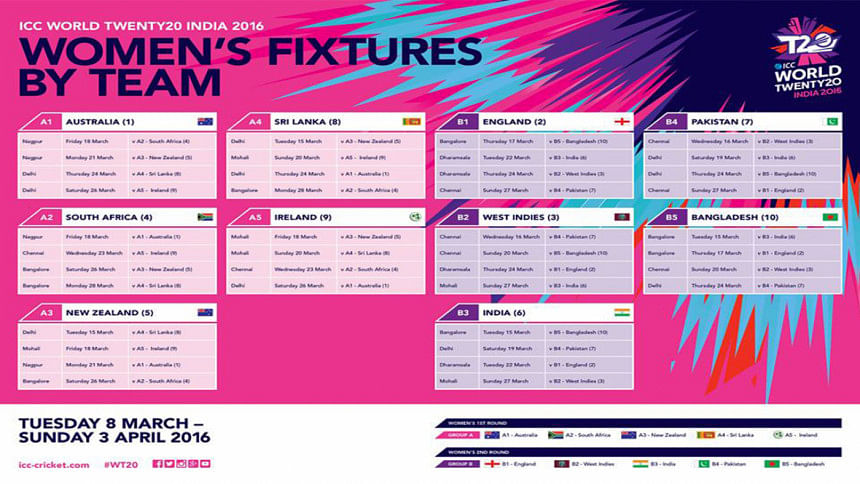 Meanwhile, in the women's tournament, 2009 champion England is in Group B along with the West Indies, India, Pakistan and Bangladesh, and will start off against Bangladesh in Bengaluru on 17 March. Its other matches will be against India (22 March in Dharamsala), West Indies (24 March in Dharamsala) and Pakistan (27 March in Chennai).
Australia women, who will be bidding to win the title for the fourth straight time, is in Group A along with South Africa, New Zealand, Sri Lanka and Ireland. Their opening match will be against South Africa (18 March in Nagpur), followed by matches against New Zealand (21 March in Nagpur), Sri Lanka (24 March in New Delhi) and Ireland (24 March in New Delhi).
ICC Chairman Shashank Manohar, who attended the launch ceremony in Mumbai, said, "The ICC and BCCI are fully committed and will work together to make this a memorable event. I invite fans from across the world to witness fast-paced cricketing action on the field and enjoy the hospitality and culture of India, off it."
ICC Chief Executive David Richardson said: "The ICC World Twenty20 is an event which puts the world's best cricketers in the shortest format of the game against each other in a nation versus nation contest.
BCCI Secretary Anurag Thakur said: "We, as hosts, are fully prepared to organise one of the most entertaining spectacles in world cricket. We draw experience from hosting three ICC Cricket World Cups and are ready to make the ICC World Twenty20 India 2016 one of the most memorable events.
The ICC World Twenty20 trophy was also present at the ceremony before it leaves Mumbai for Scotland on Sunday, 13 December, as part of the Nissan Trophy Tour. The trophy will return to New Delhi on 1 February after visiting 11 countries.