Shakib's hour arrives to 'manage everything'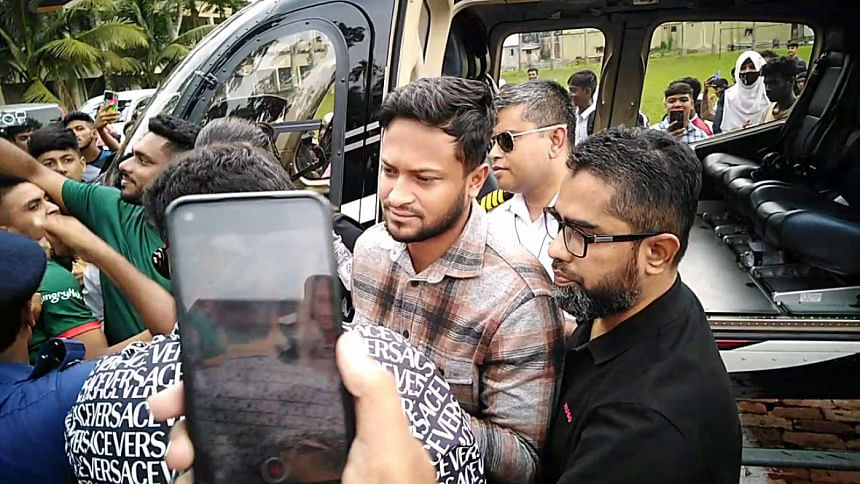 Shakib Al Hasan will have to manage things in more ways than one in the next few months.
Having once captained Bangladesh in the biggest cricket event in 2011, the 36-year-old finds himself at the helm of the ODI side again just ahead of the World Cup after Tamim Iqbal stepped down from captaincy.
The Asia Cup and the World Cup are the targets and Shakib, who continues to show an impeccable talent of managing various facets that transcends the periphery of the field.
Shakib had returned to the country on Monday and by yesterday morning was travelling to Barishal to inaugurate a hospital. Later in the evening, he fulfilled another commercial commitment in Dhaka.
"If I don't work, I would become insane," Shakib had famously said once when it appeared that there was a lot on his plate amid frequent travelling.
He has only pushed boundaries in that regard. In Barishal, a huge crowd acknowledged Shakib's presence in the city. Asked about his dream, Shakib replied, "The dream is the World Cup and Asia Cup. The rest we will see later."
Prior to the Barishal trip, the all-rounder featured in the G20 Canada T20 league in Canada before heading to Sri Lanka to play the Lanka Premier League. He then headed to Dubai for a commercial engagement on Monday.
Asked about his engagements in between cricket and the enormous distance covered in the space of days, Shakib said, "As a professional cricketer, we have to manage such things. Since there isn't a lot of time, a way has to be found to manage everything in the little time that's available. It's a little busy but I enjoy it."
Shakib, with a little time left before huge assignments, would have to manage quite a lot.
His relationship with Tamim had been a major talking point ever since Bangladesh Cricket Board president revealed in an interview that the two were not on talking terms. Following Tamim's retirement saga, the experienced opener returned to the nets for a batting session a few days back. The southpaw would likely now return for the New Zealand series sandwiched between the two big events.
Cricket operations chairman Jalal Yunus had recently said: "We all want Tamim to return to his previous self. He is recuperating from a big injury and everyone is supporting him."
Part of that management skill would have to come from Shakib as well, in order to make the dressing room geared up with one singular focus. Along with the seniors, Shakib would now be managing youngsters from that U-19 group who tasted World Cup success in 2020. It is time to rope everything in and become a team ahead of big events.
Back in 2019, Shakib had worked with a singular focus to get ready for the World Cup despite an imminent ICC ban hanging over his head. This time he does not need that "kick", he said yesterday. "Just trying to be as fit as possible," he added.
Shakib's fitness work is already exemplary, but now he must ensure the team's energy points towards the same goals. This time as a World Cup captain, he is far from the youngster he was in his previous tenure. His remarkable feats in the 2019 campaign gained him individual accolades but the team did not leave a mark. In the driving seat this time, only time will tell what Shakib has in store.