Rodrygo explains reason behind Ronaldo celebration
Holders Real Madrid breezed past Chelsea into the semi-finals of the Champions League with Rodrygo's double securing a 2-0 win at Stamford Bridge on Tuesday to set up a likely mouth-watering clash with Manchester City.
Rodrygo opened the scoring in the 58th minute, before tapping in again in the 80th to spark a mass exodus of Chelsea fans who had seen enough.
Having netted Real Madrid's first, the young Brazilian performed the trademark 'Siu' celebration of the iconic Al-Nassr striker Ronaldo.
Rodrygo explained after the match that a pain in his knee prevented him from sliding on the pitch and prompted the improvised tribute to his "idol".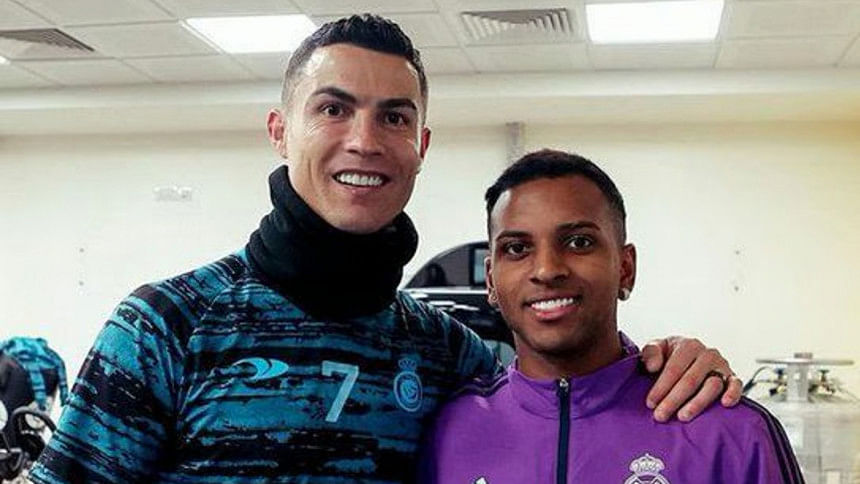 "I thought about sliding on my knees, but I have a slight swelling so I couldn't. Then Cristiano, who is my idol, popped into my head and that's how it came out."
Rodrygo was one of Real Madrid's outstanding performers in the second leg of the quarter-final. 
At the end of the clash, the forward sought to explain his fine form in Europe's top competition: "I don't know how to explain it, but I always say it's a really special competition for me. Whenever I've played I've always managed to do something to help my team. I'm so happy, I hope I can keep going like this, scoring more goals, providing more assists and winning the Champions League again."
 
"It's a pleasure to be playing for Real Madrid, the greatest team in the world, and we know that we're practically obliged to reach the semi-finals, the final and win the Champions League. Since we got here, we've had that in our heads. We have to produce very good performances and I think we're doing that. Since I've been playing here we've come a long way in this competition and I hope we can continue like this."