Ronaldo gifted expensive custom watch with iconic celebration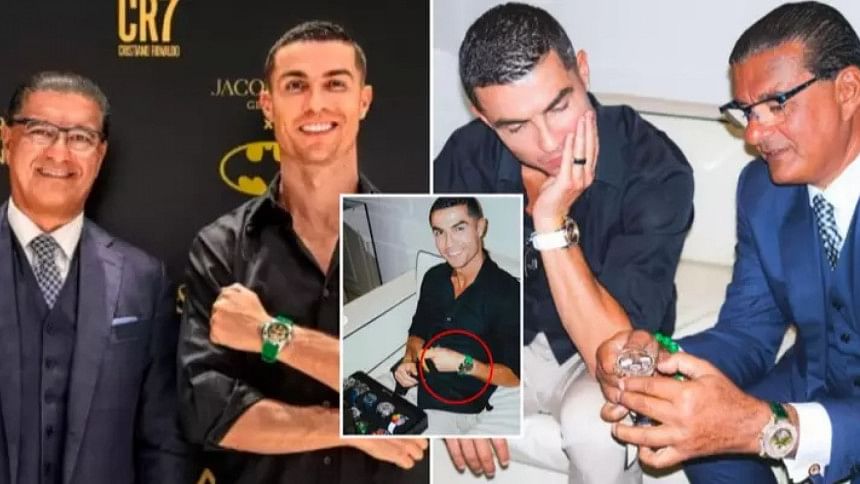 Al Nassr star Cristiano Ronaldo was gifted a custom-made watch as he attended the Jacob & Co boutique launch in Saudi Arabia.
Ronaldo moved to the Middle East after his second stint with Manchester United ended in disarray.
In January, Ronaldo confirmed his big-money move to Saudi Professional League side Al Nassr.
Last week, Ronaldo attended Jacob & Co's new launch in Riyadh, which celebrates iconic moments from the five-time Ballon d'Or winner's illustrious career.
Ronaldo was gifted a custom-made watch worth an eye-watering £92,000.
The 'Heart of CR7 Baguette' is one of four new models and the design included Ronaldo's famous 'siu' celebration on the back and it's also covered with 26 baguette cut diamonds on the frame.
Within the new collection, the 'Flight of CR7 Baguette' is priced at £115,000 and includes Ronaldo's iconic header for Real Madrid against United in the 2013 Champions League.
The other two watches in the collection are priced at £44,000 and £22,000 respectively.
Jacob & Co launched the new collection to celebrate the opening of their first boutique in Saudi Arabia.
Ronaldo was present at the opening as he is an ambassador of the brand.
Jacob & Co founder, Jacob Arabo said: "We are thrilled to open our flagship boutique in KSA and to bring our unique products and designs to the wonderful people of Saudi Arabia.
"We have always been inspired by the warmth, creativity and innovation of Saudi Arabia and are excited to be entering the Kingdom now and grow to become a part of, and contribute to, the kingdom's development.
"The Saudi people have a discerning eye for luxury and quality and as we open the doors to our first boutique in Riyadh, we are ready to deliver beyond expectations."
Ronaldo and Al Nassr will be back in Saudi Professional League action next Tuesday as they take on Al Taee.