Language barrier not a problem for Fizz and Warner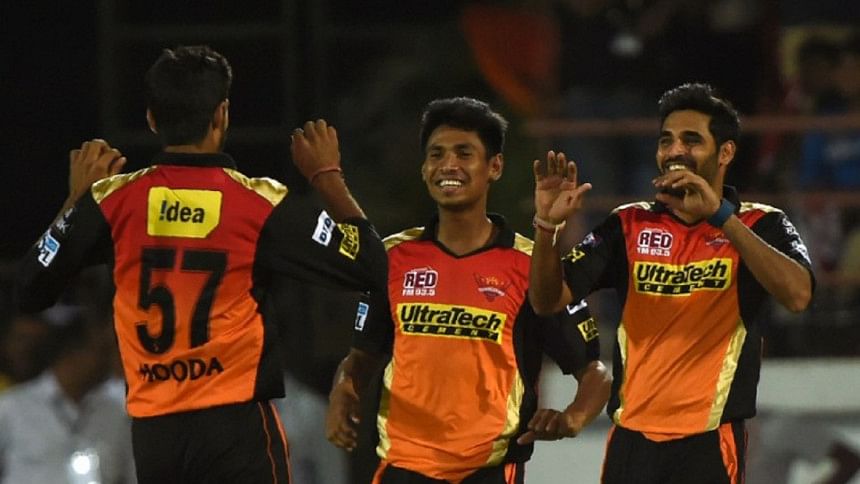 According to Pakistan cricket legend Imran Khan, cricket is probably the sport where the the role of a captain is most essential in determining the fate of his team. During a cricket match, the captain calls all the shots and has to get his message across to his teammates in the heat of battle. Considering the language barrier between Sunrisers Hyderabad skipper David Warner and Bangladesh pacer Mustafizur Rahman, it is even more remarkable how Fizz has fused so seamlessly with his newest team in a setting rather alien to the shy 20-year-old from Sathkhira.
Hyderabad captain David Warner has admitted that he has an extraordinary talent on his hands in Mustafizur, but communicating with the star rookie has proved quite a handful for the Australian cricketer! Along with his use of Google translate, Warner has revealed that he is also taking help from a friend back home who can speak Bangla.
Read more: 'Bowling no problem, but speaking and batting problem'
"It comes before the game: Google Translate," Warner said with a smile when asked how he communicates with his young star."And I've got a friend at home who speaks Bangla, so I get him to text me a little bit," reports cricket.com.au
"But when you're out on the field he knows what he's got to do and he sets his field. If I disagree with one of his field placements, it's pretty easy to communicate." Hyderabad captain added.
The latest cricketing sensation from Bangladesh made the cricketing world sit up and take notice when he took 11 wickets in his first two one-day matches to give Tigers their maiden series win over India. Indian batting stalwarts like Rohit Sharma, Virat Kohli and Suresh Raina were all at sixes and sevens facing the barrage of mystical cutters from Mustafizur.
Mustafizur has been rocking to the core in 20-over cricket, and played an important role in Bangladesh's campaigns at the recently concluded Asia Cup and ICC World T20 2016 in India. Currently, Fizz is ranked the 19th best T20 bowler in the world by the ICC, having played only 13 T20I matches.
READ more: Relive the dream spell of Mustafizur Rahman
In terms of making an impression, Mustafizur has been nothing short of magical with the white ball, and has proved his brilliance in five consecutive IPL games. In Hyderabad's win over Punjab, Fizz's incredible performance at the death earned him the man-of-the-match award as well as rave reviews from his teammates.
The pacer's incredible figures of 2 for 9 in four overs helped restrict Punjab to 143 in the first innings which the Surisers chased down comfortably with 13 balls left.
Also READ: Watch Fizz get Jaddu
Warner was all smug with his star performer, and praised him to the skies during his captain's interview at the post-match presentation ceremony. A sign of how close he was with his new teammate was that Warner was attentive of the uneasiness that the usually ever-smiling Mustafizur was undergoing right then during the presentation ceremony. 
For the record, Fizz bowled his first maiden over in T20 cricket, the first in this year's IPL, had the lowest economy rate ever in an innings after three overs in the IPL by conceding only three runs.