Meet the resto-modded Toyota Corolla AE9X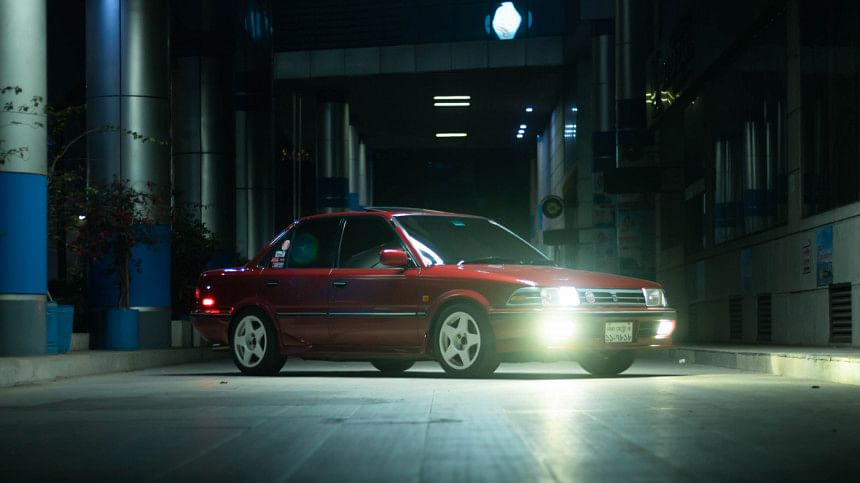 The Toyota Corolla AE9X, a daily beater from the late 80s and early 90s, is known to be very reliable and quite indestructible. There are some examples still running to this date, even without requiring proper maintenance and being CNG-driven. Almost all Corollas go through some form of torture but the AE9X Corollas handle those obstacles like a champ, whereas other cars from that era can't withstand even half the pressure. There were several trim levels such as Base, DX, TX, XE Saloon, SE Limited and SE Super Limited and SE. G Limited. The list goes on if the international market is included. However, the SE. G Limited is the highest trim there is. There's also the GT trim that came with 4AGE and 4-disc brakes.
Now, here's a car that has had the privilege of being well-maintained and now being almost fully loaded with features. Introducing, a unique resto-modded Toyota Corolla AE9X filled with many surprises.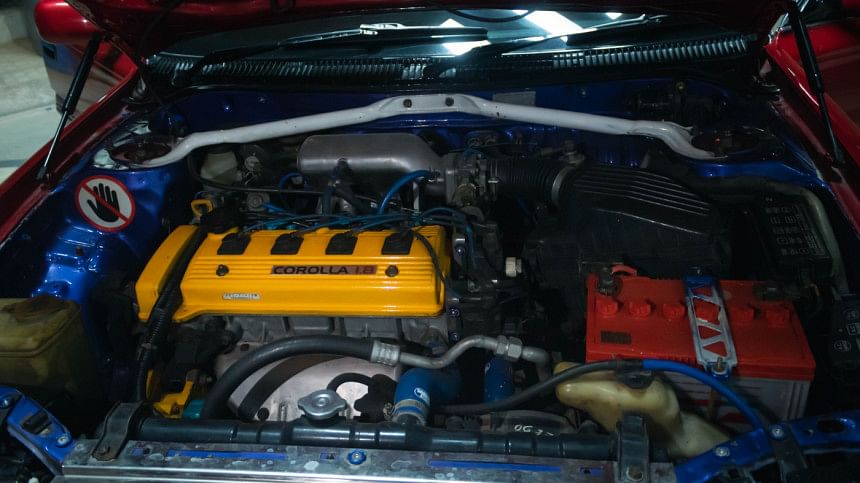 Owned by the local car enthusiast MD Rafi Noor and his family since 1996, this AE9X went through many changes in its long lifetime. In its initial stage, it was a XE Saloon trim EE90, which came with a 2E carburettor engine and C40, with a 4-speed transmission. Later on, it was swapped with a 3E carburettor engine. Despite being a carburettor engine, it was solid and reliable. However, the one thing that it lacked was power, so the car went through another engine swap - this time, a 7AFE engine from an AT211 chassis.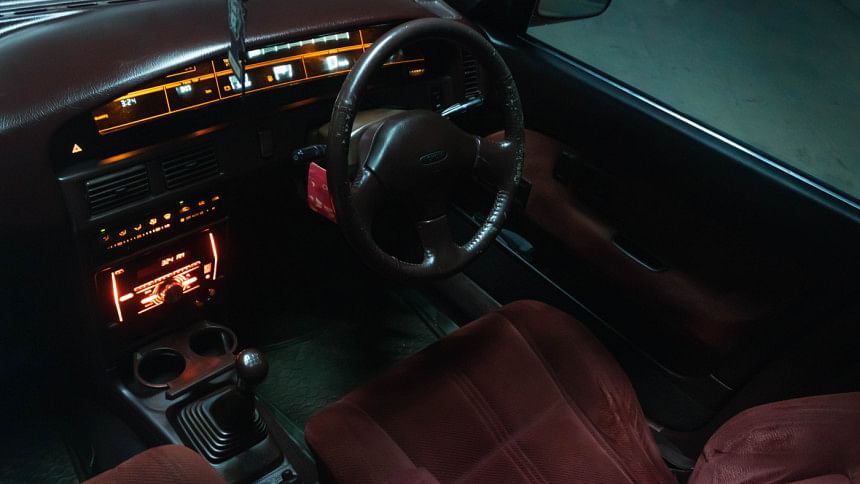 The swap gave the car a minimum of 30 horses and a 40 nm torque increase, tied to a C59 5-speed gearbox. This specific gearbox comes with a 7afe MT setup. Now, you might wonder why would someone go for a 7AFE over a 4AGE or 2ZZGE in this regard. The reason is quite simple: reliability, what these cars are known for. This was also a more cost-effective solution than alternative methods. The car also sports an installed aftermarket oil cooler kit, which gets the job done quite well. Of course, with additional power, the braking system also had to be upgraded, thus opting for 4-disc brakes from AE111 GT with an upgraded brake booster. The brakes aren't the only things needed, as the car also has to be stable. As such, it has bars and coil overs for better stability.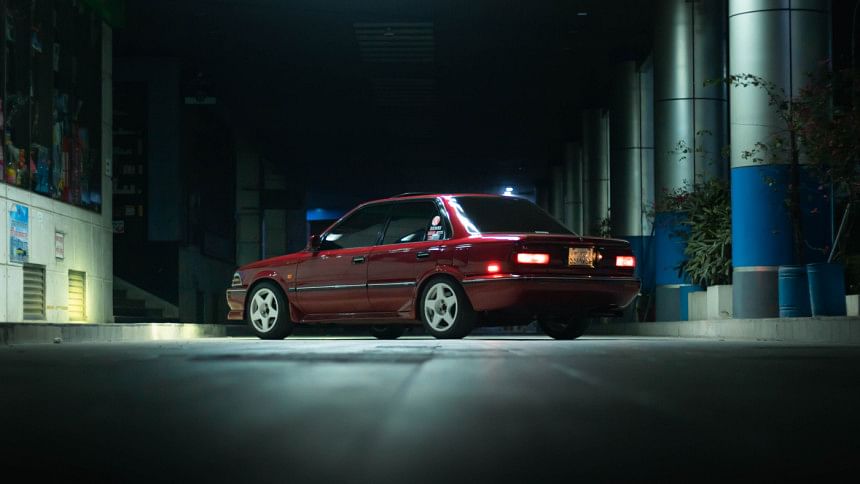 The front of the car features an OEM front strut bar and OEM front sway bar. In the rear, a custom-made rear strut bar. The coil overs are a 3-way adjustable BLITZ ZZR damper, which can be adjusted to be made harder or softer. The settings also allow the damper's height to be adjusted as well. It has Fifteen52 Miami Beach rims which are wrapped with Bridgestone Potenza RE003 tires, as good tires are also important for builds like these to maintain grip in all sorts of conditions.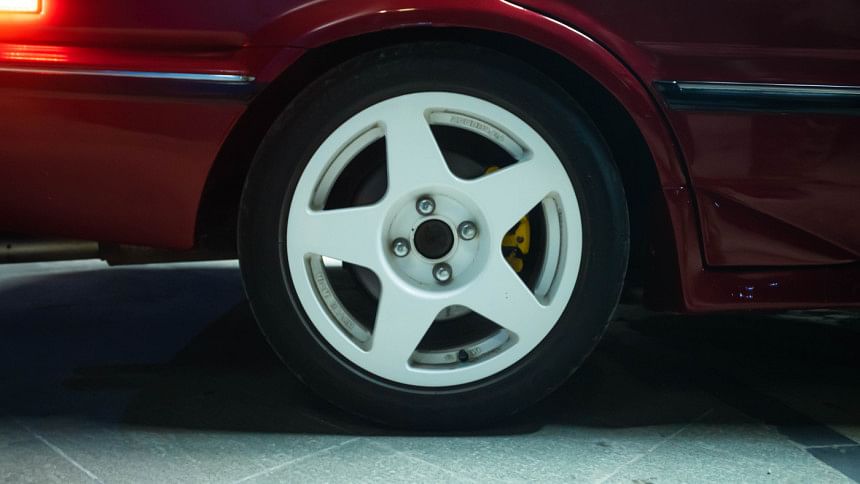 As it was previously a basic 1.3L XE Saloon, the car had a very basic interior spec. What Rafi did was swap everything to SE. G Limited's interior, alongside other necessary changes. The car now sports every single interior part that SE. G Limited 90s have to offer, which includes SE. G steering wheel, soft-touch AC panel with climate control, cup holders, secondary armrest, rear armrest and headrest, lumbar support, OEM air purifier, etc. AE9X trims were quite strange back in the day. It was almost as if people chose whatever option they felt like on any trim, so no car always had everything, even at the highest trim level.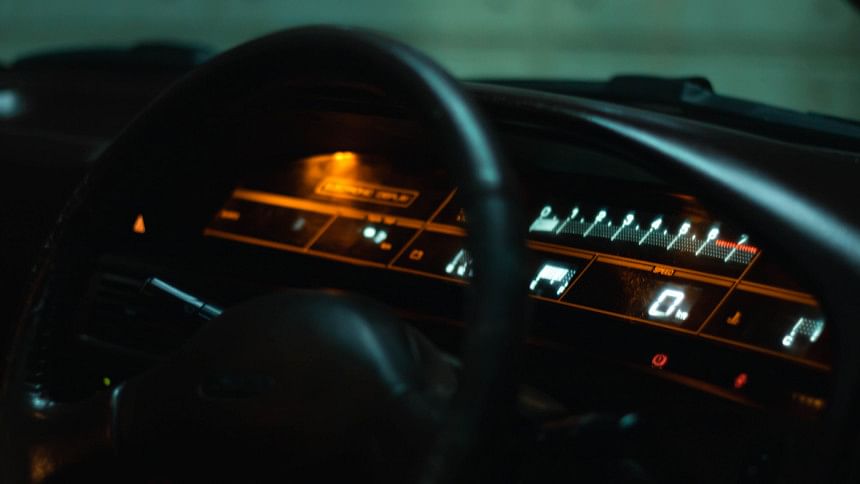 Moreover, this car has some very rare goodies like the Wagon Sprinter front grill, USDM taillights and last but not least, the AE92 digital cluster - one of only two of its kind in Bangladesh. This car was completely restored with reconditioned fresh body parts, including the fenders, doors, trunk and bumpers. It also has a two-way sunroof which is installed from a CERES GT roof cut. The car was facelifted to an EE90 wagon with an AE90 sprinter bumper.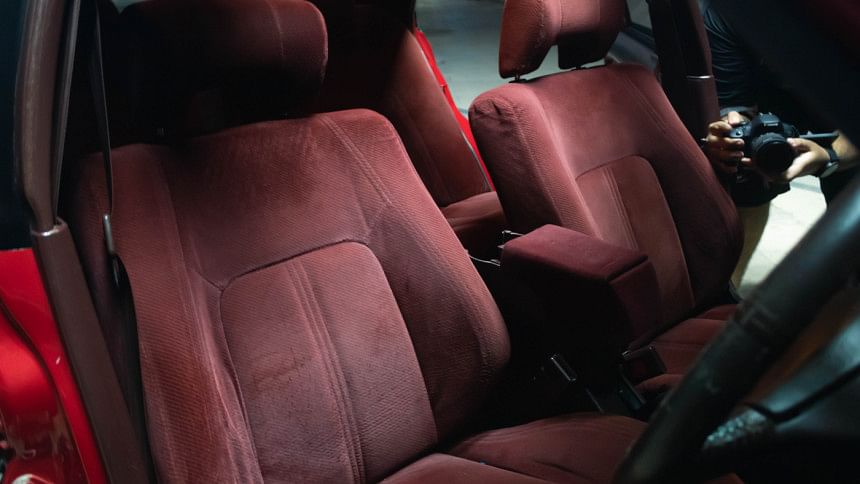 On and on, this resto-modded Toyota Corolla AE9X is a beautiful car. Even though it just misses out on a few rare features, it is still the most loaded AE9X in Bangladesh. According to Rafi, he isn't quite done with the car just yet, with many more plans for it in the near future.
Photos: Abrar Shareque Khan