Proof of 'alien' presented to Mexican Congress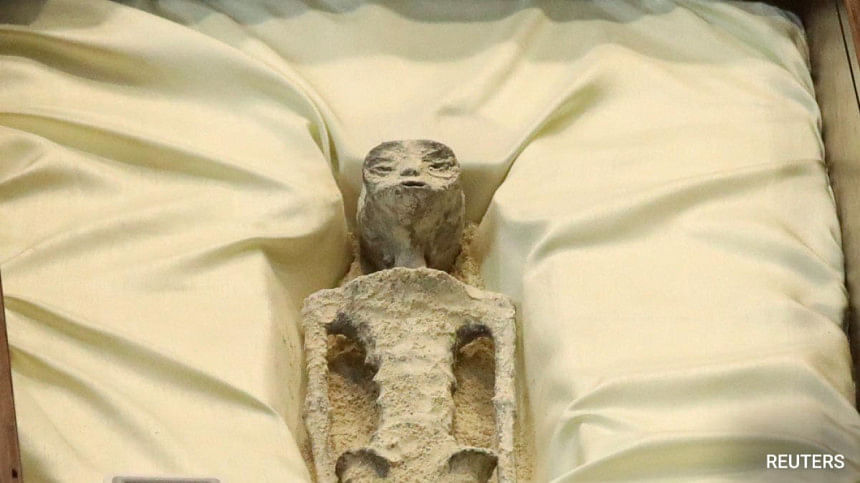 In an unprecedented congressional hearing on Tuesday, Mexican lawmakers examined what was touted as physical evidence supporting the existence of Unidentified Anomalous Phenomena (UAP), commonly known as UFOs. The hearing marked Mexico's first official government discussion on the subject, following in the footsteps of recent US hearings.
The artefacts presented were two small 'corpses,' claimed to be extraterrestrial in origin by Mexican journalist and UFO enthusiast Jaime Maussan. Housed in glass display cases, the specimens had three fingers on each hand and elongated heads. According to Maussan, the remains were recovered near Peru's ancient Nazca Lines in 2017 and dated to be about 1,000 years old, based on carbon dating performed by Mexico's National Autonomous University (UNAM).
"We are not alone," Maussan told the lawmakers, insisting the remains are evidence of extraterrestrial life. 
However, UNAM clarified in a statement republished on Thursday that their work was solely intended to determine the age of the samples. "In no case do we make conclusions about the origin of said samples," the university said, distancing itself from Maussan's claims.
Jose de Jesus Zalce Benitez, Director of the Scientific Institute for Health of the Mexican Navy, also weighed in on the issue, stating that X-rays, 3-D reconstruction, and DNA analysis had been performed on the remains. "I can affirm that these bodies have no relation to human beings," he said.
Lawmakers also heard testimony from Ryan Graves, a former U.S. Navy pilot who has previously testified before U.S. Congress regarding his personal experiences with UAPs. Graves discussed the stigma surrounding UAP sightings and emphasized the need for a serious investigation into the phenomena.
Congressman Sergio Gutierrez, from President Andres Manuel Lopez Obrador's ruling Morena party, said he hoped the event would be the first in a series of similar hearings in Mexico. "We are left with reflections, with concerns, and with the path to continue talking about this," Gutierrez said.
The hearing comes at a time when governments worldwide, including the United States, are gradually shifting their stances on UAP. The Pentagon has begun actively investigating UAP sightings reported by military aviators, and NASA is poised to discuss its own UAP study findings on Thursday.
Despite the high-profile setting, Maussan's claims were met with scepticism and immediate backlash, particularly from the scientific community and social media users. Critics pointed out that similar finds in the past were eventually identified as mummified human children. 
"This could really hurt efforts to take the issue seriously," lamented one user on X social media platform, formerly known as Twitter. Critics questioned why the evidence was presented in a congressional hearing before undergoing a thorough peer review process.