Towards a just and inclusive society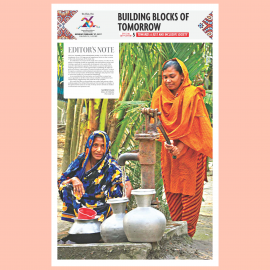 Editor's Note
This issue, Towards a Just and Inclusive Society, is the fifth and final instalment of our 232-page special supplement series on the occasion of the 26th Anniversary of The Daily Star.
In celebration of 26 years of The Daily Star's journey, we take on the subject of working towards an equitable, just and inclusive society and charting a pathway for sustainable development in the spirit of the post-2015 development agenda. With articles on poverty alleviation, ensuring equal access to work opportunities, upholding the rights of girls and women, conservation of natural resources and more—written by experts, academics and development practitioners—this issue analyses various socioeconomic development challenges and proposes ways to overcome hurdles for a prosperous Bangladesh.   
As we conclude this five-part series, we would like to extend our sincere gratitude to all the writers whose valuable contributions have enriched these supplements and made this series possible.
We would also like to acknowledge our readers and patrons whose undying support has helped this paper go from strength to strength. As this special series comes to an end, we hope to have served our readers an informative and pleasant read.
Mahfuz Anam

Editor & Publisher

The Daily Star