Can Horibol pursue his dreams?
Defying odds, visually impaired boy gets GPA 5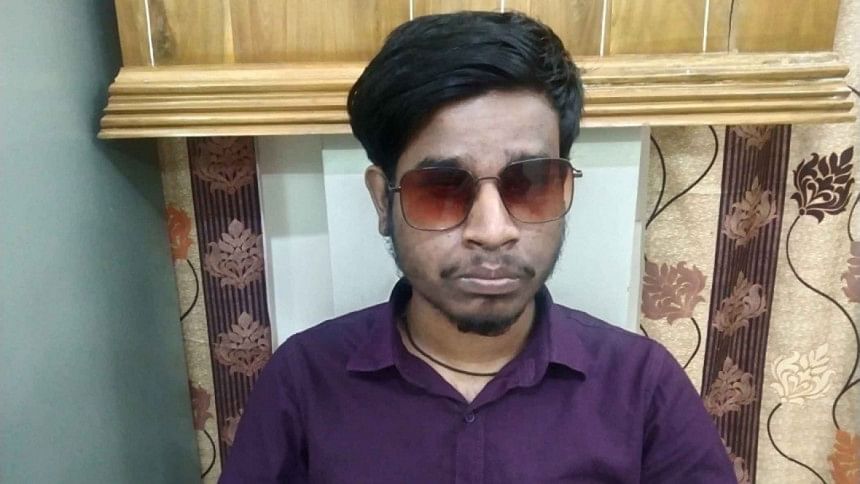 "I didn't think I could come this far," said a beaming Horibol Bonarjee, a student of Moulvibazar Government High School, who passed this year's Secondary School Certificate (SSC) exams.
Blind from birth, life has not been easy for the 17-year-old.
Belonging to a family of poor tea workers, he faced many obstacles from the beginning. But neither blindness nor other hardships he faced in life could stop him from achieving his goal.
Defying all odds, he scored GPA 5, touching the hearts of everyone in his locality as well as those who heard his story.
Horibol's house is in Hooglichhara Tea Estate of Moulvibazar's Sreemangal upazila. His Father Anil Bonarjee and mother Vishakha Bonarjee both are workers in the tea garden.
Horibol started his education at a local school run by Brac. After passing fifth grade, he went to Moulvibazar Government High School. Since then, he has been staying at Visually Impaired Hostel in Moulvibazar Sadar next to the school.
Expressing his delight, Faruq Ahmad, headteacher of the school, said the result showed that Horibol's hard work paid off.
"We wish him success. Hope, he will be successful in his life," he added.
Admitting he wasn't expecting such a result, Horibol said his determination pushed him this far.
"I was always motivated for studies. And my interest in studies increased when I passed the PECE exam. I achieved a GPA of 4.83 in that exam, which helped me get admission to Moulvibazar Government High School," he said from his hostel.
"I have come a long way. Now, I want to become a social worker and teacher," said Horibol, who had to rely on a class VIII student for writing his exam papers.
Despite his success at the SSC exam, the future isn't all bright for Horibol.
Horibol's father Anil said he is happy with the result of his son despite his inability to provide him with the necessary support. But he is not sure how he would support Horibol's future education expenditures with his meagre income as a tea worker.
The thought of the coming challenges also made his mother anxious.
"I have appealed to a number of my relatives and neighbours for help, but did not get any response yet," said Vishakha.
Apan Das, a local teacher who volunteers for the well-being of tea workers, said he is proud of Horibol's achievements. He said locals have helped in Horibol's pursuit so far. But what lies ahead for this bright student remains uncertain.
Habibur Rahman, deputy director of Moulvibazar District Social Service Office, said though he is willing to help Horibol, what assistance the government would provide remains uncertain.
Habibur said the government programmes for supporting students like Horibol stops when they reach the age of 18.
"We are happy with his result. We have limitations. However, I will discuss the issue with the higher authorities," he said.