Growth in taxpayer registration slows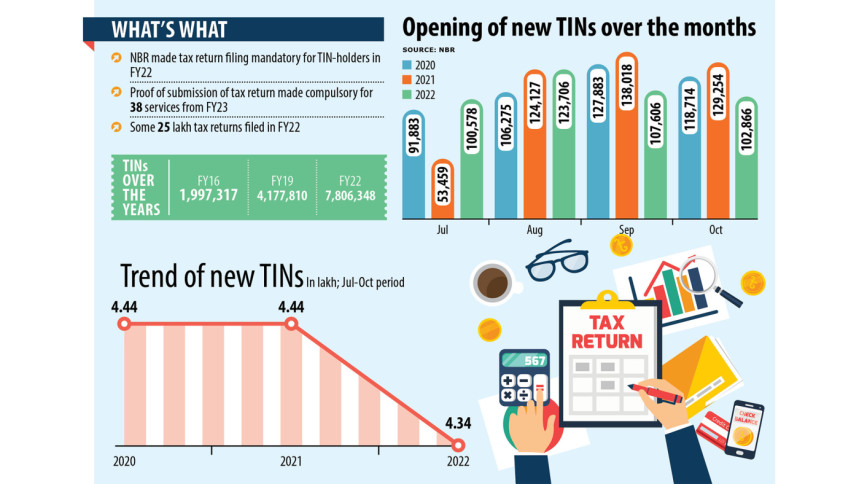 The National Board of Revenue (NBR) is witnessing slowing growth in the number of new taxpayers as the rule for compulsory tax return submission discourages many, officials say.
The tax authority saw the number of registered taxpayers hit 78 lakh by the end of fiscal 2021-22, up 22 per cent from 64 lakh a year ago, according to NBR data.
And in the first four months of the ongoing fiscal (July-October), 4.34 lakh persons and firms got new TINs, down 2 per cent from the same period a year ago.
Insiders blame the rule of mandatory filing of tax returns irrespective of income and the requirement for submitting proof of tax returns for 38 services for the slowing growth. Besides, the absence of easy ways to file tax returns is also blamed.
"The rule was introduced to increase revenue but the problem is hassle in preparation of returns while filing is not easy yet. People will be encouraged once the process is made easier," said Muntaseer Kamal, research fellow of the Centre for Policy Dialogue (CPD).
Besides, there are questions about the use of public money. Many want to know what they get in return for paying tax in terms of public services such as health and education.
"If they see returns, they will feel inspired," he added.
However, some officials say the total number of TINs is already above 82 lakh now and the rate of opening new TINs is unlikely to grow fast as many potential taxpayers have already signed up.
The NBR, except for 38 services, is also not encouraging all to register for TINs.
"We are not encouraging fresh TINs only for the sake of TIN only. We are rather increasing compliance of return submission," said a senior official of the NBR.
He then said the tax authority is considering making a rule for giving a one-time TIN for people who do not have taxable income but need it for a single purpose.
Officials said many got TINs earlier as there was no requirement for tax return filing.
Md Aminur Rahman, a former member for income tax policy of the NBR, said the number of registered taxpayers is still low considering the country's total population of nearly 17 crore.
He went on to say that many people who have legally earned wealth are afraid that they might have to face questions about the sources of their money.
"So, the tax authority can relax such provisions for first time return filers," Rahman added.