New jute variety, technologies launched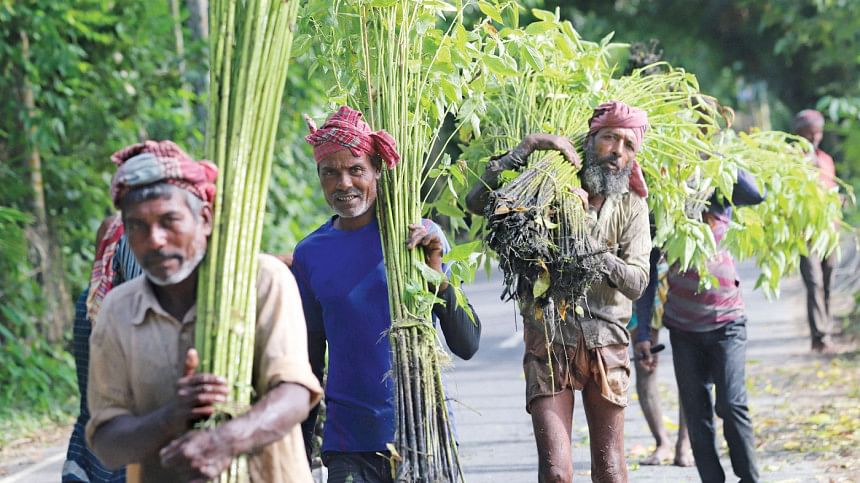 Bangladesh Jute Research Institute (BJRI) yesterday launched a new variety of jute and four technologies to expand cultivation of the natural fibre across the country.
The new "BJRI Mesta-4" can basically be consumed as a green vegetable while its leaves can be used to make jelly, said Md Babul Hossain, principal scientific officer of the BJRI.
The technologies are on controlling a yellow pest, an improved cropping pattern and seed production.
Hossain was delivering a presentation at a "BJRI Developed Technology Transfer Workshop-2023" at the BJRI auditorium in the capital.
The alternative cropping pattern was on using fallow land in between the cultivation of paddy in the Boro and Aman seasons, enhancing cropping intensity, productivity and income, he said.
If even 15 per cent of the 2.31 million hectares of land left to rest during the cropping cycle can be used to cultivate this new variety, overall annual output can be raised by 50 per cent, he added.
Addressing as chief guest, Shaikh Mohammad Bokhtiar, executive chairman of Bangladesh Agricultural Research Council, said jute and sugarcane were assets of Bangladesh but the country has not been able to keep pace with global changes.
"Sugarcane was once a rural industry. Due to the lack of technology, proper management and global changes, these two sectors are now in crisis," he said.
Bokhtiar also alleged that the BJRI was slow in conducting research activities.
"Many years ago, the jute genome sequence was decoded by Maqsudul Alam. It was much relevant for that time. But we don't want to hear this story anymore. We are frustrated with the BJRI," he said.
Md Abdul Awal, director general of the BJRI, presided over the event where Jiban Krishna Biswas, executive director of Krishi Gobeshona Foundation, was the special guest.