Reforms key to more investment from EU
Ambassador Charles Whiteley says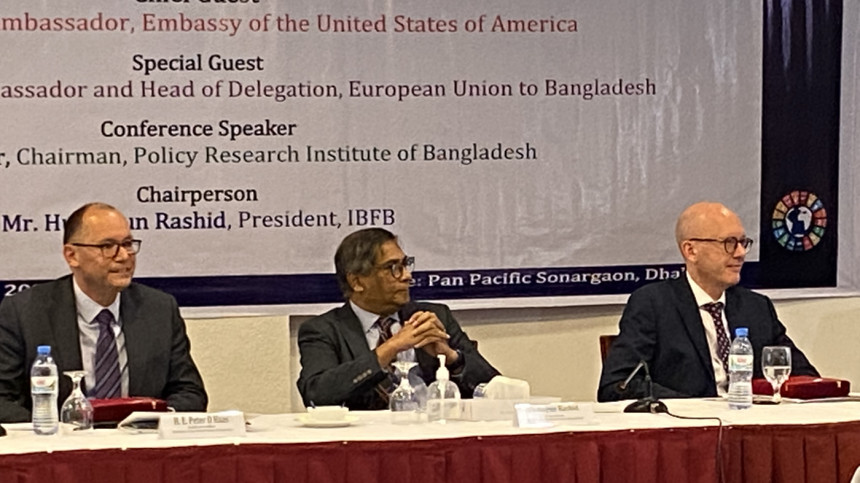 Regulatory reforms ensuring level playing fields for local and foreign companies and reforms in taxation are required to attract more foreign direct investment (FDI) from the European Union (EU) nations to Bangladesh.
This was stated by Charles Whiteley, ambassador and head of the delegation of the EU in Bangladesh, at a 16th annual general meeting of the International Business Forum of Bangladesh (IBFB) at the Sonargaon hotel in Dhaka yesterday.
Only the sky is the limit when it comes to investment from the EU to Bangladesh, said Whiteley.
He said the general inflow of FDI from the EU to Bangladesh was $3.5 billion over the last five years, which was good.
Bangladesh has more opportunities to attract more FDI from the EU, he said.
Vietnam, having a population of less than 100 million, received more than $6 billion in FDI from the EU nations whereas Bangladesh, with over 160 million people, received $3.5 billion, said Whiteley.
Bangladesh should be in a position to achieve the GSP Plus status to confirm duty-free market access to the EU after it makes the UN's status graduation from a least developed to a developing country in 2026, the ambassador said.
Bangladesh needs to achieve the status through ensuring compliance with 32 international conventions that cover four core areas, including good governance, human rights, labour rights and environmental protection.
The EU will continue the duty-free market access for Bangladesh up to 2029 as it is the largest trade bloc's custom to provide three more years to a graduating nation for taking preparation for a smooth transition, he said.
Whiteley also said the EU would hold a talent hunt programme in November to select young people to send them to EU nations for imparting training on different subjects for four years.
After four years, they will come back to Bangladesh with the knowledge so that brain drain can be stopped, he said.
The EU ambassador suggested revival of the jute sector and for exploring more export of pharmaceuticals as garments alone contribute over 83 per cent of national exports in a year.
Peter D Haas, American ambassador to Bangladesh, said his country supports the IBFB's goals of reducing corruption and bureaucracy, attracting foreign direct investment, and strengthening economic governance.
Celebrating 50 years of diplomatic relations of the two countries, the US focused on five key objectives for attaining targeted investment and economic success, he said.
The areas are firstly a peaceful and stable Bangladesh and secondly a Bangladesh that was committed to democracy, transparency, pluralism, tolerance, good governance, and respect for human rights, he said.
The third focus is a socially and environmentally resilient Bangladesh and the fourth is supporting the country's efforts to host Rohingya refugees until a safe, voluntary and dignified return to Myanmar is possible.
"Each of these first four goals underpin our fifth goal: supporting Bangladesh in its efforts to achieve sustainable and broadly shared prosperity, improve labour standards, expand and diversify Bangladesh's economy, and open it to greater regional and global trade and connectivity," said Haas.
"Of all the areas of our bilateral cooperation, I am convinced that we can go furthest and fastest on economic issues," he added.
Haas then said many US and international businesses want to expand operations in the region.
"And we want to help Bangladesh create a business climate that is as welcoming as possible to foreign investment."
For the growing bilateral trade, the US embassy will welcome the first-ever full-time attaché from the US Department of Commerce very soon in Dhaka, which will eventually provide a direct liaison between US and Bangladeshi businesses.
"In short, together we have the foundation on which to expand our economic relationship," he said.
But in order to take things to the next level, two things must happen, one of which is that international companies and investors must become more aware of the opportunities Bangladesh presents.
Second, Bangladesh must be ready to welcome American businesses.
"I doubt this will come as a shock to any of you, but most heads of US companies do not wake up in the morning thinking 'Hmmm – maybe I should do business in Bangladesh'," said Haas.
They usually have their hands full just keeping up with the US market and if they are operating globally, they are probably operating in well-understood markets and are simply not aware of Bangladesh, he added.
But as members of the IBFB know, there are strong reasons to look at Bangladesh for market opportunities. And Bangladesh is worthy of their attention, he said.
First, even in these challenging times, Bangladesh has a great macroeconomic story to tell. It has been among the fastest growing economies in the world over the past decade.
The country's financial leaders have so far managed its debt well and are taking important steps to deal with the inflationary pressures resulting from the Russia-Ukraine war.
"Yes, times are tough. And as the World Bank recently pointed out, Bangladesh needs additional reforms in order to maintain its economic expansion going forward. But so far, the macroeconomic situation seems manageable," Haas said.
In other words, Bangladesh is a better place for American and other international business to devote their time and resources than other countries in the region or elsewhere around the globe.
As Bangladesh graduates to middle-income status, it will find it has many competitors also hungry for international business.
It is one thing to build a special economic zone but that alone is not enough to attract the best investors, he said.
A smart company considering doing business overseas will certainly want to see certain things, including a developed transportation system, consistent access to power and water, and a well-trained workforce.
Bangladesh has made great strides in filling these needs but a company also wants certainty and security while political violence and electoral instability scare them.
A company wants a policy framework that is understood and laws that are consistently enforced. A company wants to know that if a dispute arises, it has access to courts that can quickly and fairly settle it.
A company does not want to be taxed more rigorously or investigated more thoroughly than its local competitors, Haas added.
This country has seen misery, fought famine and abject poverty, yet survived to become a lower middle-income country in 2015, said Zaidi Sattar, chairman of Policy Research Institute.
Now it is on way to make the LDC status graduation and is on track to become an upper middle-income country by 2031, he said.
Humayun Rashid, president of the IBFB, also spoke.