Aftermath of pelosi's Taiwan visit: China stages largest ever military drills
Fires 11 missiles in waters around the island; Asean warns tensions could spark 'open conflicts'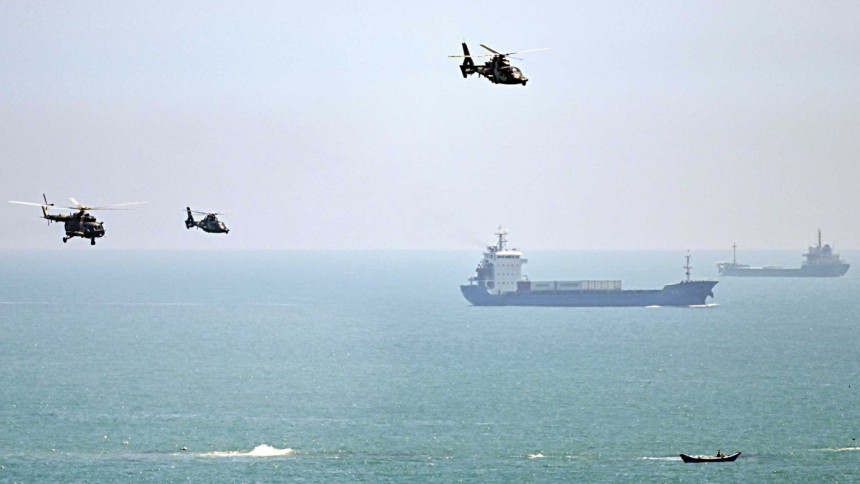 China yesterday deployed scores of planes and fired live missiles near Taiwan in its biggest-ever drills in the Taiwan Strait, a day after US House of Representatives Speaker Nancy Pelosi made a solidarity trip to the self-ruled island.
China's military confirmed multiple firings of conventional missiles in waters off Taiwan as part of planned exercises in six zones set to run until noon on Sunday. It activated more than 100 planes, including fighter jets and bombers, and over 10 warships, state broadcaster CCTV said.
"The US-Taiwan collusion and provocation will only push Taiwan towards the abyss of disaster, bringing catastrophe to Taiwan compatriots," said a Chinese defence ministry spokesperson.
Taiwan said 11 Chinese Dongfeng ballistic missiles had been fired in nearby waters - the first time since 1996 - while Japan protested that five missiles appeared to land in its economic zone.
Tokyo's defence ministry said four of the five missiles that appeared to land in Japan's exclusive economic zone are "believed to have flown over Taiwan's main island". Japan has lodged a diplomatic protest with China over the presumed missile landings in its EEZ.
Taipei's defence ministry said it had detected 22 Chinese fighter jets briefly crossing the Taiwan Strait's "median line" during the exercises. Taiwan also scrambled jets and deployed missile systems to track Chinese aircraft crossing the line.
Taiwan officials said the drills violated United Nations rules, invaded its space and threatened free air and sea navigation. Beijing, which considers Taiwan a part of its territory to one day be reclaimed, by force if necessary, has defended the drills as "necessary and just", pinning the blame for the escalation on the United States and its allies.
Taiwan said that websites of its defence ministry, foreign ministry and the presidential office were attacked by hackers, and warned of coming "psychological warfare".
Chinese Foreign Minister Wang Yi called Pelosi's visit to Taiwan a "manic, irresponsible and highly irrational" act, state broadcaster CCTV reported.
Wang, speaking at a meeting of Southeast Asian foreign ministers in Cambodia, said China had tried to avert crisis by diplomatic means but would never let its core interests be hurt.
In the meeting, ministers from the 10-member Association of Southeast Asian Nations (Asean) warned against "provocative action". The situation "could lead to miscalculation, serious confrontation, open conflicts and unpredictable consequences among major powers", the ministers said in a joint statement published yesterday.
Wang Yi is attending the talks along with his US counterpart Antony Blinken, though they are not expected to hold a one-on-one meeting.
Blinken said the United States had contacted China "at every level of government" in recent days to call for calm and stability.
EU foreign policy chief Josep Borrell, also in Phnom Penh, condemned the Chinese response saying a visit can't be "a pretext for aggressive military activity".
Meanwhile, the Kremlin yesterday reiterated its support for China and accused the United States of artificially fuelling tensions in the region.
The United States has no official diplomatic relations with Taiwan but is bound by US law to provide it with the means to defend itself. Taiwan rejects China's sovereignty claims, saying only the islanders themselves can decide their future.