Adani loses Asia's richest crown as stock rout deepens to $86b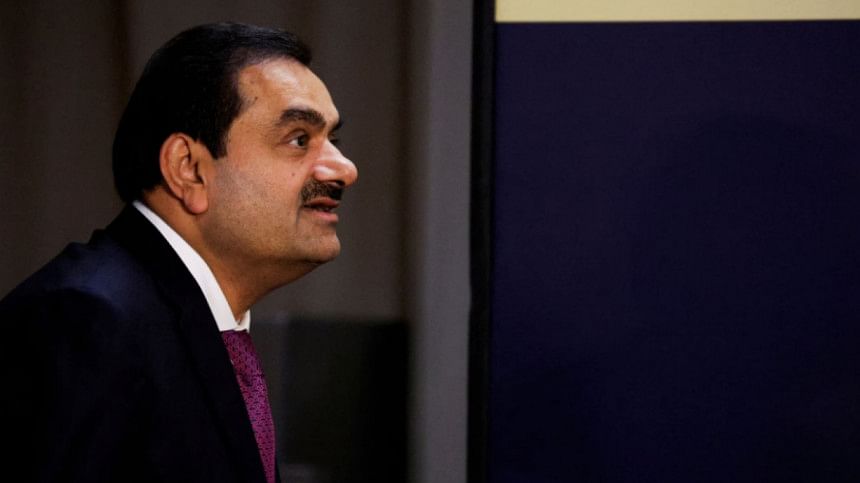 Shares in Indian tycoon Gautam Adani's conglomerate plunged again on Wednesday as a rout in his companies deepened to $86 billion in the wake of a U.S. short-seller report, with the billionaire also losing his title as Asia's richest person.
Wednesday's stock losses saw Adani slip to 15th on Forbes rich list with an estimated net worth of $75.1 billion, below rival Mukesh Ambani, the chairman of Reliance Industries Ltd (RELI.NS) who ranks ninth with a net worth of $83.7 billion.
Before the critical report by U.S. short-seller Hindenburg, Adani had ranked third.
The losses mark a dramatic setback for Adani, the school-dropout-turned-billionaire whose fortunes rose rapidly in recent years in line with stock values of his businesses that include ports, airports, mining, cement and power. Now, the tycoon is fighting to stabilise his companies and defend his reputation.
The share slides come just a day after the Adani Group managed to muster support from investors for a $2.5 billion share sale for flagship firm Adani Enterprises, in what some saw as a stamp of investor confidence at a time of crisis.
The report by Hindenburg Research last week alleged improper use by the group of offshore tax havens and stock manipulation. It also raised concerns about high debt and the valuations of seven listed Adani companies.
The group has denied the allegations, saying the short-seller's narrative of stock manipulation has "no basis" and stems from an ignorance of Indian law. It has always made the necessary regulatory disclosures, it added.
Shares in Adani Enterprises (ADEL.NS), often described as the incubator of Adani businesses, plunged 28% on Wednesday, bringing its losses since the Hindenburg report to more than $18 billion. Adani Ports and Special Economic Zone (APSE.NS) dropped 19%. Both stocks marked their worst day ever.
"The kind of fall that we are seeing in Adani stocks is scary," said Avinash Gorakshakar, head of research at Mumbai-based Profitmart Securities.
Adani Power (ADAN.NS) and Adani Wilmar (ADAW.NS) fell 5% each, and Adani Total Gas (ADAG.NS) slumped 10%, with all three falling by their daily price limits. Adani Transmission (ADAI.NS) was down 3% and Adani Green Energy (ADNA.NS) 5.6%.
Adani Total Gas, a joint venture with France's Total (TTEF.PA), has been the biggest casualty of the short seller report, losing about $27 billion.
After losing $86 billion in recent days, the seven listed Adani Group entities now have a combined market capitalisation of about $131 billion.
SCRUTINY
Underscoring the nervousness in some quarters, Bloomberg reported on Wednesday that Credit Suisse (CSGN.S) had stopped accepting bonds of Adani group companies as collateral for margin loans to its private banking clients.
Deven Choksey, managing director of KRChoksey Shares and Securities, said this was a big factor in Wednesday's share slides.
Credit Suisse had no immediate comment.
"There was a slight bounce yesterday after the share sale went through, after seeming improbable at a point, but now the weak market sentiment has become visible again after the bombshell Hindenburg report," said Ambareesh Baliga, a Mumbai-based independent market analyst.
"With the stocks down despite Adani's rebuttal, it clearly shows some damage on investor sentiment. It will take a while to stabilise," Baliga added.
Shares in cement firms ACC (ACC.NS) and Ambuja Cements (ABUJ.NS), which Adani Group bought from Switzerland's Holcim (HOLN.S) for $10.5 billion last year, were down 6.2% and 16.7%, respectively.
Scrutiny of the conglomerate is stepping up, with an Australian regulator saying on Wednesday it would review Hindenburg's allegations to see if further enquiries were warranted.
Data also showed that foreign investors sold a net $1.5 billion worth of Indian equities after the Hindenburg report - the biggest outflow over four consecutive days since Sept. 30.
Headaches for the Adani Group are expected to continue for some time.
India's markets regulator, which has been looking into deals by the conglomerate, has said it will add Hindenburg's report to its own preliminary investigation.
India's state-run Life Insurance Corporation (LIC) (LIFI.NS) said on Monday it would seek clarifications from Adani's management on the short seller report. LIC owned a 4.23% stake in Adani Enterprises as of end-December and more than 9% in Adani Ports and Special Economic Zone. The insurance giant was also a key investor in Adani's recent share sale.
Siddhartha Mohanty, one of LIC's managing directors, said in interviews on Monday that the insurer was engaging with the Adani Group but was positive on its investments.
Hindenburg said in its report it had shorted U.S.-bonds and non-India traded derivatives of the Adani Group.