"9 firefighters haven't died in any incident in recent times"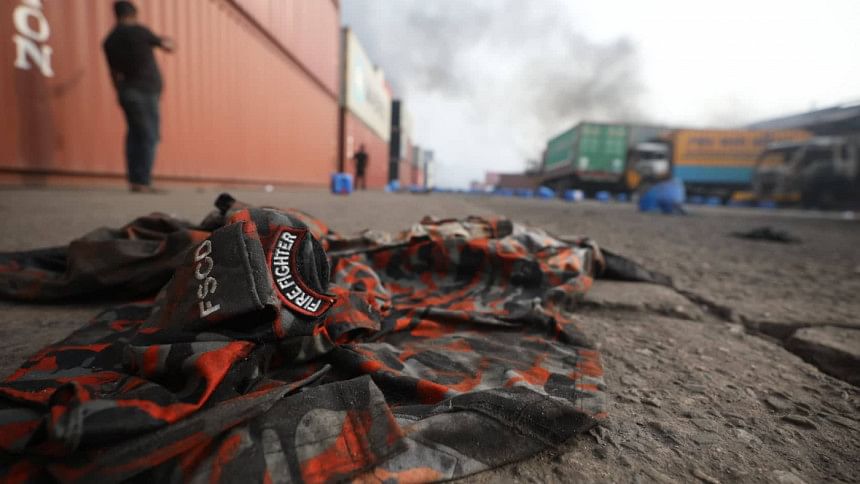 Deaths of nine firefighters have been confirmed in the fire at Chattogram's BM Container Depot, according to Bangladesh Fire Service and Civil Defence.
"These many deaths of firefighters in one fire incident haven't happened before," Fire Service and Civil Defence Director General Brig Gen Md Main Uddin told The Daily Star.
He said, "I've been working with the fire service for almost 25 years. In all these years, I have never seen so many deaths (nine firefighters) in a fire incident."
Eight of the deceased firefighters were identified as: Md Rana Mia, Moniruzzaman, Alauddin, Md Shakil Tarafdar, and Mithu Dewan from Kumira Fire Service Station; and Nipon Chakma, Ramzanul Islam, and Salahuddin Kader Chowdhury from Sitakunda Fire Service Station. One body is yet to be identified.
Also, 12 firefighters are missing. Four of them have been identified as Md Imran Hossain Majumder and Shafiul Islam from Kumira station, and Md Rabiul Islam and Fariduzzaman from Sitakunda station.
At present, 25 units of fire fighters have been trying to douse the blaze.
Brig Gen Md Main Uddin said, "A special team of 14 members of the fire service from Dhaka has rushed to Sitakunda. The team is headed by Assistant Director (Training) Monir Hossain. They've already started working there."
He added, "The fire is not completely under control. There is no possibility of new blazes."
Bodies of 40 people have so far arrived at the Chittagong Medical College Hospital.
The hospital's Police Outpost ASI Alauddin confirmed this information.