Ansar men "beat up" youth for recording video at Noakhali UNO office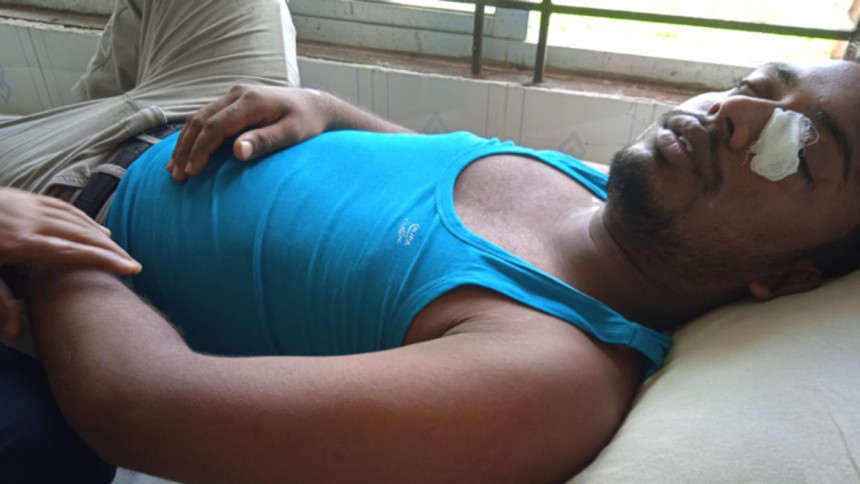 Two Ansar men at Kabirhat Upazila Nirbahi Officer's office in Noakhali allegedly beat up a youth, who went to the UNO office for the correction of his brother's birth certificate.
The injured is Ahsan Habib (22) of ward-3 of Kabirhat Municipality, reports our Noakhali correspondent.
Talking to reporters, the victim said he came under attack by the Ansar men around 12:45 pm at the UNO office.
"I stood in line as the number of service seekers is high. At that time, Yunus, an Ansar member of the UNO office, came to me and tried to drag me away as I was recording a video on my mobile phone," said Ahsan Habib.
Later, Yunus and another Ansar member Rony started beating him and also hit his eye with a stick, he said.
Injured Ahsan Habib said after some time, he entered the UNO's room to inform the matter.
"Ansar members Yunus and Rony beat me up again on my way back for complaining about the matter to the UNO. Later, the UNO sent me to Kabirhat Upazila Health Complex for treatment in a car. I cannot see thorugh my eye," said the victim.
UNO Fatema Sultana said they fought in the field. "No one was beaten up in my room."
In response to another question, the UNO said the two Ansar members will be transferred to the district. The injured youth has been sent to Noakhali General Hospital as he sustained eye injury.
This correspondent could not reach the Ansar members as their mobile phones were found switched off.