Bail hard to come by for BNP ranks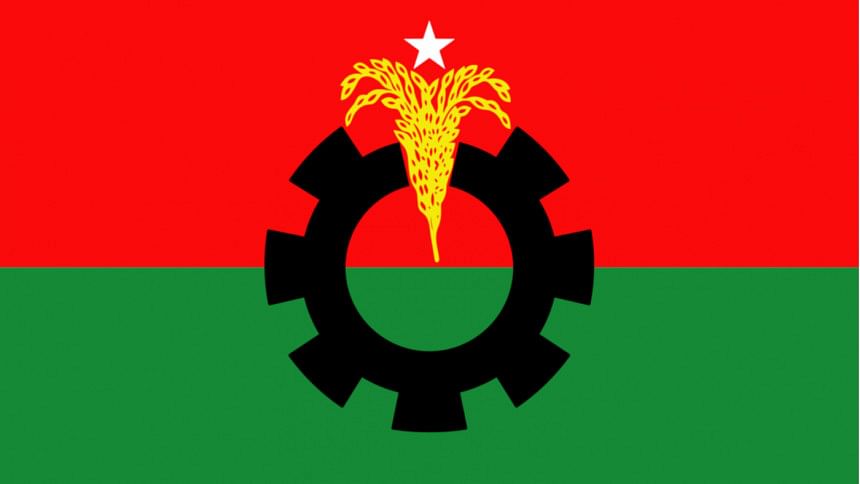 Mehedi Hasan was in Kuwait when Jatrabari police filed a case on July 30 over political violence in the area the day before.  Police named 99 people, mostly BNP leaders and activists, in the case, and Mehedi was not among them.
The 29-year-old man from Cumilla returned home on August 30, according to immigration documents.
Yet police arrested him on October 27 from Jatrabari in the case that says he and other accused illegally gathered on the road under Matuail footbridge, set fire to three to four buses and attacked on-duty police.
After his lawyer produced the immigration papers, Dhaka Metropolitan Magistrate Mohammad Nurul Huda Chowdhury granted him bail on November 6.
Mehedi is among the 3,067 people, mostly BNP leaders and activists, arrested from different parts of the capital in 259 cases over political violence and produced before the Chief Metropolitan Magistrate's Court of Dhaka between October 18 and November 8.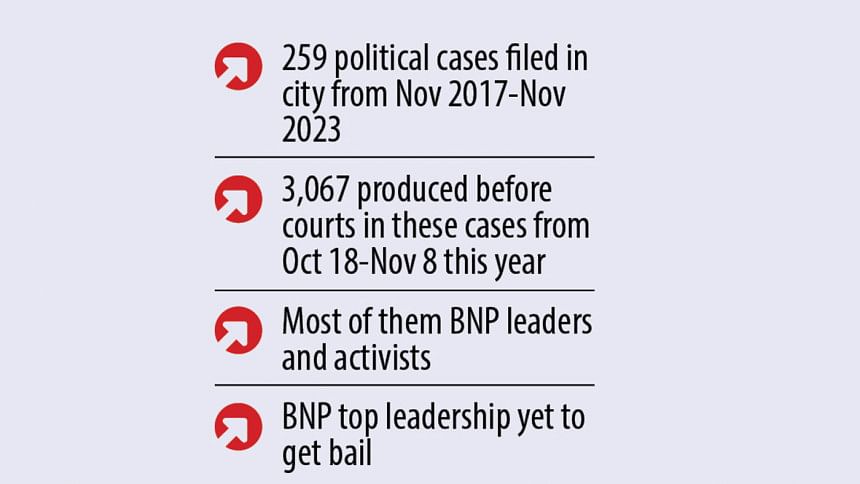 The cases were filed between November 2017 and November 2023 with the 50 police stations under Dhaka Metropolitan Police.
Except for Mehadi, only three other people sued in these cases got bail. They are Azahar Hossain, 59, Anowar Hossain Anu, 45, and Kamal Hossain, 38.
All three are BNP leaders and activists, and they were granted bail either considering their age or health issues, court records show.
None of the rest 3,063 has been granted bail yet, although many of them submitted bail petitions, multiple lawyers involved in dozens of these cases told The Daily Star.  
More than 20 police officials at CMM court said almost all the accused produced at the court immediately before and after the October 28 BNP rally have been sent to jail. Many filed bail petitions, but those were rejected.
One police officer who supervises the cases of one police station said most detainees held over political violence are being denied bail by the CMM court, but some are getting bail from the higher courts.
The officer spoke on condition of anonymity citing legal reasons. 
The top opposition leaders who have been denied bail include BNP Secretary General Mirza Fakhrul Islam Alamgir, standing committee members Mirza Abbas and Amir Khasru Mahmud Chowdhury, vice-chairmen Shamsuzzaman Dudu and barrister Shahjahan Omar, joint secretary generals Syed Moazzem Hossain Alal and Mujibur Rahman Sarwar, organising secretary Syed Emran Saleh Prince, and BNP's media cell Convener Zahir Uddin Swapan.
They were arrested over violence centring on BNP's Nayapaltan grand rally, which was foiled by heavy police action.
"I submitted bail petitions for 31 accused in seven cases. Not a single of them got bail from the CMM court, including the seven arrested as suspects," said Khan Md Zahirul Islam, a defence lawyer.
Another defence lawyer Gazi Muhammad Shukkur Ali said he also filed bail petitions with the CMM court for his two clients, who were arrested on suspicion from Bangshal just two days before the rally. But they were denied bail.
"Later, I filed petitions with the Metropolitan Sessions Judge's Court, but the date for hearing on the petitions is yet to be fixed," he added.
Several other defence lawyers gave a similar version.
"Some of the accused who do not hold any post in BNP or are arrested as suspects are getting bail from the sessions judge's court. But none of my clients has been granted bail by the CMM court lately," said Syed Zaynul Abedin Mesbah, another defence lawyer.
Criminal law expert Khurshid Alam Khan said bails are considered based on the gravity of the offence.
"If the magistrate fails to exercise his discretion in any case, the aggrieved persons can seek bail from a higher court," he said. 
Dhaka Metropolitan Public Prosecutor Md Abdullah Abu said, "It is completely the discretionary jurisdiction of the court to grant or reject bail. I only perform my duties as a state lawyer."
THE ARRESTS
Of the 3,067 arrestees, police produced 1,620 defendants before the CMM court in the 11 days preceding BNP's October 28 rally. The rest 1,447 were produced in the 11 days after the rally.
Charges in most of the cases include blocking the road through unlawful assembly, deterring police from carrying out their duties, damage to properties, vandalism, creating panic among the public and blasting explosives.
Of the accused, 300 were arrested in 14 cases with Paltan Police Station, 198 in 18 cases with Jatrabari Police Station, 167 in eight cases with Pallabi Police Station, 154 in four cases with Mirpur Police Station, 130 in 10 cases with Wari Police Station, 123 in 11 cases with Demra Police Station, 108 in 15 cases with Ramna Police Station and 103 in five cases with Kafrul Police Station.
Some 70 to 92 people were arrested in the cases filed with Khilgaon, Shyampur, Kadamtoli, Banani, Badda, Darus Salam, Shah Ali, Shahjahanpur and Hatirjheel police stations each. The number of arrests by Mugda, Uttara East, Bangshal, Chawkbazar, Kamrangirchar, Bhatara, Motijheel and Gendaria police is between 41 and 69 each.
BNP Senior Joint Secretary General Ruhul Kabir Rizvi slammed the government for the wholesale arrest and imprisonment of his party leaders and activists ahead of the election.
"We have said this before. Through the latest arrests, it is now clear that the government is using the legal system to scare our leaders and activists. It has exposed how the government is abusing the laws," he told The Daily Star.