Nahid murder: 5 Dhaka College students on 2-day remand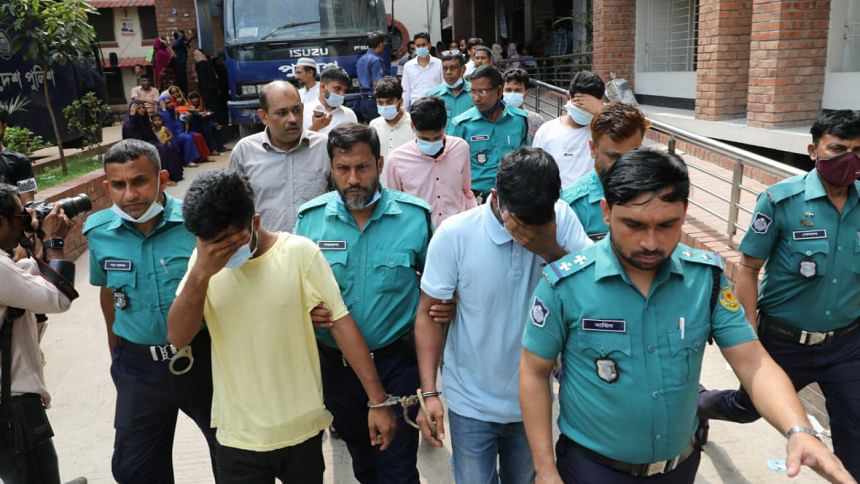 A Dhaka court today placed five Dhaka College students on a two-day remand each in a case filed over the death of Nahid Mia during the students-traders clash in Dhaka's New Market area on April 19.
The arrestees are: Abdul Kaiyum (24), Polash Mia (24), Mahmood Irfan (24), Foysal Islam (24), and Junaid Bugdadi (19).
Metropolitan Magistrate Shanta Akhter passed the order after Md Tariqul Alam Jewel, an inspector of Detective Branch of Police Station and also the investigation officer of the case, produced them before it with a seven-day remand prayer for each.
In the remand prayer, the IO said all the five along with several others were directly involved with the killing of Nahid. So, they need to be remanded to find out vital clues about the murder and whereabouts of others responsible for committing such offence.
On the other hand, the defence submitted separate petitions, seeking bail along with cancellation of the remand prayer.
Upon hearing both the sides, the magistrate turned down the defence pleas and placed the five on remand.
Nahid Mia (19), who was critically injured during the clash between shop employees and Dhaka College Students in the New Market area, died at Dhaka Medical College Hospital on the night of April 19.
He was an employee of a courier service in the Bata Signal area at Elephant Road.
Following the incident, victim's father filed a case with New Market Police Station in this regard.