Police question 6 Dhaka College BCL men over New Market clashes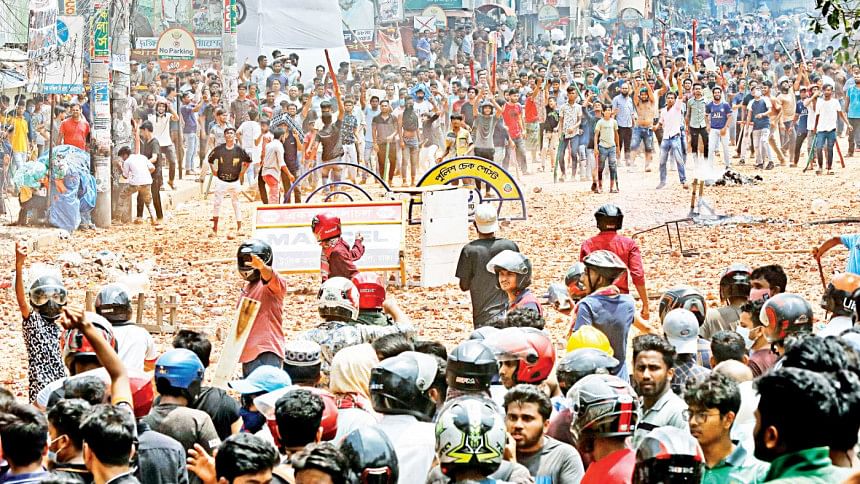 Law enforcers yesterday interrogated at least six Dhaka College Chhatra League men with links to the clashes between students and traders in the capital's New Market area, which left two persons dead.
Anwar Mahmud, a teacher of the college and in-charge of its South Hostel, confirmed this to The Daily Star last night.
"The law enforcers have so far questioned six students. They let two students go and four were still at their office," he told this newspaper over the phone around 8:00pm yesterday.
Asked, HM Azimul Haque, deputy commissioner (Ramna Division) of the Detective Branch of police, said they interrogated some Dhaka College students but refused to give any specific number.
"We are verifying information. We questioned some students in connection with the incident," he told this newspaper last night.
Sources in the college and its BCL unit said the Chhatra League leaders and activists who were interrogated are deputy secretary (international affairs) of the BCL Central Committee Samad Azad Julfikar; Dhaka College BCL unit's Convening Committee members Jashim Uddin, Atikuzzaman Rana and Zahir Hassan Jewel; and BCL activists Firoz Rabbi and Titas.
Meanwhile, one of the two young men, who hacked 19-year-old deliveryman Nahid Mia to death during the April 19 clashes, was identified as Emon Bashar, an activist of Dhaka College Chhatra League unit, said sources in police and the BCL.
Photo and video footage of the young man hacking Nahid went viral on social media.
The other attacker, who also hacked Nahid, was yet to be identified.
Emon from Khulna's Paikgachha is a second-year student of Bangla. He is a supporter of Dhaka College Chhatra League leader Samad Azad Julfikar, who leads one of the BCL groups at the college, according to sources.
Despite repeated attempts, this newspaper could not reach Julfikar and Emon for comments.
Several students at the college said Emon left the college campus soon after the identities of some college students, allegedly involved in the clashes, were revealed through media reports on Saturday.
Yesterday, a team of the DB police seized two mobile phones of Emon from his room at the college's International Hostel.
"A DB team came to the campus around 5:15pm and seized the two mobile phones from his room at the dormitory," Anwar told The Daily Star.
Witnesses and sources involved in the investigation said Dhaka College students, led by three Chhatra League factions, took part in the deadly clashes with New Market shopkeepers that led to Nahid's death.
Those groups were led by BCL leaders Julfikar, Firoz Hossain, and Jashim Uddin. Of them, Jashim group was more violent than the other two.
Law enforcers said the youths who beat up and hacked Nahid during the clashes were primarily identified and were now under police surveillance.
Kaiyum, a Dhaka College student, hit Nahid first. He was wearing a blue T-shirt with white stripes, said police sources.
Many of those who were carrying locally-made weapons, iron rods and sticks during the clashes have also been identified.
One of them is Shahin Sadek Mirza, a member of the BCL unit's convening committee. He was carrying a machete.
BCL activist Kawsar, clad in a green T-shirt, was also carrying a machete. He is a student of Islamic history and resides at the college's South Hostel.
Another person, who was holding a hammer, has been identified as Monayem. He is a member of Dhaka City (north) Chhatra League, said investigators.
Earlier on April 18 night, employees of two shops at the New Market got into a brawl, which spilled over into daylong pitched battles between Dhaka College students and shopkeepers the following day.
Nahid, a delivery man of a computer accessories shop on Elephant Road, was attacked in front of Nur Jahan Super Market's Khan Fashion store, just opposite Dhaka College. He died later that night at Dhaka Medical College Hospital.
Four cases were filed over the incident -- two by police and two by the family members of the two victims killed in the clashes.
More than 1,500 unnamed people were made accused in these cases.
The two murder cases are being investigated by the DB and the other two by the New Market police.
PANIC AT HOSTELS
Fearing police raid, many Dhaka College students left the hostels after media reports revealed the identities of some college students allegedly involved in Nahid's murder and the clashes.
According to police, the suspects are involved with the BCL.
During the clashes, the college authorities had asked the students to vacate the hostels but they refused to leave.
However, following the media reports, many students started leaving the hostels since early Sunday night, fearing that police might raid the dormitories.
Seeking anonymity, a fourth-year graduate student of the college told The Daily Star that many students left the hostels after midnight.
Nurul Amin, a security guard at the main entrance of the college, said he saw many students leave the campus since yesterday morning.
BCL General Secretary Lekhak Bhattacharjee told this newspaper on Saturday that the organisation has nothing to do with the suspects.
General students of Dhaka College took part in the "protests", he said, adding that none of them joined it as "activists of Chhatra League".
"We are sure that no Chhatra League activist was involved in the [Nahid's] killing," he added.
Acting Dhaka College principal ATM Mainul Hossain could not be reached for comments.