Bangladesh, South Africa discuss ways to boost trade, investment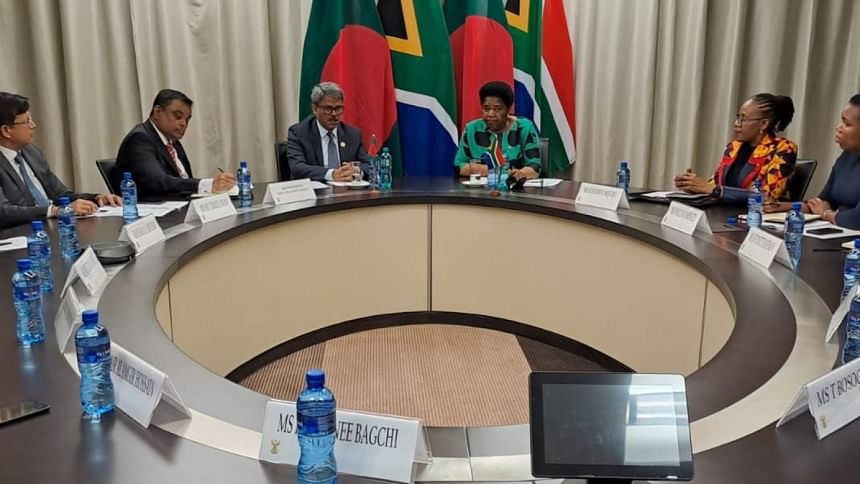 State Minister for Foreign Affairs Md Shahriar Alam has said Bangladesh and South Africa have common socio-economic development objectives and there are huge potentials to boost trade and investment.
He observed that visa waiver agreement for diplomatic and official passport holders and agreement on avoidance of double taxation between Bangladesh and South Africa will facilitate contacts and increase trade and investment between the two countries.
The state minister had bilateral talks with Deputy Foreign Minister of South Africa Candith Mashego Dlamini in Pretoria on February 3 and discussed areas of cooperation.
Referring to his meeting with the Business Unity South Africa which took place on Thursday, Shahriar Alam said the organisation has shown interest in working with Bangladeshi chambers.
He expressed hope that with mutual efforts, bilateral trade between Bangladesh and South Africa may be enhanced to one billion dollars.
The state minister proposed formation of a Bangladesh-South Africa business council comprising different chamber officials and businessmen to assess potentials and discuss business matters.
Deputy Foreign Minister of South Africa Dlamini referred to the recent high level visits that took place between Bangladesh and South Africa.
She said both South African and Bangladeshis are resilient and enterprising people.
She underlined the need of holding regular foreign office meetings between the two countries.
Dlamini viewed that air service connectivity and B2B contacts would help develop business relations and contacts.
She proposed that both sides may exchange knowledge in agriculture and peacekeeping areas. She assured that the South African government would try to ease the visa procedure of Bangladeshi applicants.
State Minister Shahriar Alam thanked the South African government for their support in favour of Bangladesh's candidature at the UN and sought support for few other candidatures.
In response to the proposal for contract farming by Bangladeshi entrepreneurs in South Africa, Dlamini commented that there may be exchange of knowledge between both sides in the area and the matter may be explored.
She commended the existing level of partnership between Bangladesh and South Africa and underscored the need for more engagement of private sectors in order to carry forward the trade and economic relations.
Both sides agreed to continue working together to develop the bilateral relations to further heights.
The High Commissioner of Bangladesh to South Africa and officials of the Ministry of Foreign Affairs of Bangladesh were present at the meeting.