Macron's visit may help diversify the ties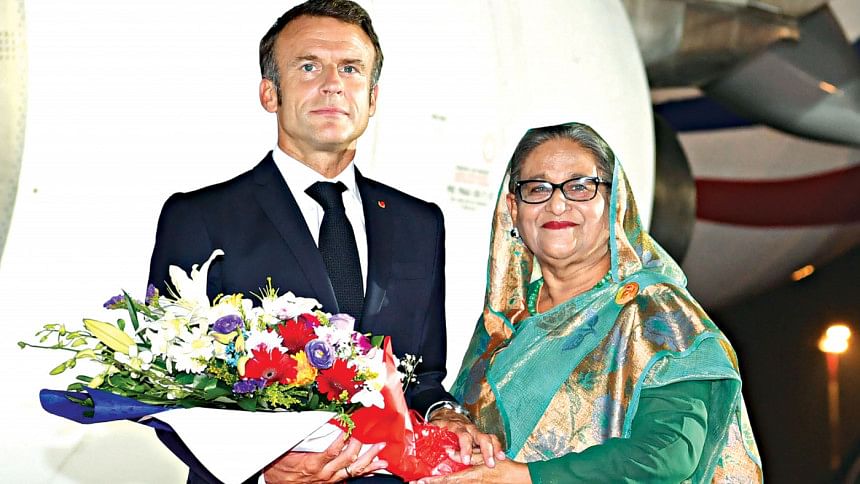 French President Emmanuel Macron's recent Dhaka visit can serve as a solid basis for Bangladesh to enhance bilateral trade and diversify strategic and defence relations between the two countries, say foreign policy analysts.
They reckon that strategic relations with France, a major European country having veto power in the UN Security Council, can be very helpful for Bangladesh given that it requires support from global powers to face some key challenges like the Rohingya crisis and climate change.
The France-Bangladesh relationship is also significant in terms of economy. The annual bilateral trade between the two countries now stands at about €5 billion, of which Bangladesh's export is almost €4 billion.
The analysts, however, are not sure why the French president opted not to mention anything about the state of democracy, human rights and governance in Bangladesh.
"France generally plays a vocal and active role when it comes to democracy and human rights. However, the joint statement after Macron's visit did not give any detail on those issues except for saying the two countries share friendship based on shared democratic values and promotion of human rights," said security and political analyst Maj Gen (retd) ANM Muniruzzaman, also the president of Bangladesh Institute of Peace and Security Studies.
"France generally plays a vocal and active role when it comes to democracy and human rights."
He said there were no details on how France assesses the status of democracy and human rights in Bangladesh.
Macron's September 10-11 visit took place more than three months after the US on May 24 announced a visa policy for Bangladeshis. The US said it will impose visa restrictions on individuals and their immediate family members if they are responsible for, or complicit in, undermining the democratic election process in Bangladesh.
The policy was announced against the backdrop of alleged irregularities in the national elections in 2013 and 2018.
In December 2021, Washington imposed sanctions against Rab and seven of its current and former officials for human rights violations, including extrajudicial killings and enforced disappearances.
The events strained Dhaka-Washington relationship to some extent.
Prof Syeda Rozana Rashid, a teacher of international relations at Dhaka University, said the European countries, alongside advancing their trade and economic interests, want to promote the values of democracy and human rights.
"Recently, we have seen Emmanuel Macron taking a mediator's role in different conflicts. I'm not sure if something along that line was discussed during his visit," she said.
During the banquet at the hotel InterContinental Dhaka on September 10, Macron said, "Based on democratic principles and the rule of law, in a region facing new imperialism, we want to propose a third way -- with no intention to bully our partners or to lead them to an unsustainable scheme."
Hasina on the other hand termed Macron "a breath of fresh air in international politics" and hoped "the new strategic move between Bangladesh and France will play an effective role in establishing regional and global stability and peace".
Asked what Macron meant by saying "third way", Muniruzzaman said there is a tension in the Indo-Pacific region, with major powers mounting pressure on small countries to be in their blocs.
"France wants to emerge as a third force to support the small states that are under pressure from the major powers. However, there is no idea of how France can do it because it does not have much engagement in this region," he told this correspondent on Monday.
Foreign policy analysts say stepping up cooperation on defence and space technology is good in terms of diversification of sources as Dhaka depends mostly on Beijing for defence purchase.
However, the question remains as to whether the government has conducted any needs assessment for buying 10 planes at a cost of more than $3 billion, and the second satellite, said Dr Obaidul Haque, an associate professor of international relations at Dhaka University.
"We don't know how economically viable the Bangabandhu Satellite-1 is. Also, do we have enough money to go for such big purchases at this moment?" he questioned.
Obaidul said Macron has spoken very positively of Bangladesh's developments and also on how more French companies should be interested in investing here. "We need to best utilise the momentum created by Macron's visit."
Dr Shariful Islam, an associate professor of international relations at Rajshahi University, said France has vast experience and the technological know-how to harness the blue economy, and Bangladesh can work with the European nation for utilising its marine resources. The same goes for artificial intelligence.
He said Bangladesh should also seriously think about how it can use the potential of the French job market by improving its relationship with the country.
During the visit, Macron took a keen interest in climate change, Shariful said, adding that this can add a new dimension to climate financing for Bangladesh.