Mask mandate back again, follow health guidelines: Cabinet Division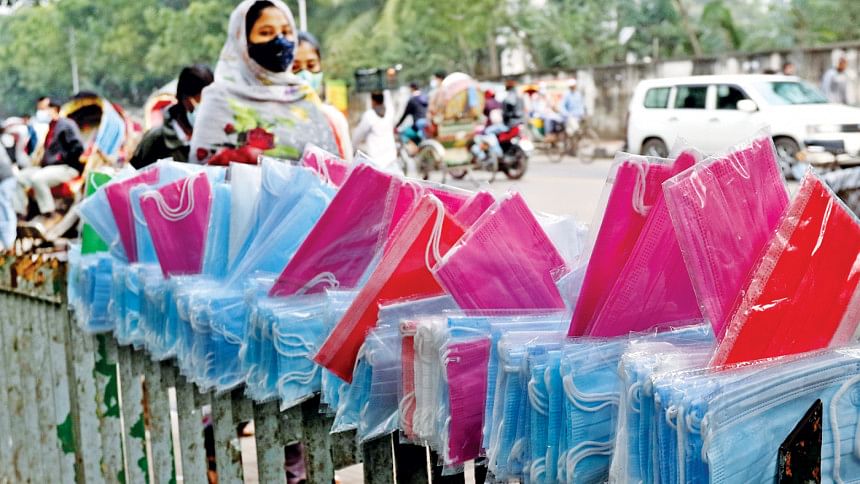 As Covid-19 cases are rising steeply in the country, the Cabinet Division yesterday instructed all officials concerned to enforce the "no mask, no service" policy everywhere and ensure that everyone follows health safety rules.
"Otherwise, people have to face a penalty," read a circular, signed by Khorshed Alam Khan, deputy secretary at the Cabinet Division.In reference to the recommendations made by the National Technical Advisory Committee (NTAC) on Covid-19, the circular said, "... the Covid-19 infection rate has been increasing at a faster rate and it is observed that there has been a reluctance among people in wearing masks and maintaining health safety rules."
On June 14, the NTAC in a meeting placed a set of recommendations before the government, including enforcing the "no mask, no service" policy everywhere, ensuring social distancing in all religious places, encouraging people with symptoms to have Covid-19 tests and undertaking media campaign to create awareness among people.
The NTAC also recommended strengthening the screening for the incoming passengers at all airports.
To enforce the NTAC recommendations and prevent Covid-19 infections, the Cabinet Division instructed all senior secretaries, secretaries, principal staff officer of the armed forces division, and all divisional directors to take necessary measures.
Meanwhile, the  religious affairs ministry yesterday issued a set of instructions, including  keeping soap or hand sanitisers at the entrance to mosques and people maintaining social distancing and health guidelines while offering prayers.
At a programme, Health Minister Zahid Maleque said around 2.20 crore children aged between five and 12 years will be inoculated against Covid-19 soon.
"The World Health Organisation had not authorised [child vaccination for this age] earlier; now we have got it and we already have vaccines suitable for children," he said while addressing the event at Bangabandhu Sheikh Mujib Medical University in the capital yesterday.
The minister said, "Official statistics said there are 2.20 crore children aged between five and 12. They have to register on Surokkha app using birth registration certificates.
"Since the countrywide inoculation campaign against Covid-19 began on February 8, 2021, people are required to register on www.surokkha.gov.bd using national identity cards, birth certificates or passports."
The minister urged the guardians to ensure registration for their children as early as possible.
In another development, three Covid-19 patients died yesterday, said a press release of the Directorate General of Health Services.
Besides, the DGHS reported 2,087 new cases, a decrease from the previous day's 2,101.
With this, the total number of deaths reached 29,145 and the confirmed cases 19,69,361.
Against yesterday's 13,489 tests, the positivity rate was 15.47 percent. Of all confirmed cases yesterday, the highest 1,795 were in Dhaka city, according to the release.
Of the three deaths, one was man and two were women. One was in Dhaka division and two were in Chattogram division.
The Covid cases started rising early this month after the positivity rate dropped for months.