Ctg Port on Alert 3 as it braces 'Midhili'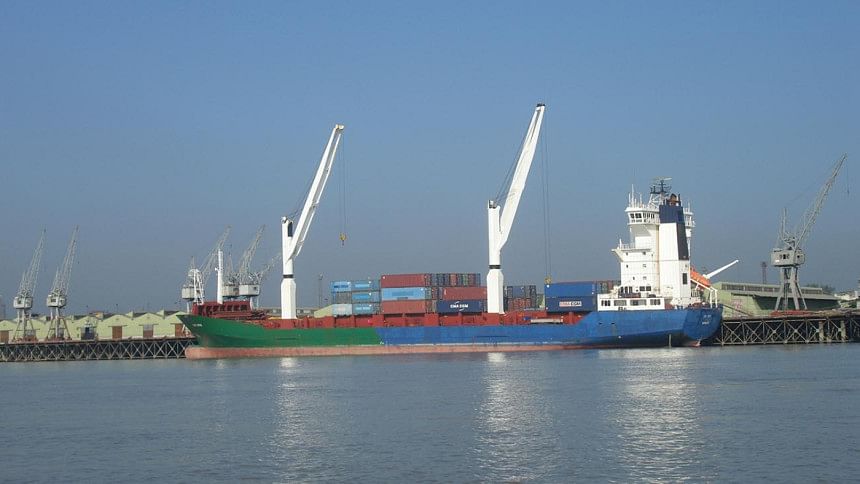 Chattogram Port was put on Alert No 3, its second-highest alert, this morning after the met office advised to hoist danger signal no 6 due to cyclonic storm Midhili.
Authorities have started vacating ocean-going vessels from the jetties and outer anchorage areas as a safety measure, said MD Omar Faruk, secretary of Chittagong Port Authority (CPA).
Unloading of cargo from around 50 vessels at the outer anchorage area of the sea has been stopped and those were asked to go to deeper sea, he informed.
Twelve vessels have so far left the jetties as per their scheduled departure during morning tide, said Faruk.
He said few vessels may stay at berths with safety measures if tide prevents them from leaving.
These vessels would sail at next tide in the evening, he added.
He said the port authority has taken steps to secure all the cargo handling equipment. Three control rooms have been opened to deal with the situation.
Meanwhile, CPA Acting Chairman Md Habibur Rahman sat with officials of different departments at a cyclone advisory meeting at 11:00am.
A senior official at the CPA Marine department said all lighter vessels and barges staying at the inner harbour have been asked to shift upstream of Karnaphuli.
According to CPA's Cyclone Disaster Preparedness and Post Cyclone Rehabilitation Plan-1992, Alert 3 is announced when storm warning danger signal number 5, 6, and 7 are hosted in order to take sufficient precaution when the port is directly threatened by a cyclonic storm.