Eid train tickets: Hundreds wait for hours in long queues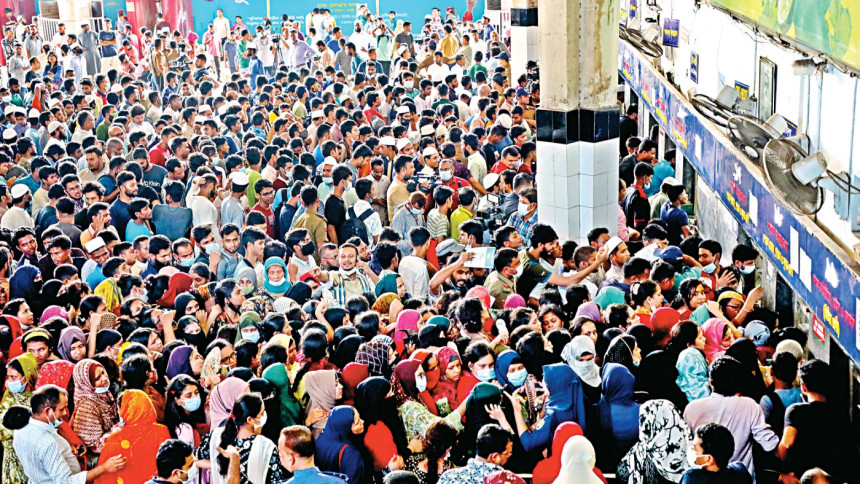 Even overnight waits could not secure advance Eid-ul-Azha tickets for many holidaymakers at Kamalapur Railway Station yesterday.
"I have been waiting in a queue for over 12 hours before the rail authorities started selling the tickets. However, I could not purchase tickets," said Shahin Ahmed, a resident of Mugda.
Shahin, a private job holder, said he would manage an alternative transport for Tuesday.
Many like him returned home empty-handed from the railway station yesterday.
Meanwhile, this correspondent found some passengers who chose to stay back at the station for tickets for Wednesday.
Those tickets will be sold from 8:00am today.
"I did not visit home during Eid-ul-Fitr holidays for my newborn. My parents are eager to see his face. This time, I'll have to manage tickets at any cost," said another passenger who chose to stay back at the station.
According to a press release of Bangladesh Railways, it will continue to sell advance tickets for Eid-ul-Azha till Tuesday whereas the return tickets will be open from Thursday.
The total number of train seats departing from Dhaka each day during Eid will be 26,731.
Half of the tickets against the seat will be available at ticket counters. Rest will be sold through online and Shohoz apps.
Masud Sarwar, station manager of Kamlapur Railway Station, said over 13,000 tickets for northern districts were sold at nine counters till yesterday noon.
Besides, Kamlapur Railway Station tickets were being sold at five other places including Kamalapur suburban platform, Airport, Tejgaon, Cantonment, Fulbaria and Joydevpur railway stations.
Around 9,000 tickets were sold till 2:00pm yesterday at these stations.
Besides, 11,600 more tickets were sold online and 1,900 through apps during the same period, Shohoz sources said.
Sakib and Rakib, two siblings, were of those who secured their tickets in the crowd.
"My brother came to the station at 9:00pm. I joined him at 5:00am," said Sakib, who resides in the capital's Paltan area.
Both were happy after getting their desired tickets. They bought seven tickets for their family.