Govt buckles up as tough 2023 looms
In anticipation of a crisis in 2023, the government is now focusing on precautionary measures like increasing food production, boosting investment and remittance, and lowering import costs.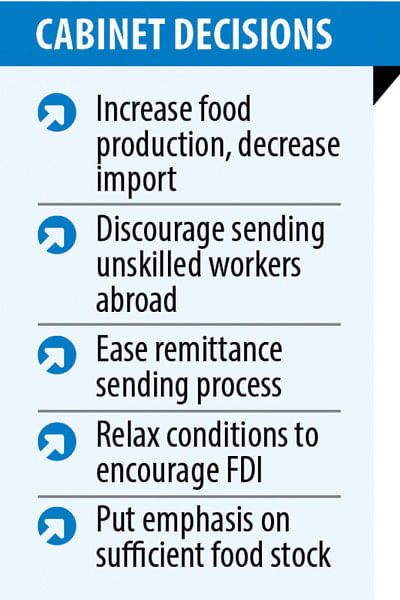 In anticipation of a crisis in 2023, the government is now focusing on precautionary measures like increasing food production, boosting investment and remittance, and lowering import costs.
At the cabinet meeting yesterday, there were discussions on the economic outlook based on financial analysis that painted a grim picture for the coming year.
"International financial analysis says that there could be a crisis in 2023 … The cabinet discussed a report of the Financial Times," Cabinet Secretary Khandker Anwarul Islam told a press briefing after the meeting.
The report cited the high interest rate set by the US Federal Reserve, Russia-Ukraine war, and a significant drop in production by China as the causes of the fear, he said.
In such a situation, countries that depend on loans or imports and have low foreign currency reserves, could suffer the most.
"By any means, we'll have to increase food production. No matter how much we import, the crisis will persist," Anwarul quoted Prime Minister Sheikh Hasina as saying.
Some high-yield rice varieties have been invented, which would help increase production within two to three years, said the cabinet secretary.
On Sunday, Agriculture Minister Muhammad Abdur Razzaque in semi-official letters urged the industries, jute, and railways ministries to grow crops on their unused land.
According to the Ministry of Food, 3.47 lakh tonnes of rice were imported until November 13 this fiscal year. Of them, 1.34 lakh tonnes were imported by the government and the rest by private firms.
The National Board of Revenue was asked to review source tax on food imports so that private importers could get some relief.
To bolster remittance, instructions were issued at the cabinet meeting to not send unskilled workers abroad. "A directive was issued to send only skilled workers, who will get high salaries."
Emphasis was also given on building the necessary capacity of workers. They are to be trained and certified according to the needs of the host countries, he said.
To further improve the flow of remittance, money transfer fees for non-resident Bangladeshis would be waived, said Anwarul, adding that measures would be taken so that the money could be sent home easily in just three to four steps.
The government is also to relax conditions for foreign direct investment.
"There will be two or three windows in the BIDA [Bangladesh Investment Development Authority], which will help investors avail licences easily. People will not require to go to a city corporation or municipality to start businesses," he said.
The cabinet also discussed how Bangladesh could directly contact food sources bypassing third parties or agents to reduce import costs.
If the third parties' involvement could be reduced, food cost would drop, he said.
Anwarul added that Hasina asked the officials concerned to take necessary steps to squash misleading news about liquidity crisis in Bangladesh.
Also, the cabinet in principle approved the draft of Bangladesh Dairy Development Board Act, 2022. As per the draft, technical support and cooling storage facilities would be provided to farmers for proper preservation of cattle feed.
The meeting also gave the final nod to the draft Zoo Act, 2022.
The cabinet endorsed the draft of an agreement to complete immigration procedures of hajj pilgrims in Bangladesh, instead of Saudi Arabia.
As per the agreement, titled "Cooperation Agreement on the Entry of Hajj Pilgrims", the immigration procedures of Bangladeshi hajj pilgrims would be completed here, said the cabinet secretary.
"The immigration procedures of Bangladesh hajj pilgrims were completed here last year due to the pandemic. This time the two sides have signed an agreement to complete the procedures here from now on. It is a great achievement," he said.