Scorched lives not anymore
Drik pays homage to Hashem Foods Factory fire victims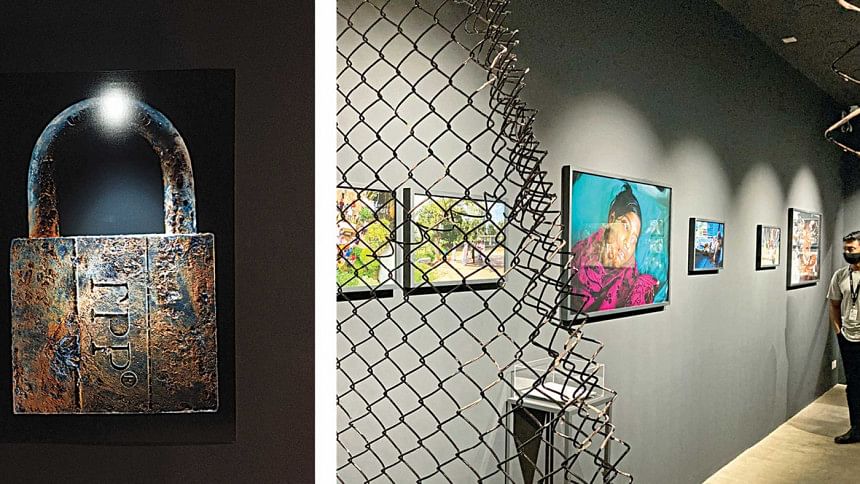 On the second floor gallery of the Drik Path Bhaban at Panthapath, texts are displayed on a curving wall to the left, beside a list of industrial tragedies that took place over the last two decades. The wall leads to a corridor with a photograph of a giant, burnt lock capturing the spectator's attention right away.
This photograph, taken by Shahidul Alam, portrays the narrative of the workers dying inside the locked floor of the Hashem Foods Factory in Narayanganj, due to the authority's negligence.
This was the sight at a mixed media exhibition titled "Scorched Lives at Hashem Foods", paying homage to the victims of the Hashem Foods Factory fire, recently organised by media house Drik.
The exhibition was inaugurated on September 4, 2021, commemorating the 32nd founding anniversary of Drik.
On July 8 this year, a fire broke out at the Hashem Foods Factory, killing more than 50 workers working in the seven-story factory building in Rupganj.
"Drik has been running a series titled 'Aar Na' (Not Anymore) in response to different industrial disasters that took place over the last 10-12 years. This exhibition is a continuation of that series," said eminent photographer and founder of Drik, Shahidul Alam, during the opening ceremony.
"We focus on such incidents to voice our demand that these incidents do not happen ever again."
The exhibition is displaying 36 photographs by Shahidul Alam, Parvez Ahmed Rony, Suman Paul and Istiak Karim, who worked on the site of the disaster.
In addition to the photographs, there is also an installation, a cage serving as a replica of the industrial fire, accompanied by audio-visual elements, which include a video of the burning establishment and two heart-wrenching soundtracks of crackling flames and crying victims pleading for rescue.
The exhibition is open for spectators provided they follow the Covid-19 safety guidelines until September 20, from 3pm to 8pm.