Installation of rail track on lower deck of Padma Bridge may start in 2 weeks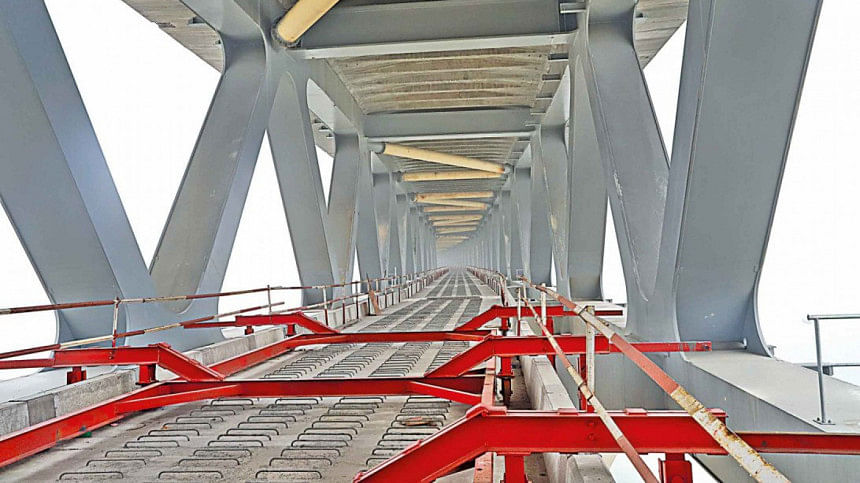 Padma Bridge project authority will start the process of handing over the structure to the railway authority tomorrow so that the latter can start installing rail track on the lower deck of the bridge.
Now both authorities will carry out a joint survey and it may take up to one week to complete the handing over process. The railway authority is expected to start installing rail track within two weeks, officials said.
The development came as officials of Bangladesh Railway (BR), Bangladesh Bridge Authority, and Padma Bridge project officials held a meeting at Mawa Service Area in Munshiganj today (July 16, 2022), they said.
Md Kamruzzaman, deputy project director (technical) of Padma Multipurpose Bridge Project, said that they will hand over the relevant part of the bridge to railway authorities tomorrow.
"It may take up to one week to complete the handing over process," he told The Daily Star today.
Afzal Hossain, project director of Padma Bridge Rail Link Project, said they will start a joint survey as part of receiving the structure and it may take up to two weeks to start installation of the track.
BR is implementing the rail link project to build the 169km rail line from Dhaka to Jashore through the Padma Bridge at a cost of around Tk 40,000 crore.
The two-level bridge – road on the top and rail line on the bottom – was opened to traffic last month.
"We will try to complete the installation of rail line on around 7km length of the bridge and its connecting part within December this year," Afzal said.
Bangladesh Railway had a plan to launch train operations along with road operations on Mawa-Bhanga section but later changed the decision as the bridge authority declined to hand over the bridge before opening due to "technical reasons".
Visiting the project site yesterday, Railways Minister Nurul Islam Sujan hoped that the train operation from Dhaka to Bhanga via the bridge can be started by June next year.