BNP calls blockade for 48 more hours
To enforce it from tomorrow, says Rizvi; six buses, truck torched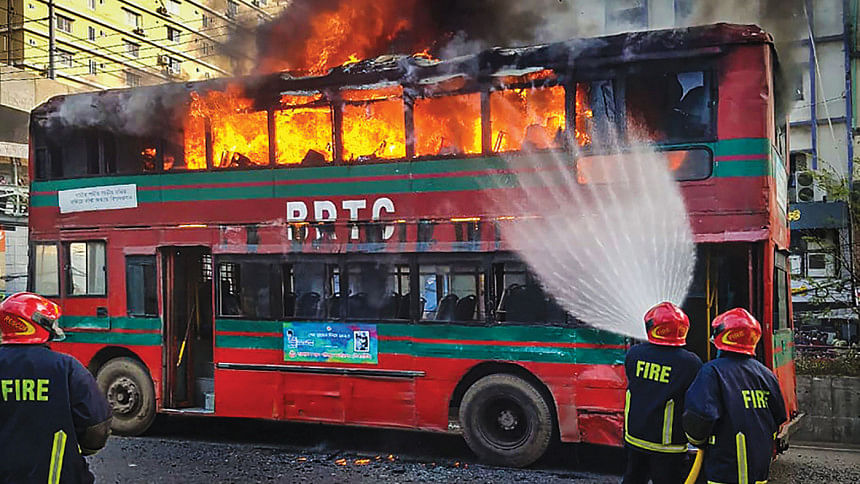 The BNP yesterday called for a fresh 48-hour countrywide blockade starting tomorrow morning.
Ruhul Kabir Rizvi, the party's senior joint secretary general, made the announcement at a virtual press briefing yesterday evening after the party's 48-hour hartal ended amid arson attacks on public transport,
Six buses and a truck were set on fire across the country, while two people were caught in the act of torching a parked truck in Jashore Sadar early yesterday.
In front of the Dhaka Metropolitan Sessions Judges Court, a crude bomb went off; however, no one was reported to have been hurt.
During the 48-hour hartal, 16 vehicles were torched across the country, with four reported in Dhaka city, according to Fire Service and Civil Defence.
The traffic movement across the country increased on the last day of the 48-hour hartal yesterday. However, few inter-district buses left the capital.
With the fresh blockade, it would be the party's sixth round of blockades since October 28.
The BNP claimed 14,200 party leaders and activists, including the 480 yesterday, were arrested since October 28.
During this period, 331 cases were filed against party leaders and workers, it added.
Rab said it arrested 562 people in connection with violence since October 28.
Alongside police, Rab deployed over 425 patrol teams across the country, including 145 in the capital. Border Guard Bangladesh deployed 231 platoons to maintain law and order.
ARSON ATTACKS
In Dhaka's Mirpur-10, arsonists torched a BRTC double-decker bus yesterday afternoon. Two fire engines rushed to the spot and doused the blaze around 2:45pm, said Shahjahan Sardar, senior station officer of Mirpur Fire Station.
Following the incident, police arrested Sajedul Alam Tutul, joint convener of  Swechchhasebak Dal's Rupnagar thana unit, near the spot.
In the Paltan area, unknown arsonists set the bus of Tanjeel Paribahan on fire around 5:10pm. No casualties were reported and all passengers ran to safety.
In the Motijheel area, arsonists set fire to a Sonali Bank staff bus yesterday afternoon. A fire engine rushed to the spot and doused the fire, said firefighters.
In Chattogram, unidentified arsonists torched three buses parked inside an automobile workshop in Satkania upazila early yesterday. No casualties were reported.
The incident took place in the Keranirhat area on the Chattogram-Cox's Bazar highway around 4:30am, police said.
In Sylhet, BNP supporters allegedly vandalised a truck, a covered van, and two CNG-run auto-rickshaws, and set fire to several roads to halt traffic movement.
Suspected Chhatra Dal men vandalised a covered van and an auto-rickshaw at 8:30am during a procession in Telibazar area of Dakshin Surma, while a group of Jubo Dal activists reportedly vandalised a truck and an auto-rickshaw Shahjalal Upasahar area at 9:00am.
In Sirajganj, criminals set fire to a goods-laden truck in the Konabari area of the Bangabandhu Bridge West Zone Highway yesterday morning.
In Jashore, Rab arrested two people who were caught in the act of setting fire to a truck parked next to a road in Sadar upazila early yesterday.
The arrestees are Masum Billah, 27, and Raju Ahmed, 25, from the upazila's Hamidpur Uttarpara area, said Major Sakib Hossain, company commander of Rab-6 in Jashore.