Khaleda's Treatment Abroad: It's up to court to give approval
Says home boss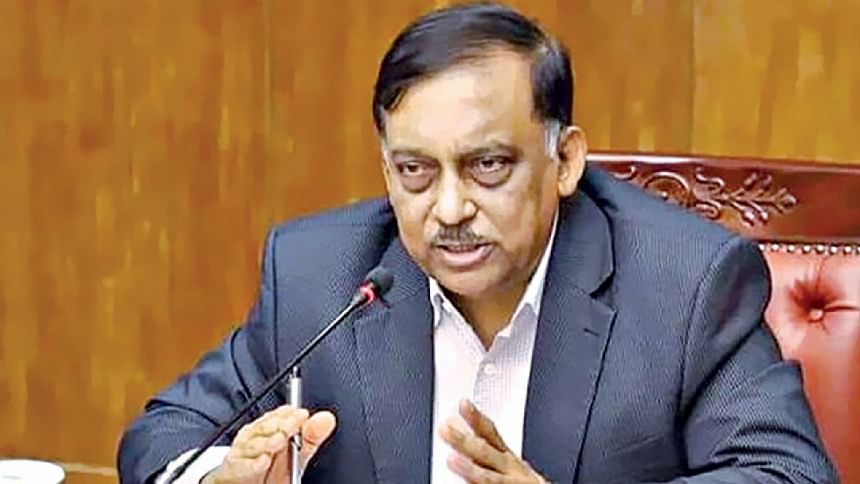 The permission for taking BNP Chairperson Khaleda Zia abroad for treatment will have to come from the court, not from the home ministry, Home Minister Asaduzzaman Khan said yesterday.
The minister's statement comes after Law Minister Anisul Huq on Saturday said an application must be submitted to the home ministry to allow Khaleda to go abroad for better treatment.
"It is not a matter of the permission from the home ministry. As it's a matter of the court's jurisdiction, the home ministry has nothing to do without the court's permission," Asaduzzaman said while talking to reporters at the Secretariat.
"Khaleda Zia is a convict in a case and the prime minister, after suspending the conviction, allowed her to receive treatment from the best doctors at home," he said.
"The BNP normally seeks permission from the home ministry which is later forwarded to the law ministry for legal explanation. If the law ministry thinks it is a matter of the court's jurisdiction, the application will be sent to the court."
"I think there is a legal complexity and the court's permission might be needed. Our ministry can't do anything going beyond the law," the home minister said.
Asked whether the BNP has written to the home ministry about taking Khaleda abroad for treatment, Asaduzzaman said they were yet to receive any such letter.
Reporters then asked the minister about the BNP's claim that whenever they write to the home ministry, they seek permission to take Khaleda abroad for treatment.
"They [BNP] do it every time. We approve [extension of suspension of conviction] what is in our jurisdiction. They will have to go to the court if they want to do more," Asaduzzaman said.
Meanwhile, United Lawyers Front, a platform of pro-opposition lawyers, held a march near the Supreme Court area, demanding the government send Khaleda abroad for better treatment.
The programme was led by ULE Convener Zainul Abedin, also BNP chairperson's adviser, and Co-convener Subrata Chowdhury, also Gonoforum's executive president.