Raushan "suspends" GM Quader's special power; JP chair denounces order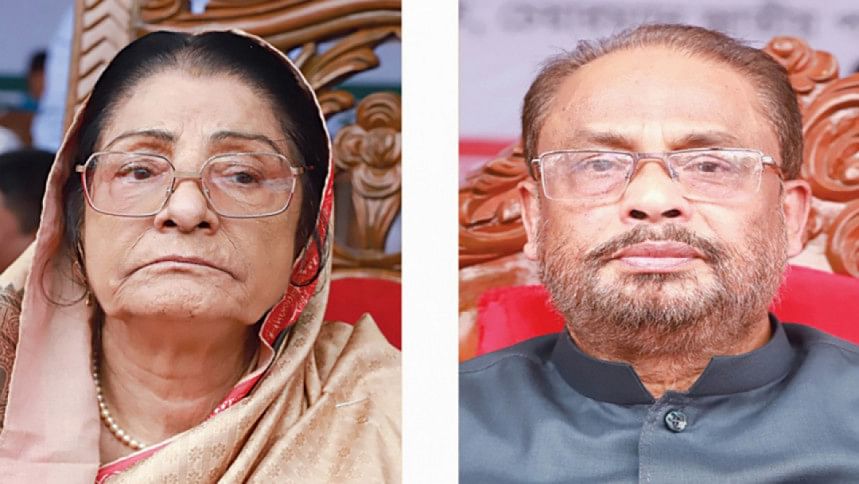 Jatiya Party's Chief Patron Raushan Ershad today (September 21, 2022) said she has "suspended" the special power bestowed upon the JP chairperson by the party's charter, citing it contradictory to democracy and the constitution.
In a statement, Raushan, also opposition leader in parliament, announced to reinstate all relieved leaders of the party, including Mashiur Rahman Ranga, who was recently relieved of his presidium membership.
She also mentioned that the suspension will be in effect until the tenth council of the party.
According to section 20/1/Ka of the JP charter, the JP chairperson is empowered to make any decision unilaterally.
As per the power bestowed upon the party head, the JP boss can form, reconstitute, and scrap any committee at any level and remove or suspend anyone from the party unilaterally even if the action goes against the other parts of the charter.
Raushan today also sent a letter to JP Chairperson GM Quader asking him to comply with the suspension and other decisions, said her political secretary Golam Moshi
Raushan said all the grassroots leaders and activists of the party are also against the arbitrary power bestowed upon the JP chair.
"All the provisions of the sub-section, approved in the ninth national council of the party, have been misused. By exercising this section, the party chairperson has dismissed leaders and activists -- from the grassroots to the top levels -- without giving them any chance to defend themselves," the statement read.
When contacted, GM Quader told this correspondent that Raushan has no jurisdiction to cancel the special power bestowed upon the party chair and that following Raushan's instructions in this regard is not "mandatory".
He also rejected Raushan's claim that section 20/1/Ka of the JP charter is undemocratic and against the country's Constitution.
"Every party, including Awami League and BNP, has such provisions in their party's charter. This provision has been in our party's charter since its formation and was also approved in the party's ninth council," said GM Quader.
Aggrieved by GM Quader's recent streak of criticism of the government, the Awami League high-ups are allegedly backing the pro-Raushan group to pressurise GM Quader, sources said.