We want your blessings
Says PM at Ctg rally, asks for votes for boat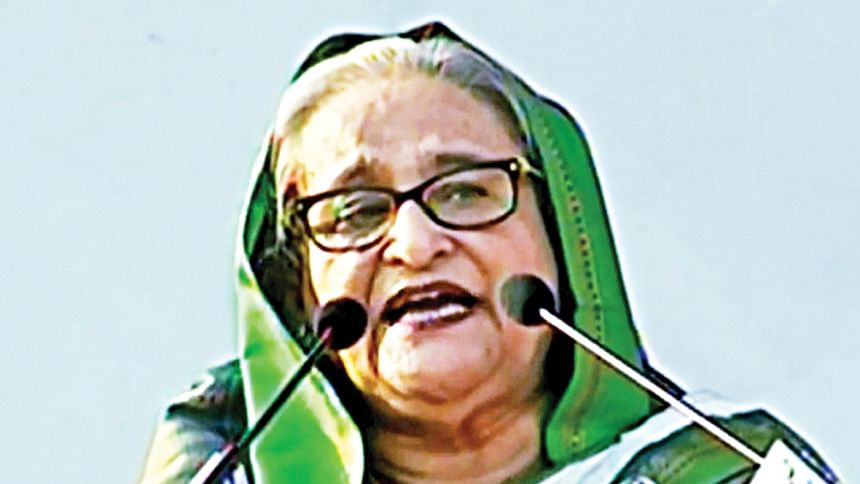 Prime Minister Sheikh Hasina yesterday alleged that the BNP wanted someone to put it in power without an election because it knows well that the people will not vote for murderers.
"They [the BNP] want something which will help them assume power after dislodging the Awami League government... They never bother with the people's wishes. The BNP has two 'virtues': killing people and rigging ballot," she said.
Hasina, also the ruling Awami League president, was addressing a mammoth rally at the historical Polo Ground in Chattogram, reports UNB and BSS.
It was her second rally outside the capital after she launched the AL campaign for the 12th parliamentary election at a rally in Jashore on November 24. 
Hasina said, "They [the BNP] don't care about the people. When the Awami League assumes power, it works for the people."
Referring to the arson attack unleashed by the BNP-Jamaat from 2013-2015, the PM said Khaleda Zia and Tarique Zia will one day have to answer why they killed and burnt innocent citizens.
About the BNP's Dhaka rally on December 10, Hasina, said, "Pakistani occupation forces had started killing intellectuals from December 10 in 1971. But unfortunately, this 10th December is the most favorite date for the BNP. Since they perhaps were collaborators of the Pakistani occupation forces, they perhaps want to occupy Dhaka city on December 10 and oust the Awami League government."
The AL president once again sought vote for her party in the election which is likely to be held in early 2024.
"We want your blessings and cooperation so that the war criminals and killers can't play with the fate of Bangladeshi people after coming to power again.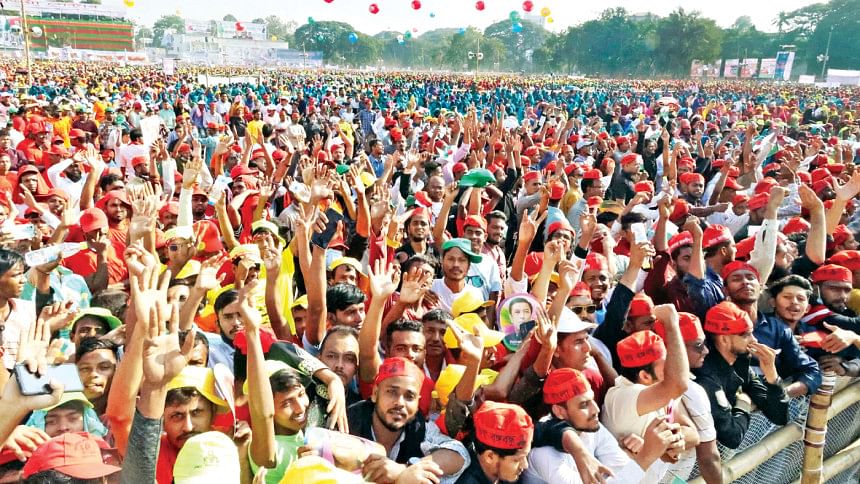 "Before leaving, I want a promise from you that you will vote for boat in the next election as you did in the past and give us the scope to serve you. Raise your hand and say you will vote for boat [AL's electoral symbol]."
At the rally, the premier announced the completion of 29 development projects and unveiled the foundation stones of six proposed development projects with total cost Tk 3,398.66 crore.
Of them, Tk 1,897.61 crore was spent to implement the 29 projects, while the estimated cost of the six other projects is Tk 1501.05 crore.
The rally was organised by Chattogram City AL (North and South). The premier delivered her speech from a 160-foot-long boat-shaped stage.
With enthusiasm and fanfare, thousands of people rushed to the rally to see and listen to Hasina since the morning. The venue was packed hours before the event started and the crowd spilled over nearby areas.
Decorated arches and gates were built on the streets of the city.
Chattogram City Awami League acting President Mahtab Uddin Chowdhury presided over the rally.