Unauthorised, unprotected
Most level crossings in Brahmanbaria, Narsingdi without gates or gatemen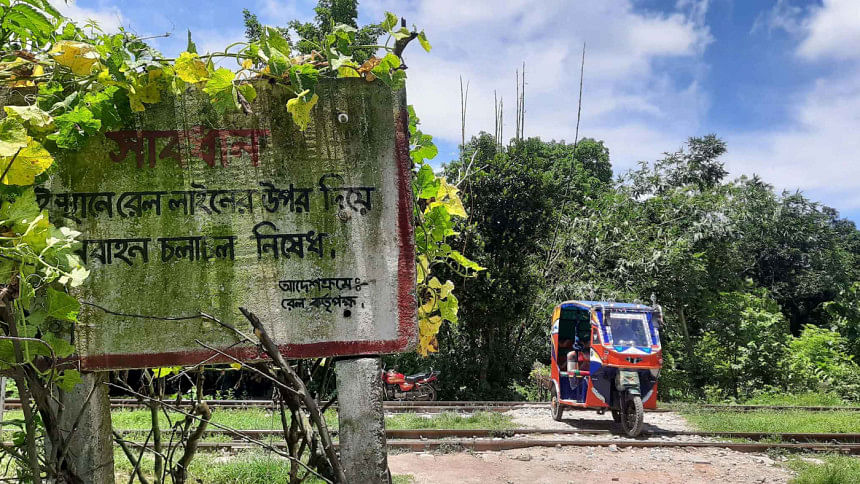 Fifty-seven of the 79 level crossings on the 73km rail track in Brahmanbaria pose a serious risk of accidents as those are without any gatemen or arrangement for stopping the movement of vehicles and pedestrians during the passage of trains.
The situation is similar in Narsingdi as 38 out of 46 crossings on the 41km rail track stand unprotected.
Besides, 24 more crossings in these two districts are unauthorised and established without the knowledge of the railway authorities.
Locals say these crossings are practically death traps, where accidents are frequent.
On June 4, four passengers of a pick-up van were killed after a train ran over them at Hasnabad Bazar railway crossing near Amirganj railway station in Narsingdi.
According to Railway Police, at least 11 people have been killed in railway crossings at Brahmanbaria and Narsingdi in recent years.
After visiting Brahmanbaria's Kachhait, Bhadeshwara, Machhihata, Paghachong and Chinair areas, this correspondent saw no gatemen at any of the crossings.
Seeking anonymity, a railway official said most of the roads with unprotected railway crossings are under the Local Government and Engineering Department (LGED).
But LGED does not take any initiative for the safety of these crossings, he claimed.
The Railway Act states that any organisations building roads over rail tracks need to take prior permission from Bangladesh Railway.
The institutions concerned will also have to bear the expenses of setting up gates and wages of at least three gatekeepers and the cost of signal management. The approval of the crossing is given from the nearest railway station after railway engineers inspect the site.
But the railway official said people in charge of building roads on both sides of a rail line often bypass the railway authorities to reduce bureaucratic delays and additional expenses.
According to Akhaura Railway Junction Station, only 22 of the 79 level crossings in the Dhaka-Chattagram and Sylhet routes are authorised by Bangladesh Railway.
Al-Aminul Haque Pavel, chairman of Machihata Union Parishad of Brahmanbaria Sadar, said the two rail crossings near Paghachong railway station are unauthorised and have no gatekeepers.
Although students of several schools, colleges and residents travel through this crossing risking their lives, the authorities are yet to take any action, he added.
He also claimed that a written application sent to the railways ministry on the issue has fallen on the deaf ears of the concerned officials.
Stressing the importance of gatemen, shopkeeper Tajul Islam of Akhaura said, "There was a major accident at Gangasagar rail gate in 1997. Five people lost their lives in that accident. After that, gatekeepers were appointed here. Since then the number of accidents has reduced."
Akhaura Railway Junction senior assistant engineer (roads) Monirul Islam said, "There is already a shortage of manpower in the railways. It is impossible to appoint gateman if crossings are set up here and there without our approvals."
Executive Engineer of Brahmanbaria LGED Mohammad Shirajul Islam also blamed the lack of monitoring for poor maintenance of railway crossings on LGED roads.
"However, a joint delegation of LGED and railways conducted a survey a few days ago regarding the appointment of gatemen at various unguarded railway crossings in Brahmanbaria. We are hopeful to resolve the issue soon," said Sirajul.