Macron, Biden vow unity on Ukraine, trade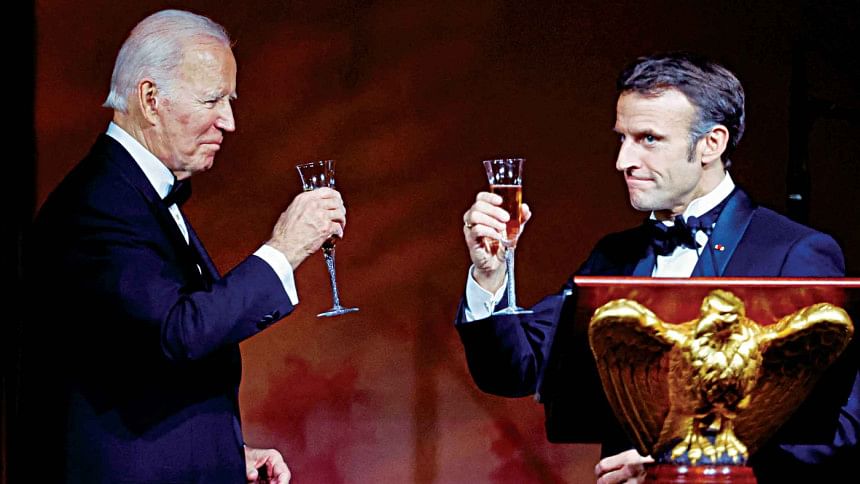 US President Joe Biden and French President Emmanuel Macron emerged from White House talks Thursday pledging to close ranks in helping Ukraine and pressuring Russia's Vladimir Putin to make peace.
Addressing a joint press conference on the second day of Macron's rare state visit to Washington, both leaders emphasized their desire to forge a powerful transatlantic alliance supporting democracy -- and facing down Russia and China.
On Ukraine, Biden said, "We reaffirm that France and the US together, with all our Nato allies and the European Union and the G7, stand as strong as ever against Russia's brutal war."
The US leader also said that he would be ready to meet with Putin but only "if he is looking for a way to end the war."
At a lavish, late dinner under a glass pavilion on the White House South Lawn, Biden concluded his toast by saying, "Vive la France!" or "long live France."
The occasion had seemed to be at threat of being overshadowed by a dispute over US subsidies for the emerging green technology economy. However, both leaders signaled they had managed at least to defuse the row following one hour and 45 minute talks in the Oval Office in the morning.
The issue revolves around Biden's signature policy, the Inflation Reduction Act or IRA, which is set to pour billions of dollars into environmentally friendly industries, with strong backing for US-based manufacturers.
EU governments have been crying foul, threatening to launch a trade war. Biden stressed that there would be "tweaks" so that European companies were not unfairly treated.