Filmmaking for the Clueless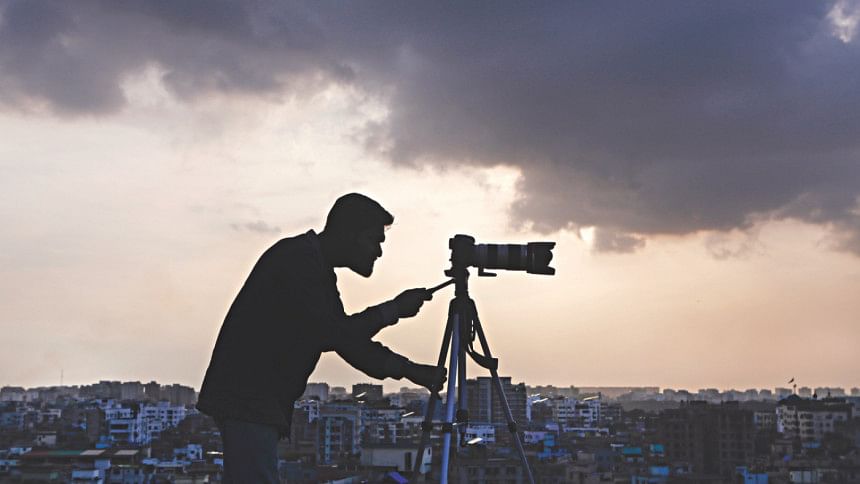 One day, in my adolescent confusion, I had fearfully acknowledged my interest in filmmaking. It came out of watching cinematic masterpieces and wondering if I could ever hope to be a part of the picture off-screen. I had pushed the idea back inside my head because it seemed wildly distant. But filmmaking as a hobby or potential career has become more accessible since, and it's about time we figure out itineraries to distant dreams.
Riasat Salekin is a young film enthusiast who just finished working on his directorial debut. His story takes him back to fifth grade, when he would find himself on IMDb all day, researching about the off-screen particulars of the filmmaking process. He eventually taught himself the workflow of birthing an idea, writing a script, taking it through development, finding producers, surviving production and post-production. Now a few ventures older, he advises newcomers to publicise their love for the art. This is how he found likeminded people in French lessons, music festivals and online.
 "It's important to let your hunger to learn drive you in the early stages," he says, "I approached industry regulars unabashedly. Few responded, but I have since gone on to form strong bonds with them, and by the time I was 'of age' to actually attempt projects past the development stage, most of my support came from seasoned people in the industry."
Asif Mojtoba Kabir, having been a scriptwriter for many successful projects, provides similar insight. "It's okay to be a nag," he repeats confidently. "Social media is a powerful tool for those with palatable independent projects but no connections," he asserts, "and if you cannot reach the director, contact his assistants, and the assistant's assistants. It's okay to be a nag, really." I assure him I trust his experience. He also suggests forcing oneself to watch repulsive Hindi and Tamil movies to understand what not to do.
Indie director and artist Shiron Mahmud is mindful that not everyone can put up with the financial investment involved. "Explore older cinema, learn how effects were achieved that would otherwise seem unfeasible," he advises. Technology was primitive then, but directors were creative enough to express the visuals they imagined even within limited technical capacities.  Hence, Shiron does not believe minimal gear can impede cinematic brilliance.
It took me little effort to find a few recommendations for formal learning. Pathshala South Asian Media Institute is a one-stop solution for the absolute beginner. Goethe Institut, Alliance Francaise and Bangladesh Film Institute regularly arrange courses and workshops on filmmaking. EMK Center in Dhanmondi holds workshops on aspects such as sound design and scriptwriting. It also accommodates a full-fledged sound recording studio and editing panels. Most importantly, these places host communities of creative people.
When asked where one can find equipment at reasonable prices, Shiron names Bashundhara City and Multiplan Centre, and Asif recommends Buy and Sell groups on Facebook, especially known for great secondhand finds.
Riasat emphasizes that amidst a sea of technical knowledge to be garnered, it is also of utmost importance to gain perspective.
"Research, browse Reddit and Quora, be in touch with issues and trends in experimental projects worldwide. A filmmaker isn't solely someone who chooses lenses for a shot and screams 'Action'," he says, "He's an artist who paints fictional realities and weaves stories out of flesh-and-blood actors and real-life spaces.  It's therefore equally important to know about culture, psychology, politics and the society to be a great filmmaker."