Azarenka beats 'fears of failing'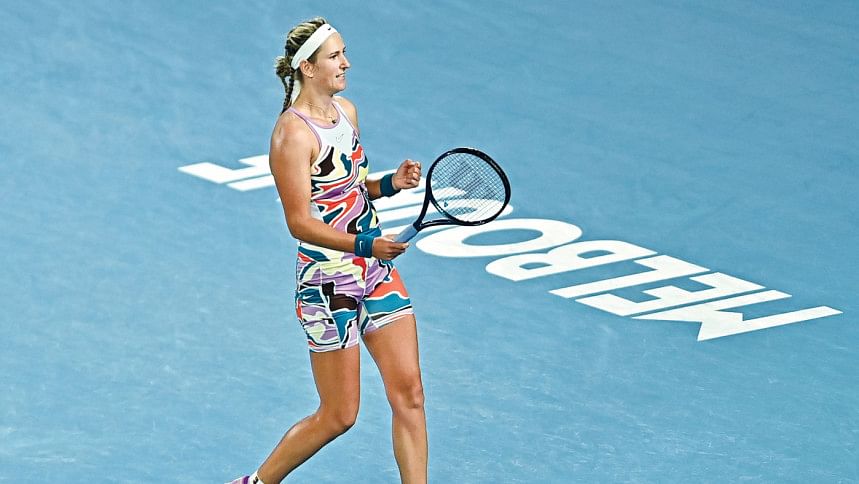 Victoria Azarenka reached her first Australian Open semi-final since winning the title in 2013, then opened up Tuesday about overcoming "anxiety" and "fears of failing" on court.
The Belarusian, who won back-to-back Australian Opens in 2012 and 2013, knocked out third seed Jessica Pegula 6-4, 6-1 on Tuesday.
The 24th seed outlasted her American opponent in a marathon 64-minute first set before running away with the second to set up a last-four encounter against Wimbledon champion Elena Rybakina at Melbourne Park.
Asked about her battles with nerves and anxiety, Azarenka detailed what she had been through in recent years and how it had held her back from winning another major.
"I don't think you recognise it right away. I think it builds up until you hit kind of a pretty bad spot where nothing kind of makes sense," she told reporters.
"You feel kind of lost. I was at the point where I couldn't find anything that I feel good about myself, not like even one sentence."
Asked what her biggest worries were, Azarenka gave a blunt answer.
"Fears of failing is a big one. To not be able to do what I want to do," she said. "I've had panic attacks before."
The Belarusian said she now has a process to cope when the nerves rear up, and she has cut a noticeably calmer figure at Melbourne Park this year.
"I kind of tried to take it more simple. Kind of working through it," said the 33-year-old Azarenka.
"I'm pretty happy that the process that I'm going through makes me feel confident about myself, happy about myself, and helps me to be more open, be more accepting, be compassionate.
"'Compassionate' was a very hard word for me to understand."
Pegula was in her third Australian Open quarter-final and had never reached the semi-finals of a Slam in four previous attempts, failing to win a set in any of them.
It was a sorry statistic that was to be extended under the roof at Rod Laver Arena.
"Well, it hurts to beat her because I always want her to do well," said Azarenka, who is close friends with Pegula.
"Today I knew I have to play fast, I have to not give her opportunity to step in, I have to mix it up because if you don't there's nobody better than Jess, she just doesn't miss."
Pegula was immediately put under the pump by the relentless groundstrokes of her opponent.
Azarenka sped into an early 3-0 lead then forced Pegula to save six break points in an attritional 10-minute fourth game. She saved two set points on her serve to get to 3-5, two more in the next game, broke back to 4-5 but eventually succumbed after 64 relentlessly physical minutes.
Early breaks were exchanged in the second set before Azarenka made the decisive move. She broke for 3-1 and held her own service game, with an increasingly frustrated Pegula complaining to her player's box.
"I don't know what to do. The ball's not going anywhere," she said.
Serving for the match, Azarenka brought up two match points but only needed one as she powered through in 1hr 33min.