Abu Rushd Memorial Awards conferred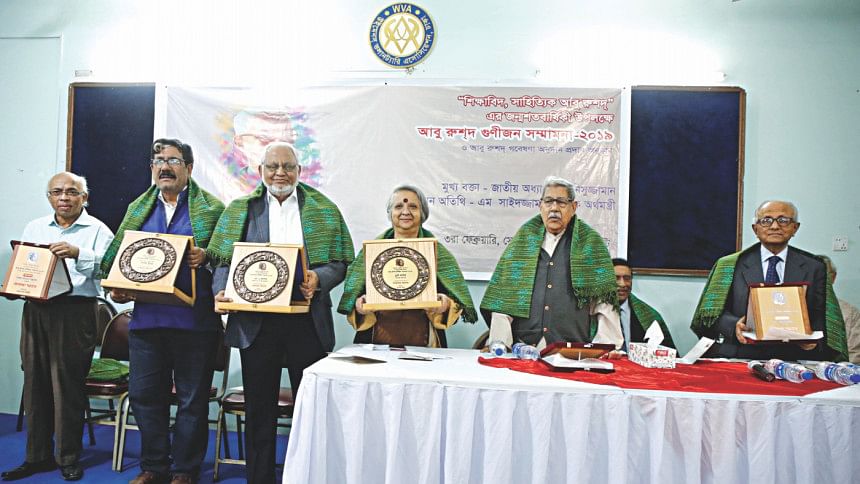 Marking the 101st birth anniversary of the eminent writer, scholar and freedom fighter Abu Rushd (1919-2010), his family honoured four noted personalities of the country. They also provided research grants to emerging scholars and writers at WVA auditorium, recently.
Former Finance Minister M Saiduzzaman was present at the event as the chief guest, while National Professor Anisuzzaman was the key speaker. The programme was presided over by Major General (Retd) F R Mamun. Renowned journalist Syed Badrul Ahsan also attended the occasion.
Khushi Kabir (Social Welfare), M A Kashem (Higher Education), Ruhul Quddus (Culture) and Habibullah Siraji (Literature) were honoured with the Abu Rushd Memorial Award. Kazi Alim Uzzaman received the research grant worth BDT 30,000 and a certificate for his contribution to education, literature and culture.
"Unlike his contemporaries, Abu Rushd had a unique style of writing. His novel, Nongor, was possibly the first to highlight our language movement. We could not give him the importance that he deserved. As a nation, the liability is ours," said National Professor Anisuzzaman.
"Abu Rushd was a teacher in the truest sense. He taught values to his students and gathered knowledge from everyone around him," added awardee Khushi Kabir.
Well-wishers, family and friends of Abu Rushd, along with literature enthusiasts, were present at the event, among others.