189 feared dead in Indonesia jet crash
Lion Air flight lost contact with ground before crashing into Java Sea; human remains, wreckage found; search ops on
All 189 passengers and crew aboard a crashed Indonesian Lion Air jet were likely killed in the accident, rescue officials said yesterday, as they announced they had found human remains and would continue the grim search through the night.
The Boeing-737 MAX, which went into service just months ago, vanished from radar 13 minutes after taking off from Jakarta, plunging into the Java Sea moments after it had asked to return to the Indonesian capital.
Websites that display flight data showed the plane speeding up as it suddenly lost altitude in the minutes before it disappeared, with authorities saying witnesses saw the jet plunge into the water.
"My prediction is that nobody survived because the victims that we found, their bodies were no longer intact and it's been hours so it is likely 189 people have died," search and rescue agency operational director Bambang Suryo Aji told reporters.
Some 40 divers are part of about 150 personnel at the scene, authorities said, with the plane wreckage some 30 to 40 metres deep in the water.
Earlier, video footage apparently filmed at the scene of the crash showed a slick of fuel on the surface of the water and pictures showed what appeared to be an emergency slide and bits of wreckage bearing Lion Air's logo.
The carrier acknowledged that the jet had previously been grounded for unspecified repairs.
"It's a really mystery what could have happened," said Greg Waldron, Asia managing editor of industry publication Flightglobal.
"Hopefully they will be able to locate the (cockpit) voice data recorders."
The plane had been en route to Pangkal Pinang city, a jumping off point for beach-and-sun seeking tourists on nearby Belitung island, when it dropped out of contact around 6:30 am.
One Italian national was aboard the plane which was flown by an Indian pilot, the transportation ministry said.
'HE CALLED THIS MORNING'
Images filmed at Pangkal Pinang's main airport showed families of passengers crying and hugging each other, with some calling out to god.
"This morning he called asking about our youngest son," said a sobbing Ermayati, referring to her 45-year-old husband Muhammed Syafii, who was on board.
At Jakarta's main airport, Zainal Abidin waited desperately for news about his daughter.
"If my daughter is dead, I just wish she'll be buried properly," the 63-year-old said.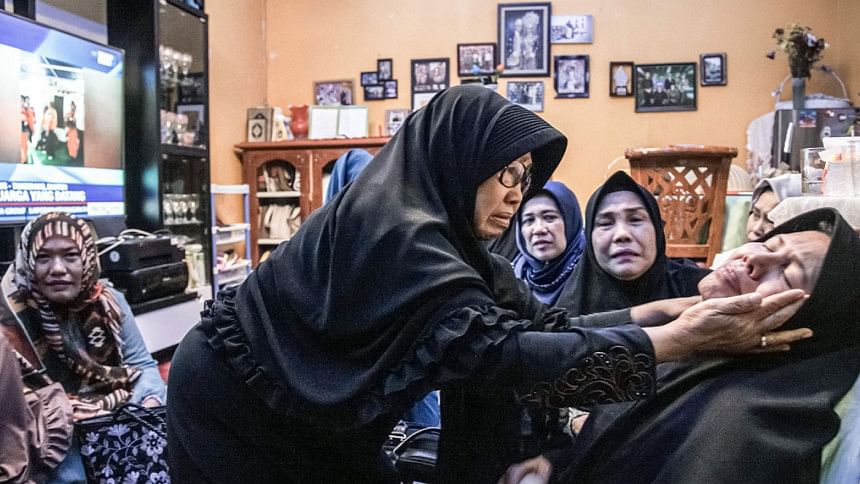 Indonesia's National Transportation Safety Committee (NTSC) said there were 178 adult passengers, one child, two infants, two pilots and six cabin crew on board flight JT 610.
About 20 finance ministry employees were on the plane, including half a dozen colleagues of Sony Setiawan who missed check in for a flight he took weekly due to bad traffic.
Lion Air said the plane had only gone into service in August.
The pilot and co-pilot had more than 11,000 hours of flying time between them and had recent medical checkups and drug testing, it added.
Lion Air chief Edward Sirait said the plane had an unspecified technical issue fixed in Bali before it was flown back to Jakarta.
"Engineers in Jakarta received notes and did another repair before it took off" yesterday, Edward Sirait told AFP, calling it "normal procedure".
POOR SAFETY RECORD
US-based Boeing said it was "deeply saddened" by news of the crash.
Boeing, just days out from its first commercial delivery of the 737 MAX in May last year, reportedly suspended its release due to an engine issue, according to airline safety and product review site airlineratings.com.
It said the engines were a product of a joint venture between US-based General Electric and France's Safran Aircraft Engines.
Earlier this year, Lion Air announced it was buying 50 Boeing 737 MAX 10 jets for $6.24 billion.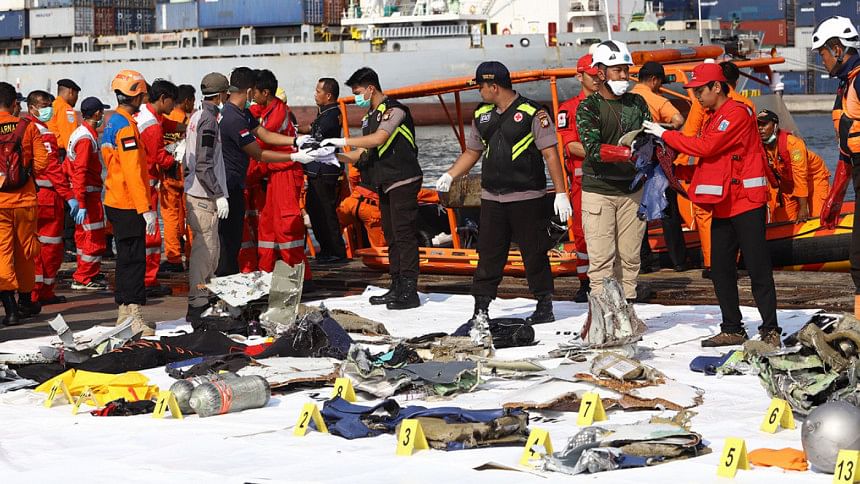 Indonesia's air travel industry is booming, with the number of domestic passengers growing significantly over the past decade, but it has acquired a reputation for poor regulation and its airlines had previously been banned from US and European airspace.
In August 2015, a commercial passenger aircraft operated by Indonesian carrier Trigana crashed in Papua due to bad weather, killing all 54 people on board.
A year earlier poor maintenance and the pilots' inadequate response was blamed for the crash of an AirAsia plane crashed with the loss of 162 lives.
Lion, a low-cost airline which has engaged in a huge expansion in recent years, has been involved in a number of incidents including a fatal 2004 crash and a collision between two Lion Air planes at Jakarta's Soekarno-Hatta airport.