Banasree Death: House owner, guard placed on remand
Autopsy finds injury marks on housemaid's body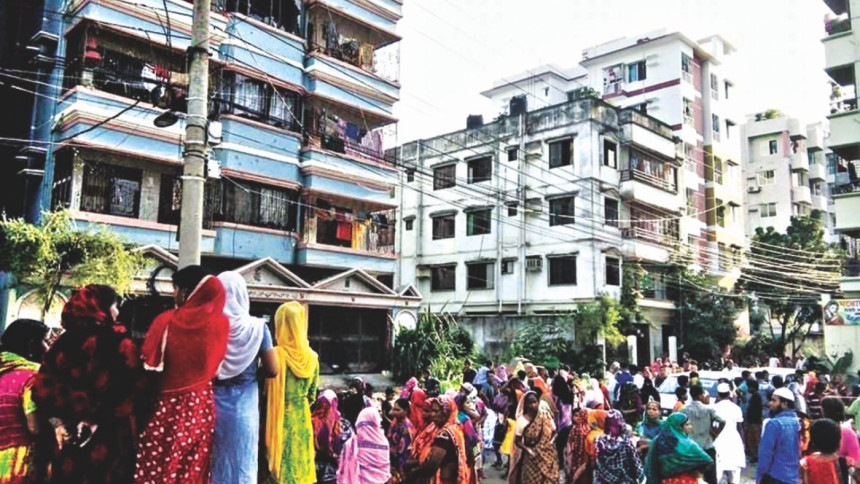 Doctors yesterday found marks of injuries on the head and throat of the housemaid who died mysteriously in the capital's Banasree area on Friday.
However, the doctors who conducted the autopsy at Dhaka Medical College (DMC) could not specify if it was a murder or suicide.
In another development, police showed house owner Moeen Uddin, his wife Shahnaz Begum and security guard of the house Tofazzal Hossain Tipu arrested in a murder case filed by Shahidul Islam, elder brother of the housemaid's husband, with Khilgaon police.
The police had earlier picked up Moeen and Tipu from House-14 on Road-4 in Block-G of Banasree on Friday and Shahnaz yesterday. Laily Begum, 26, used to work as a part-time maid and reportedly committed suicide hanging herself.
Soon after the news of her death spread, angry locals ransacked the house, torched a vehicle and damaged a dozen others. They locked into sporadic clashes with police that left dozens injured including five policemen.
The police also filed a case against 30 named and more than 400 unnamed people on charge of attacking law enforcers and vandalising vehicles during the violence.
Shiblee Noman, additional deputy commissioner of Dhaka Metropolitan Police (Motijheel Zone), said law enforcers arrested three others for attacking them.
House owner Moeen and security guard Tipu were placed on three-day remand for interrogation. Metropolitan Magistrate AKM Moinuddin Siddique passed the order after Sub-Inspector Monjur Rahman, also investigation officer of the murder case, had placed them before his court seeking 10-day remand.
The court sent Shahnaz to jail.
Complainant Shahidul alleged the employer was angry with Laily as she left the job for not getting salary for four months. He added she was scheduled to go to her village in Kurigram after collecting the dues on Friday.
Moeen has denied the allegations, police said.
According to the inquest report prepared by SI Manzur, there is only a black spot on the victim's throat and no other injury marks were seen on her body. The police have also given a query to the morgue to check if she was raped or not.
Dr Sohel Mahmud, head of forensic medicine at DMC, who conducted the autopsy, said they found minor injuries on her head and throat but could not specify the reason of her death immediately.
"We have kept tissues from the throat, high vaginal soft and viscera for further examination," he said, adding, they could clearly say about the death once the report came.
During a visit to Banasree yesterday, this correspondent found a tense situation prevailing in the area. At least 100 domestic maids, who work in different houses, gathered in front of the building boycotting their work.
Shahnaz Begum, 50, who works in two separate houses as a part time housemaid, said they would not go to work protesting against Laily's death and demanding life security for them.
Demanding a fare investigation into Laily's death, Shahnaz further said, "We doubt police might be convinced by the employer and Laily would not get justice."
A huge number of police personnel were deployed in the area to avert further unwanted situations.