PM thanks colleagues in last cabinet meeting
Forms body for hiking journalists' pay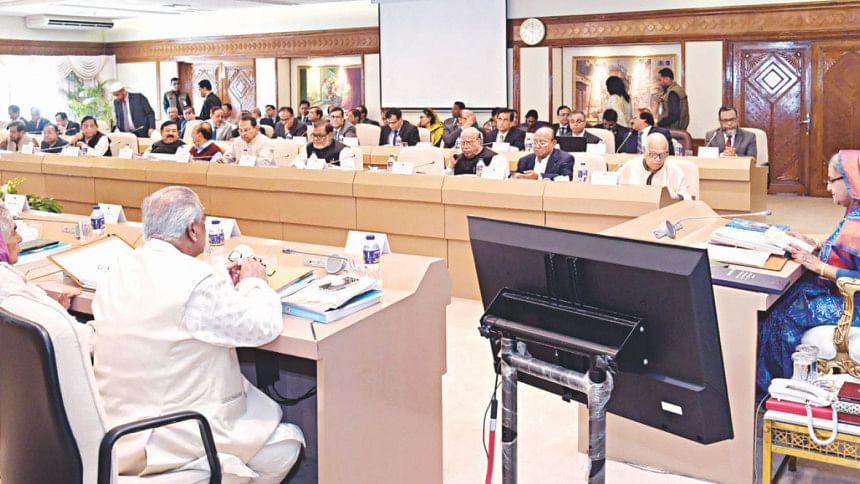 Prime Minister Sheikh Hasina thanked her cabinet colleagues for their cooperation during the last cabinet meeting of the incumbent government yesterday.
"We were together and I got your cooperation. Thank you for this," Hasina was quoted by a minister as saying.
"If we can come to power getting people's mandate, we will form a new cabinet and new members will be inducted and I will see many of you there," she was quoted by the minister.
She said this during an unscheduled discussion in the meeting at the Prime Minister's Office.
Sources said technocrat minister Yeafesh Osman, who had resigned, at the meeting recited a poem he wrote. Three other technocrat ministers had also joined the meeting.
At the meeting, the government formed a five-member cabinet committee, led by the cultural affairs minister, to review the recommendations of the 9th wage board to enhance salaries and other benefits of journalists and employees of newspapers and news agencies.
Other members of the committee are ministers for industries, home, information, and labour, said Cabinet Secretary Shafiul Alam who briefed reporters about the meeting outcome at the Secretariat.
He said the cabinet set January 28, 2019, deadline for issuing the final gazette of the wage board.
On January 29 this year, a 13-member committee was formed with Justice Mohammed Nizamul Huq, a former judge of the Supreme Court's Appellate Division, as its chairman.
Yesterday, the cabinet reviewed the committee's recommendations and formed the cabinet committee.
The cabinet secretary said the recommendations made by the cabinet committee would be final.
He said the wage board committee had recommended six grades for newsmen. It suggested 80 percent pay hike in three grades and 85 percent in the other three. They would get 20 percent of their basic salaries for Baishakhi festival.
The committee recommended 70 and 65 percent of basic salary as house rent for newsmen in Dhaka and Chattogram.
The cabinet also gave final approval for the amendment to the Chittagong Hill Tracts (Land acquisition) Regulation, 1958. It would now be an ordinance.
The cabinet also gave final approval to the draft of the Bangabandhu Sheikh Mujibur Rahman Aviation and Aerospace University Act, 2018.