Power outages back again
Add to sufferings of people amid ongoing heat spell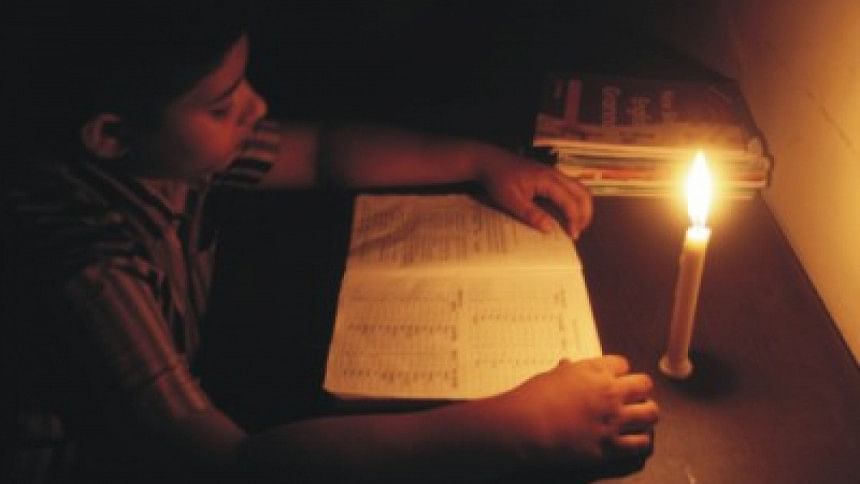 The nightmare called load-shedding is back.
With a mild heat wave sweeping the country, people, mainly in rural areas, are suffering due to frequent power cuts.
Load-shedding in several districts has made the scorching temperature unbearable as it is taking place even deep into the night apart from usual power failure in alternate hours during the day.
"In our area, power does not go off, rather it comes sometimes," said Kazi Nabidul Islam, a resident of Kushulia village in Kaliganj upazila of Satkhira.
Villagers are experiencing power cuts six to seven times a day on average. Each time it takes an hour to three hours before power comes back, he said.
The erratic electricity supply is adding to the sufferings amid rising mercury and humidity.
"It feels like getting roasted in fire outside home during the day. And staying inside the house without power feels like getting boiled," said Nabidul, owner of a fish enclosure.
Electricity board officials blame the collapse of a tower, maintenance of 10 power plants and shortage of gas for the shortfall in electricity generation and supply.
At a briefing yesterday, State Minister for Power, Energy and Mineral Resources Nasrul Hamid said the collapse of Ashuganj-Sirajganj tower, with 400-kv capacity, in rough weather caused an unexpected disruption of power supply, reports BSS.
The authorities have been working to repair the tower, which will take six to seven months even by engaging foreign technicians.
The minister, however, said the power situation would return to normalcy to some extent within four to five days.
The country's highest temperature yesterday was recorded at 37.8 degree Celsius in Jessore and minimum temperature at 21.5 degree Celsius in Rajarhat.
According to the Met office, the mild heat wave may continue for at least two more days.
The sultry weather coupled with frequent power outage across the country is affecting people's day-to-day activities, as reported by our district correspondents.
Aslam Uddin, of Godagari in Rajshahi, said he witnessed 8-10 hours of power cuts in the last 24 hours.
"I could not sleep well last night. Power stayed for like 20 minutes and then went off for at least two hours amid the sultry night." 
Middle-aged Aminul Islam, a resident of Moilapota More in Khulna city, was waiting at a shop to get some important documents printed out yesterday evening. Power wasn't there and he had to wait for more than two hours.
"It has become a regular phenomenon here, but things got worse, intolerable in the past few days or so. We have been facing power outage seven to eight times a day.
"Even we could not charge our IPS (Instant Power Supply)," Aminul said.
Sheikh Jakir Ahmed, from Nazirpur upazila in Pirojpur, said residents in the area were getting electricity not more than six hours a day.
In the capital, the power situation has not been as bad as it is in rural areas.
Yet, city dwellers in some areas said they were experiencing half-an-hour to one-hour-long power cuts.
"We saw power cuts some 10 times since yesterday [Sunday] evening until early morning. Sleeping in this hot weather is just a nightmare amid power cuts," said Ramon Haldar who lives in Mirpur-10 Senpara Parbata.
Residents of Shewrapara, Mohammadpur, Adabar, Shekhertek, Dhanmondi, Moghbazar and Malibagh are also experiencing frequent power cuts.
Businesses are bearing the brunt of the frequent load-shedding.
"Our silk and food processing industries are the worst affected as they cannot operate smoothly due to the power outage," said Liakat Ali, a businessman in Rajshahi.
In Lalmonirhat, power failure for seven to eight hours is affecting the production of mills and factories.
"We are counting losses," said Shahin Miah, flour and rice mill owner in Patgram town.
Similar was the picture in Dinajpur and Natore.
Replying to a question, the state minister assured that there would be no electricity crisis during Ramadan.
"We will be in a better position during the holy month."
According to the website of the Power Generation Company of Bangladesh (PGCB), there was no gap between power generation and demand on Sunday. 
Prof Shamsul Alam, an energy expert, said Dhaka city consumes one-fourth of the electricity generated by the country.
Although the Rural Electrification Board supplies electricity to 70 percent of the population, it only receives half of the power it needs to serve the vast population.
"The power supply situation in the capital has remained almost unchanged compared to last year whereas the rest of the country is suffering power crisis. This inequality is unacceptable," he said.