To stitch a tapestry of trauma: Material memories of the Partition of India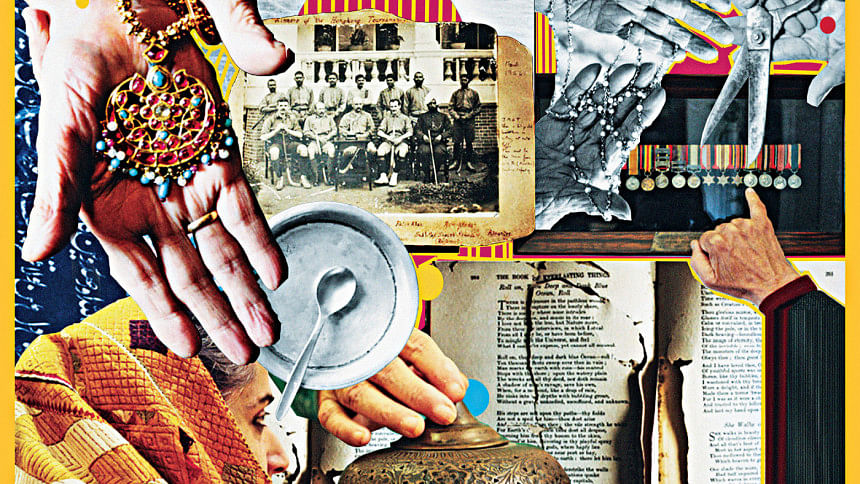 A good book stays with a reader long after they've read the last word and placed it back on the shelf. It leaves an impression on the mind, whether because the action was exhilarating, the characters raw and real, or because reading it felt like coming back to a home you never knew you had. This last type of book is rare—we have maybe encountered a handful in our lifetime between us, and they were all fiction—all, that is, except for Aanchal Malhotra's Remnants of a Separation: A History of the Partition Through Material Memory (HarperCollins India, 2017).
Remnants is a compilation of ethnographic research into the Partition of India, conducted by Aanchal Malhotra as part of her MFA thesis for Montreal's Concordia University. It is, in a way, a museum presented as a book. Malhotra's research is in "material memory", which constitutes a piecing together of the near past, not through supposedly impartial journals or ledgers, but through heirlooms and trinkets that collectively form a tapestry of the climactic events of 1947.
The book is structured as an anthology of stories, each centring an object—a pashmina shawl, a sword, cutlery—all of which the Partition survivors kept with them when they were forced to migrate or remain in the turmoil. One could read the chapters at random and follow them perfectly, but those who read them as they are given will feel a curator's touch in the layout. It is subtle, but Malhotra ensures that we seldom read the same kind of story twice in a row. One might read of an upper class Muslim woman displaced to Pakistan, before moving onto a Hindu man of similar stature, sent the opposite way, and then to the scarring recollections of a military officer who witnessed an amputated child abandoned on the streets.
Malhotra's focus on heirlooms serves to ground every narrative to a single universal question: what possession would you save if your life burned to the ground? These choices in themselves were loaded—author Gurcharan Das' grandmother, Shib Dai Verma, believed that the migration would be temporary, and so she left every single room and almirah in their erstwhile Lyallpur home locked up, bringing 51 keys with her for each keyhole that lay in waiting. They never returned. But Azra Haq knew that their departure was permanent, and so the pearls they took with them remain an altogether different kind of remnant of a life left behind. 
Remnants, therefore, takes readers to the moment in which each person's personal archive of the Partition was created. Because most of them are strangers to one another, their respective versions of the exodus add valuable layers of subjectivity to the narrative being constructed in Malhotra's book—something that is perhaps the most significant power of any archive in adding nuance to history. And yet, while reading their stories one after the other under Malhotra's curation, the transformation of the personal to the collective reveals meaningful similarities: how most of these families believed that the Partition was a distant political turmoil, how they didn't expect to experience it in any permanent way, and also how they never expected their neighbours and friends of differing faiths to turn violent on each other overnight. 
Being an ethnographic research, these memories are all presented in the form of conversations, and Malhotra's ability to translate interview notes into cohesive stories is masterful. The storytellers are introduced, not just as they appear to her, but simultaneously as they were in the pasts they recount. Each narrator is allowed utterly to be themselves—if Professor Mittar's narration of the past is "glacial and beautiful" with a reliance on the "visual and sensorial", then poet Prabhjot Kaur's pronunciation is described to be "an amalgamated accent that had once been Punjabi," and Lt Gen S N Sharma's speech is said to be "refined, with the slightest tinge of a lingering British accent." Malhotra's research is extensive, and more can be found online, but her published book contains stories from a diverse selection of people in terms of gender, religion, social status, occupation, and whether they were forced to cross the border or not, and when. A somewhat common characteristic appears to be their levels of literacy, so that most of the interviewees are either highly educated, or believed strongly in educating their future generations because they were deprived of it themselves. 
As author and researcher, she is constantly present in the prose—and what gorgeous, heartfelt prose! One could call Malhotra's writing evocative, or immersive, or enchanting, but none of that would fully encompass just how sensory the experience of reading these stories is. Blissful childhood days give way to the very real trauma and tragedy of leaving one's home, boarding train compartments filled with slain strangers, and building life anew in a place where the language, culture, and locality are all unfamiliar. Reading these memories imprint you with the dawning realisation of just what it means to be born of this subcontinent.
This is further enriched by the nature of Malhotra's interviewing. She limits her role only insofar as to unlock the necessary information. She knows when to ask questions, when to prod for details, and when to meet a recollection with silence. She uses the latter, graver intervals to question her authority over these stories that will eventually be published in a book bearing her own name: "What I possess will always be a second-hand memory, affected by modernism, technology, […] and my own societal conditioning." Some of these monologues might feel repetitive or fall flat when they appear after a particularly traumatic anecdote; but that is far outweighed by the integrity and uncommon conscientiousness they bring to Malhotra's handling of the historical material at her disposal. 
If one is left wanting for anything, it is the analysis of the objects themselves. The amnesia, trauma, and even indifference of each interviewee regarding Partition are all drawn out wonderfully in each chapter because of the space that Malhotra gives them to speak freely. Their recollections take us far and deep back in time. But in the process, the "remnant" in question—which is made to seem like a talisman for these memories—grows absent. Malhotra does warn us in her Introduction to treat this work as a product of fine art that has evolved to literature; yet she also touches upon the sociocultural data stored in time-travelling objects. While the objects are primarily meant to serve as catalysts for memory, mining them for data based on their shape, design, material used, and present condition using a degree of expertise would have lent the book another fascinating angle. Equally interesting would have been the inclusion of individuals from more explicitly working class backgrounds, as well as people who moved or belonged to East Bengal—Malhotra carried out her research mainly across present day India, Pakistan, and the UK. 
These absences are seldom felt while reading the interviews, however, because they accomplish what they set out to do. In each and every story in this book, one is reacquainted with the intergenerational trauma of Partition, told through different perspectives. Partition is a memory that still runs fresh in many of our blood, and it is a trauma that we, as a people, must acknowledge, confront, and process, because it remains prevalent in our society, in the policies we make, and the way we treat one another. Seventy three years later, we find ourselves on the cusp of the same religious tensions that caused the bloodbath in the first place, and it is not until we make peace with the past that we can stop repeating these mistakes. The stories and messages within this book are now more poignant than ever.
Aanchal Malhotra's full archives can be accessed at @museumofmaterialmemory on Instagram. 
Sarah Anjum Bari is head of Daily Star Books. Reach her at sarah.anjum.bari@gmail.com or @wordsinteal on Instagram
Yaameen Al-Muttaqi works with robots and writes stories of dragons, magic, friendship, and hope. Send him a raven at yaameen3112@gmail.com