Hilsa price rises in southern regions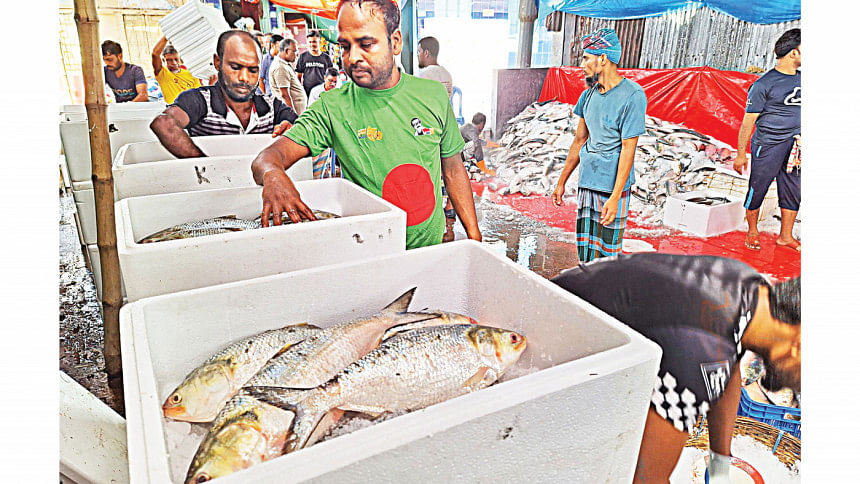 The price of hilsa in the southern region of the nation has increased by Tk 2,000 a maund (37 kilogrammes) after the government approved exports of the fish to India.
Zakir Hossain, deputy secretary, export-2 section of the ministry of commerce, said on Wednesday afternoon that an order had been issued to export 3,950 tonnes of hilsa to India within October 30 at the rate of $10 per kg.
Visiting various markets in the region, this correspondent found that the export price is lower than the price hilsa fetches in the domestic market.
Although export of hilsa is banned according to the export policy order, many exporters seek approval for exports to India ahead of Durga Puja, when demand for hilsa rises.
Within 24 hours of receiving the order from the commerce ministry, 40 tonnes of hilsa were exported from the Barisal region, said Nirab Hossain Tutul, owner of Mahima Enterprises, a hilsa exporter.
He added that most shipments of hilsa, around 1,500-2,000 tonnes, would be from the Barishal region.
Prices increased by Tk 2,000 per maund in the local market compared to Wednesday, said Barisal Fisheries Officer (Hilsa) Bimal Chandra Das.
He said that a maund of hilsa, containing fish weighing between 600-900 grammes, was sold at Tk 52,000 on Wednesday. But yesterday, a maund was being sold at Tk 54,000.
Hilsa trader Abubakar admitted that the price of hilsa had suddenly increased from Tk 1,300 per kg to Tk 1,500 per kg.
On Thursday afternoon, large quantities of hilsa were being packed for export in the wholesale hilsa market in Barisal's Port Road.
Consumer Association of Bangladesh, Barishal unit secretary Ranjit Dutta said that the increasing price was due to a collusion between traders. He added that if prices continued to increase, hilsa would go beyond the reach of common people.
While hilsa is prevalent in rivers that run through Bhola and Patharghata, lesser numbers are being spotted in coastal areas such as Alipur and Mohipur, said Fazlu Gazi, a hilsa trader from Mohipur.
The ministry of fisheries has said that a 22-day government ban on catching, selling, hoarding and transporting hilsa would come into effect from October 12 to save mother hilsa during peak breeding season.
As such, exports of hilsa must be completed by October 11.
Bangladesh sent the first consignment of 45.8 tonnes of hilsa fish to India through Benapole port yesterday afternoon, our correspondent from Benapole added.
The export price of per kilogramme of hilsa was $10.
After completing the customs and port formalities, the hilsa consignment in 12 trucks was sent to the Petrapole port in India.
The Bangladeshi exporters were Mahima Enterprises, Tanisa Enterprises, Seven Star Fish Processing Ripa Enterprises and Pacific Sea Food while the Indian importers were SR International, Naz Impex Private Limited, Bimal Roy and Barkha Bikas Fees Agency.