Increase investment in tourism Stakeholders say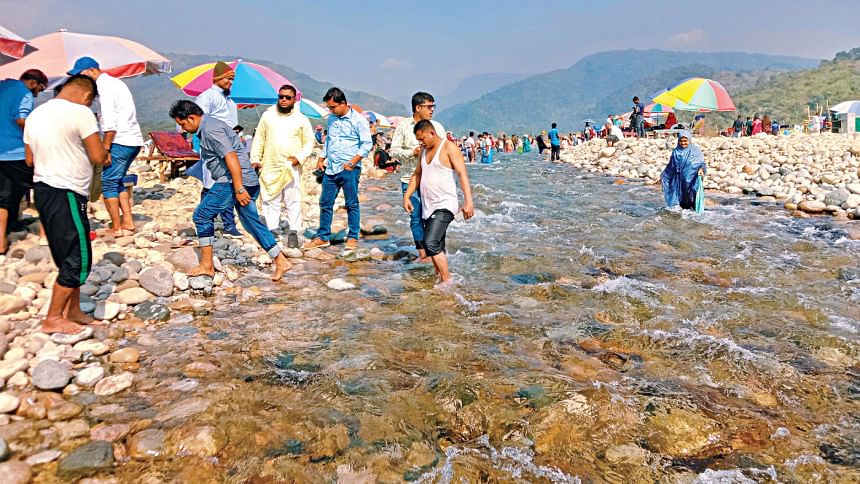 Bangladesh has massive potential as an emerging destination for tourists so the government should take necessary steps and the private sector should increase investment, stakeholders said during the opening ceremony of the three-day 10th Asian Tourism Fair (ATF).
The fair, organised by Parjatan Bichitra, started yesterday at the Bangabandhu International Conference Centre and will continue till Saturday.
 "We are doing our best to make Bangladesh an emerging destination in the world. Our master plan is now ready and we are determined to implement it for the betterment of all those involved in the travel, tourism, hospitality, and aviation sectors," said Mahbub Ali, state minister for ministry of civil aviation & tourism.
The government is exploring suitable avenues under the country's first tourism master plan. Primarily, it explored 10 themes: eco-tourism, riverine, cruise, adventure, beach, archaeological and historical, pilgrimage and spiritual, MICE (meeting, incentives, conference, and exhibitions), and ethno and rural tourism.
It also includes three other themes: health and wellness, medical and SAVE (Scientific, academic, volunteer and education) tourism.
The responsibility of the government and the ministries is to create opportunities. The private sector must then seize those opportunities to achieve fulfilment and growth, said Md. Mokammel Hossain, secretary of ministry of civil aviation & tourism.
 "There will be challenges along the way, but we are ready to support and offer possible solutions to overcome them and move forward," he added.
Lokman Hossain Miah, executive chairman of Bangladesh Investment Development Authority, said environment-friendly tourism investment was their focus.
 "Our responsibility is to bring and create the right investment opportunities for the investors as well as support stakeholders to take those investment opportunities," he added.
This year, approximately 150 tourism companies from various countries, including Bangladesh, India, China, Nepal, Thailand, Sri Lanka, Vietnam and Dubai participated in the fair.
Visitors can find various packages, discounts and offers tailored for both business-to-business (B2B) enterprises and tourists.
The fair is open for visitors from 10:00am until 7:00pm every day.
The entry fee is Tk 30. However, students can enjoy free admission through online registration. Attendees will also have the opportunity to participate in raffle draws with a chance to win attractive prizes.