MFS accounts go past 18cr mark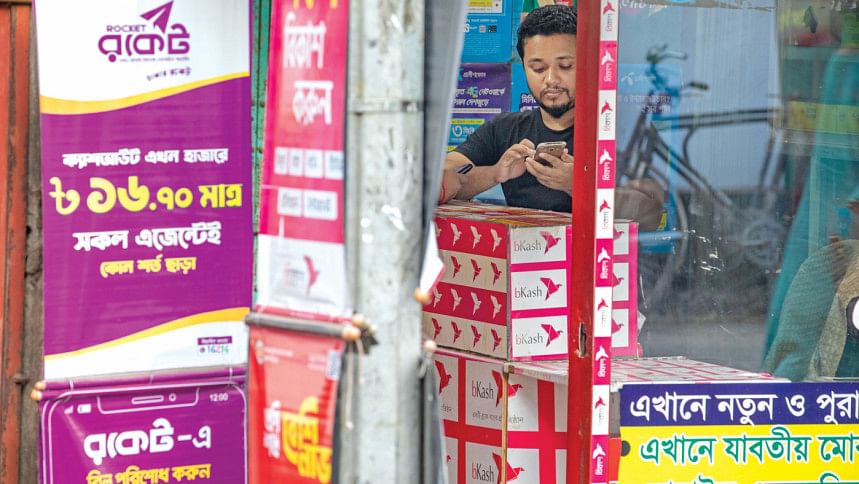 The mobile financial service (MFS) sector in Bangladesh has been on a tear, with the number of accounts surpassing the 18-crore mark for the first time in July. 
In the month, 18.11 crore users were registered with 13 MFS providers, up more than 16 per cent from 15.60 crore in July last year, data from the Bangladesh Bank showed.
Over Tk 89,169 crore were transacted through the accounts in July in the form of cash-in, cash-out, person-to-person transfer, merchant payment, government-to-person transfer, salary disbursement, talk-time purchase, and utility bills payment, an increase of 15 per cent from Tk 77,645 crore in the same month in 2021.
One of the most important drivers of the MFS advancement in Bangladesh has been the rural population. Of the users, 10.07 crore are in rural areas versus 8.04 crore in urban centres.
Gender-wise, 10.43 crore males use the service, against 7.64 crore females, according to the BB. There are 15.26 lakh MFS agents across the country.
The MFS providers are Rocket, bKash, MYCash, Islami Bank mCash, Trust Axiata pay (tap), FSIBL FirstPay SureCash, Upay, OK Wallet, Rupali Bank SureCash, TeleCash, Islamic Wallet, Meghna Bank Tap `n Pay, and Nagad.
Similarly, the number of agent banking accounts rose more than 31 per cent year-on-year to 1.63 crore in July. Of the accounts, 80.96 lakh are owned by males and 79.60 lakh by females.
The account-holders transacted Tk 52,784 crore in the month, against Tk 32,523 crore in the same month last year.
Of the amount, Tk 487 crore was disbursed as loans, more than four times than Tk 109 crore lent through the agent banking system one year ago.
The amount of remittance that was sent home by the migrant workers employed abroad, however, slowed slightly to Tk 3,144 crore from Tk 3,159 crore earlier.  
In Bangladesh, there were 14,412 agents and 19,861 outlets in the first month of the financial year, up from 13,086 and 17,332, respectively.
The amount of deposits in the accounts stood at Tk 28,583 crore in the month. It was Tk 20,671 crore in July last year.Agent banking was introduced in Bangladesh in 2013, with the central bank awarding 28 agent banking licences with an aim to provide a secure alternative delivery channel of banking services to the underprivileged and under-served population who live in remote locations. 
Bank Asia introduced the country's first agent banking service in 2014. Other banks with a notable presence in the segment include Islami Bank Bangladesh Ltd, Dutch-Bangla Bank Ltd, Brac Bank, City Bank, Mutual Trust Bank, Al-Arafah Islami Bank, Agrani Bank, NRB Commercial Bank, and Modhumoti Bank.
Transactions through agent banking accounts rose 43 per cent year-on-year to Tk 5,64,844 crore in the last fiscal year as a growing number of people are now using the new banking window.
Bangladesh's progress in the MFS and agent banking sectors has won praise over the years.
On Wednesday, International Monetary Fund Deputy Managing Director Antoinette M Sayeh said the use of mobile phones for financial transactions is commonplace in Bangladesh.
"People are accustomed to digital financial services, agent banking, branchless banking, and mobile money," she said in a virtual seminar on "Fintech and Financial Inclusion and the Case of Bangladesh: Peer-Learning Series".