New gas pipeline ushers in hope for businesses in north
The 150km pipeline to be complete next year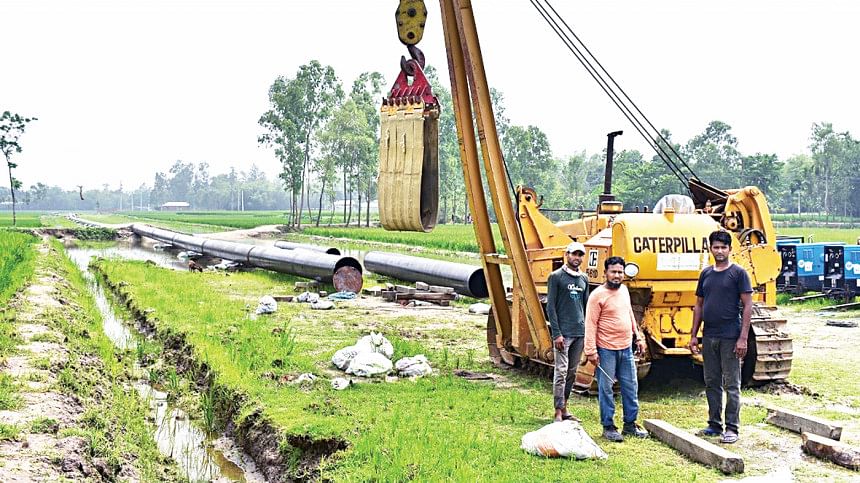 Around 102 factories in greater Rangpur, including 28 at the Uttara EPZ in Nilphamari, will likely get gas connections by December 2023 as the "Construction of Bogura-Rangpur-Saidpur Gas Transmission Pipeline Project" should be complete by then.
The project, which aims to supply gas to 11 districts in the country's northern region, was initially supposed to be implemented by between October 2018 and June 2021.
However, construction delays due to the advent of Covid-19 and complexities in land acquisition pushed the deadline back by two years at first while it was eventually set at December 2023 after the second revision.
Prime Minister Sheikh Hasina had made a public commitment in 2011 that she would ensure gas connections in the country's northern districts to meet the demand for such services from gas-based power plants and other industries in the region.
As such, the Ministry for Power, Energy and Mineral Resources initiated a project for constructing the 150-kilometre long pipeline with a capacity to transmit 100 million standard cubic feet of gas per day.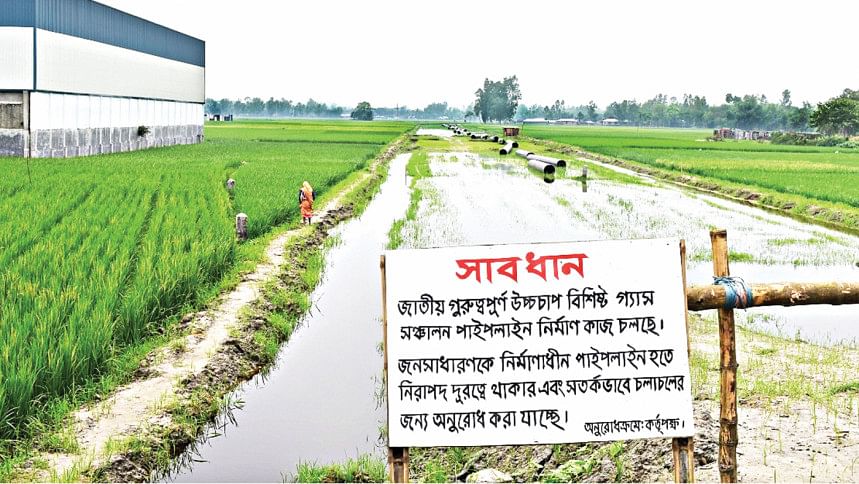 The project, being implemented by Pashchimanchal Gas Company Limited (PGCL), is set to cost Tk 1,359 crore in total.
Running from Bogura to Nilphamari, the 30-inch diameter transmission line will feature above-ground ancillary installations, including a central gas supply station in Saidpur that has the capacity to handle 100 million standard cubic feet of gas per day, according to project details.
"About 60 per cent of the construction has been completed and work is ongoing in full swing to complete the rest in due time," said Project Director Khondokar Ariful Islam.
In addition, two other town border stations with the capacity to transmit 50 and 20 million standard cubic feet of gas per day are being set up in Rangpur and Pirganj respectively.
Sources say that PGCL, which has already acquired 305 acres of land of the project, has requisitioned an additional 577 acres.
This has led to fresh concerns over meeting the deadline as some landowners have halted construction on their properties in demand of payment for their land.
During a recent visit to the project area, this correspondent found that work was stopped in six villages of Saidpur as land owners alleged that they have yet to receive the money for their land.
Razu, a landowner of Bakdogra village, said they are in the dark in this regard as the concerned authorities are yet to even mention the value of their land despite having already acquired it.
Echoing the same, Hamim Arshad, a landowner of Dholagas village, said they urged the authorities to arrange payment before starting work.
"The problem should be addressed urgently or else it will cause further delays in supplying gas to the region," said SM Shofiqul Alam Dably Shah, president of the Nilphamari Chamber of Commerce and Industry.
Khondokar Yasir Arefin, deputy commissioner of Nilphamari, said all odds should be settled amicably as landowners would get payment soon.
Other than heavy industries, two under-construction power plants in Rangpur and Nilphamari that will have a combined capacity to generate 253 megawatts of electricity will also get gas supply from the pipeline, bringing opportunities for employment and socio-economic change in the area.
Business communities in the two northern districts expressed enthusiasm over the project as it will offer them the chance to use cheaper fuel compared to the costly furnace oil and diesel they are used to.
Mostofa Sohrab Chowdhury Titu, president of the Rangpur Chamber of Commerce and Industry, said many people in his community have purchased land alongside the pipeline in hopes of setting up new industries once the project is complete.
Rezaul Islam Milon, president of the Rangpur metropolitan chamber, said they need a gas connection for the proposed economic zone in Rangpur while private industries at the BSCIC Industrial Park in Gangachara upazila are also clamouring for the same.