Banks asked to transfer funds to Saudi Arabia for Hajj pilgrims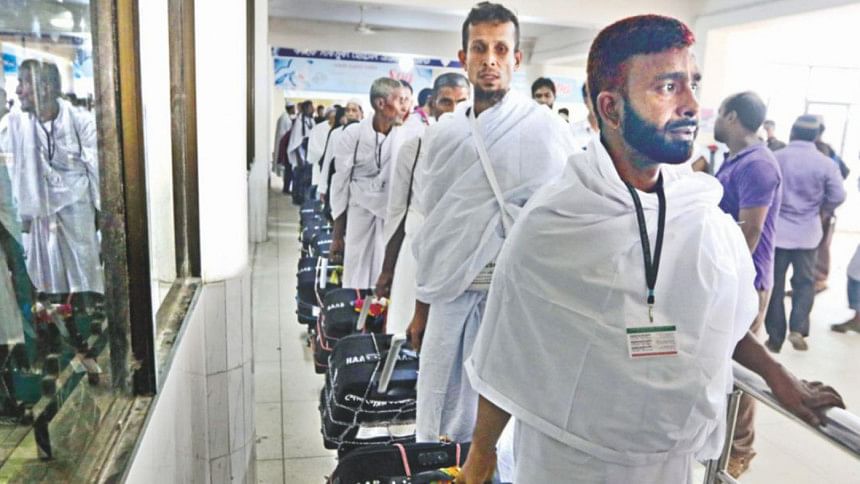 The Bangladesh Bank yesterday asked banks to take measures to transfer the funds related to the expenditures of aspirant Hajj pilgrims in Saudi Arabia.
This is for the people who are set to travel to Saudi Arabia to perform Hajj under the private management. 
Banks have to send Tk 304,302, or 12,522 riyals, as the expenses for each aspirant pilgrim via the international bank account number of hajj agencies, said the central bank in a notice yesterday.
An aspiring Haji will have to pay a minimum of Tk 522,744 for performing Hajj under private agencies. It is Tk 521,150 for those set to perform Hajj under government management, according to the executive committee on Hajj management of the government. 
Besides, every pilgrim would have to pay an additional Tk 19,683 for qurbani (sacrificing animals) coupon from the Islamic Development Bank in Saudi Arabia.
Some 57,585 Bangladeshis will be able to perform Hajj this year, likely to be held on July 8 depending on moon sighting. Of them, 4,000 will perform Hajj under government management and the rest under the arrangement made by private agencies. 
In 2019, around 1.27 lakh Bangladeshis were allowed to perform Hajj. However, due to the global Covid-19 pandemic, the largest annual Muslim congregation was held in a limited scale in the last two years.