Supermarket chains move to e-commerce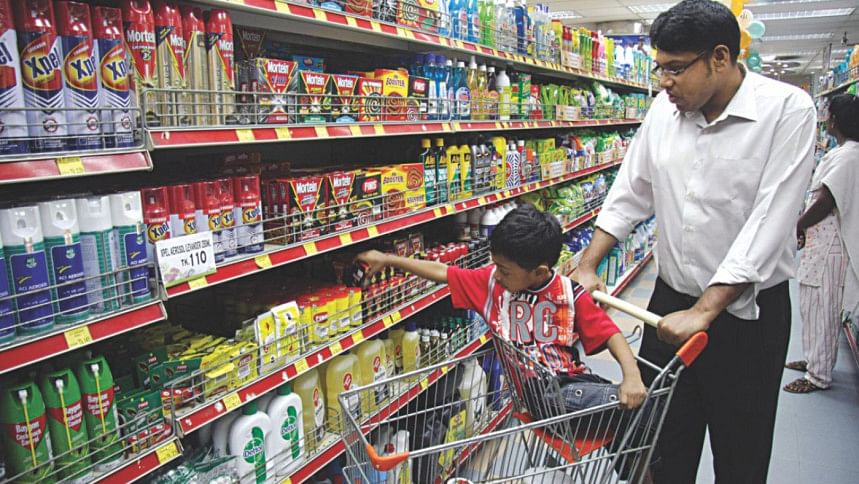 Supermarket chains are stepping into the e-commerce bandwagon, to meet the growing demand for convenience in shopping for perishables and other consumer goods.
On April 18 leading supermarket chain Meena Bazar launched its online platform, meenaclick.com, while Shwapno and Agora are gearing up to roll out their e-stores. All the products that are available in the brick-and-mortar stores will be available on the e-store as well.
However, the brands' grocery delivery will be limited to Dhaka and Chittagong for now.
Meena Bazar has been working on meenaclick.com for a few years now to provide the best shopping experience for customers, said Maruf Nafiz, the in-charge of the online platform.
"We already got a huge response and buyers are enjoying our 'convenient delivery' system where they can choose the time they want their ordered products to be delivered."
Meena Bazaar, which currently has 17 stores across the country, is receiving 20-25 online orders on average in a day, which may reach 30 during holidays.
"We are working to become the preferred destination for online grocery shopping in Bangladesh," he said, adding that customers from outside the country can also order for products to be delivered locally.
Meena Bazaar offers free delivery for orders over Tk 800. And for orders below Tk 800 there is a service charge of Tk 80.
Alongside cash-on-delivery, the chain is offering card payment facility, equipping its delivery staff with point-of-sale machines. In future, the chain plans to take the grocery delivery service to other big cities like Sylhet and Khulna, Nafiz added.
Shwapno is all set to roll out its e-commerce platform in the next three to four months, said Ayaz Aziz, who is responsible for designing the channel.
"We will enter this segment soon, but we are not rushing the process," he said, adding that Shwapno is currently the e-commerce platform.  Agora, the country's first supermarket chain, is yet to join the e-commerce bandwagon.
"We know that online sales are booming and we are in the planning stages of developing a platform," said Sami Mohammad Saleh, head of marketing at Agora.
Agora has a huge customer base and it wants to ensure a seamless service channel before entering a virtual domain, he added.
The brand already has a website that takes corporate orders but not retail orders.
"We are working on different e-commerce models. We want to present the most convenient one," Saleh added.
Chaldal.com, the pioneer in grocery delivery service in Bangladesh, began its operations in 2013. It does not a have a physical store.
The market leader receives about 1,000 orders a day, which yields about Tk 12 to Tk 13 lakh on average, said Zia Ashraf, its chief operating officer.
The e-commerce site currently delivers to addresses in Dhaka city but it has plans to expand to Chittagong and Sylhet soon, he added. Pran-RFL too is after a slice of the pie.
The group launched its e-commerce site othoba.com last year, where it also sells grocery items.
"We receive huge grocery orders everyday," said Kamruzzaman Kamal, director marketing at Pran-RFL.
Othoba.com monthly sales come to about Tk 50 lakh a month, he added.
There are more than 2,000 e-commerce platforms in Bangladesh, of whom, only a handful are selling groceries.