Things to know if you want to study business abroad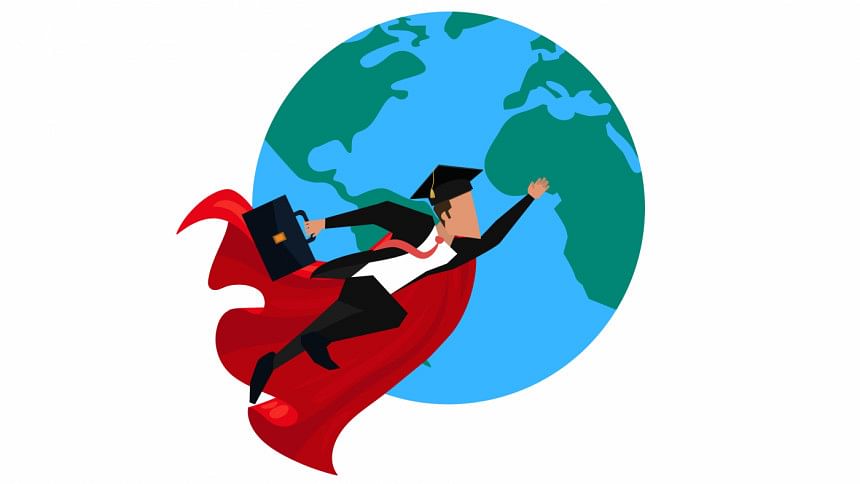 If you're a BBA student fresh out of university, or a jobholder feeling like you've reached a career ceiling, an MBA feels like a natural career progression. While there are excellent local MBA programs to enrol in, more and more students are opting to study abroad. While applying abroad seems like a long and strenuous process, it isn't that difficult in reality, keeping a couple of things in mind.
Decide whether you want an MBA or a Master's in Business
The terms "Master of Business," and "MBA" are often used interchangeably, but they aren't the same thing. So, what's the main difference between an MBA and a Master's degree in Business? The main differentiator is that an MBA is done in general business administration, while a Master's degree in Business is more concentrated on a specific academic field. Secondly, an MBA caters to working professionals, aiming to elevate their position in the corporate workplace, whilst a Master's degree is geared toward individuals inclined towards academics or research. Therefore, it's important to consider your long-term personal and career goals and find the best fit before applying to a program.
Do your research
When considering studying abroad, the usual American, Canadian, Australian, and British options come to mind first. However, there's a lot more the world has to offer. From Scandinavia to Singapore, there are plenty of excellent schools and programs to consider. Before applying, it's ideal to do your homework on the country you're aiming for and consider if it's a good fit for you, culturally and financially speaking. It's beneficial to know about the costs of living, as well as Visa and work permit laws.
After deciding on where you want to pursue your higher studies, it's important to create a list of schools or programs that appeal to and interest you. After that, consider investing time in researching your list of schools. Consider everything from location, ranking, scholarship opportunities, and acceptance rate to research endowments and average cost of attendance. Also keep application deadlines in mind when setting out to apply, as most intakes happen bi-annually in Winter and Fall. If self-research feels too complicated for you, be on the lookout for educational fairs, information sessions, or enlist the help of a study abroad consultant for a smoother experience.
Know the degree requirements
Start researching the program requirements once you've settled on a country and institute. Most university websites will have class profiles with information on their degree attendees and their stats, which can give you an idea of the required undergraduate CGPA, work experience, ECAs, and standardised test scores for enrolling in your chosen program. Knowing the degree requirements can give you an idea of how you compare to an enrolled student and can help you gauge your chances of acceptance. Furthermore, it's better to ensure that you meet the universities' required criteria and don't waste time, money, and energy on an otherwise lost cause.
Know what documents you need
Similar to undergraduate admissions, higher degree applications require numerous academic, financial, and legal documents. While specific requirements are school-specific, all degrees will ask for your undergraduate transcripts, and some institutes may even ask for your high school transcripts. Similarly, all programs will require a Statement of Purpose, which is a personal statement outlining your motivation and expected outcomes for pursuing a higher degree.
Depending on the program you choose, you may need to provide your GMAT or GRE scores and answer a couple of essay questions similar to an undergrad application essay. Additionally, you may need to provide your resume, as well as two to three letters of recommendation from academic or professional contacts. As non-native English speakers, it's also important to submit your English language Proficiency scores, whether it be IELTS, TOEFL, or even Duolingo.
As for financial documents, you may need to submit bank statements, affidavits of financial support, and income tax returns to your prospective institute. Some of the legal paperwork that you'll need obviously include your passport and birth certificate, as well as paperwork related to your institute and country.  Many of these documents can be difficult to obtain, so it's best to have essential documentation on hand by the time application windows start opening.
Pursuing a business degree abroad can be an enriching and transformative experience, opening doors to career and personal growth opportunities. While the process may seem intimidating at first, as long as you have your priorities clearly set, and your research properly done, you can expect a smooth sailing moving forward.
Taaseen Mohammed Islam is a student at NSU