'Biman's management to be overhauled in 2 months'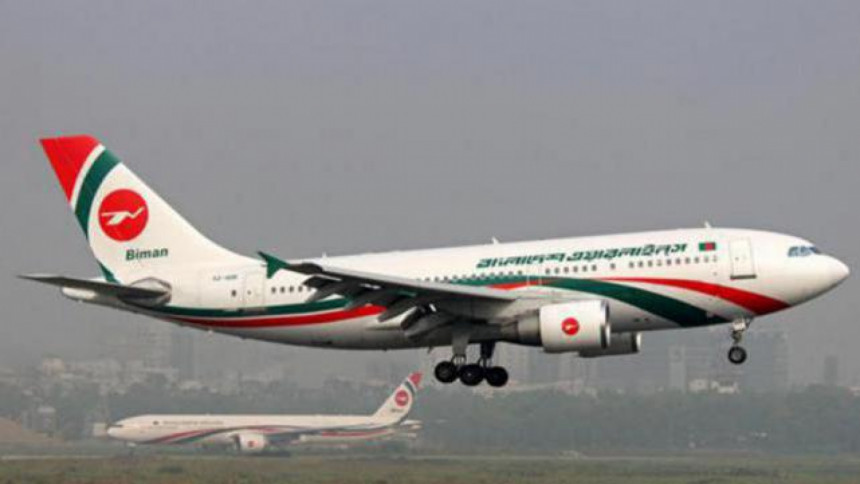 Biman Bangladesh Airline's total management will be overhauled within next two months and the national flag carrier will no more become a losing concern, Civil Aviation and Tourism Ministry Secretary Mohibul Haque said today. 
"Biman that had incurred losses in the previous years will become a profitable venture in the next year. The national airliner has already earned profit of Tk 143 crore in April through ticket sales compared to the previous year," he said at a discussion in Dhaka.
Aviation and Tourism Journalists' Forum of Bangladesh organised the programme titled ''Pre-budget discussion on civil aviation and tourism" at the Jatiya Press Club.
Addressing at the programme, State Minister for Civil Aviation M Mahbub Ali said the ministry is trying its best to bring change in Biman in a bid to improve its service quality.
Pointing to irregularities and corruption in sale of Biman's tickets, the junior minister said due to the ministry's actions and vigilance, Biman flights now travel to its different destinations carrying passengers to its full capacity instead of being half loaded.
He regretted that most of the previous projects taken by the ministry are remaining in a sorry state.
Mahbub also said the government has taken various measures to improve service at all the airports in the country.
Sharing his recent visit to the Saint Martin's Island, Mahbub Ali said the atmosphere at the coral island has deteriorated to such a level that it is impossible for decent people to visit there at present.
He, however, did not elaborate in this regard.
Saying that the government has moved to prepare a mega plan on tourism, he urged all stakeholders to implement it.
"We will brand Bangladesh as the light house of Asia," he added.
Leaders and officials of Tour Operators' Association of Bangladesh, Association of Travel Agents Bangladesh, Bangladesh Parjatan Corporation, Bangladesh Tourism Board, Biman Bangladesh Airlines, US-Bangla Airlines, among others, were present at the programme with Nadira Kiron, president of ATJFB, at the chair.